Polls will remain open until 9 p.m. today after precincts did not open at 7 a.m. and experienced pervasive software issues.
The Floyd County Elections Board requested the polls remain open because of "software issues" that kept several precincts closed until approximately 9 a.m.
"The court has been notified via petition from the Floyd County Elections Board that due to software errors, polling locations in Floyd County were not able to allow voting via the electronic voting machines at 7 a.m. for voting in today's runoff election," the order stated. "The software issues persisted fairly pervasively through approximately 9 a.m."
Many of the issues reported today mirrored those covered in a recent NAACP complaint regarding the June primary election.
Another issue is that the incorrect location for the Barkers polling place is listed on both the Georgia Secretary of State's website as well as the Floyd County website.
The Barkers poll location was previously moved from the Renaissance Marquis long term care facility on COVID-19 concerns to the VFW Post 4911 2623 Cedartown Highway. It shares that location with the Vann's Valley precinct.
Polls opened today for the primary runoff for Floyd County Sheriff as well as 14th District Congressional seat. How was your voting experience? Please email romenewstribune@rn-t.com and include your name, contact info, precinct and give us a short description of your experience. 
Today voters will decide who will be Floyd County's top law enforcement officer and the GOP nominee for the 14th District seat in the U.S. House of Representatives.
The runoff will decide who will take up the mantle of Floyd County Sheriff after Sheriff Tim Burkhalter's term ends on Dec. 31. Running for the post are FCSO Maj. Dave Roberson and Tom Caldwell, the former chief deputy.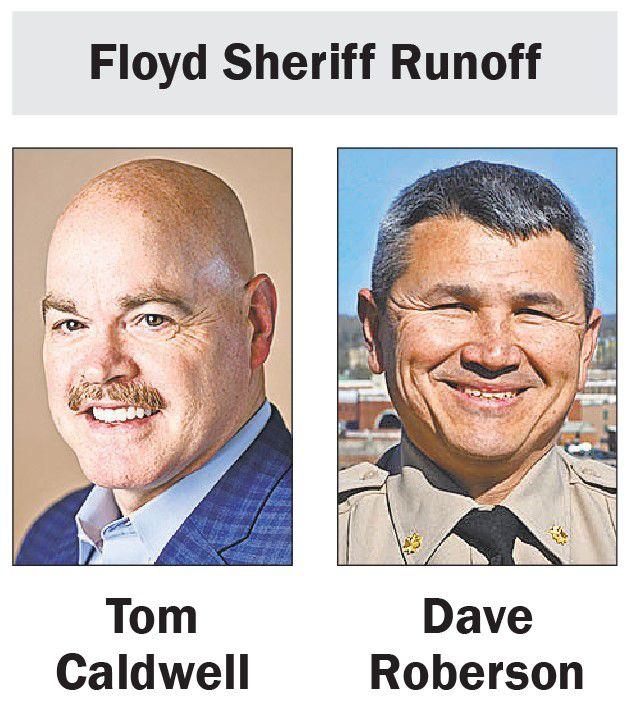 The race for sheriff has been an extended one, with candidates initially announcing their bids for the position over two years ago.
The race was extended in June when Roberson only brought in 48.1% of the vote, leading to a runoff. Caldwell brought in 34.3% of the votes and a third, and now former, candidate Ronnie Kilgo took 17.5% of the votes.
Roberson has been with the sheriff's office for over 20 years and was is in charge of field services division, the operations outside the jail, until he took a leave of absence for his campaign. Caldwell, with 29 years in, was Burkhalter's chief deputy for approximately 13 years. Caldwell was dismissed from that post in 2018 for confronting a person who had been working on his campaign after questioning their loyalty, according to Burkhalter. Caldwell denies the allegations.
When the final ballots were tabulated in the June 9 primary, Roberson led the way with 7,130 votes. Caldwell received 5,079 votes and Kilgo took 2,598.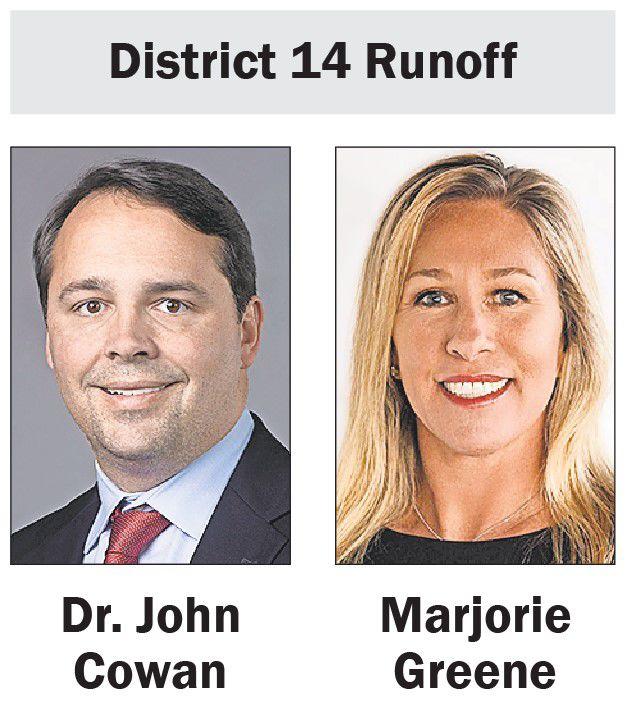 Voters will also decide whether to send Dr. John Cowan or Marjorie Taylor Greene as the GOP nominee to vie for the congressional seat being vacated by Rep. Tom Graves. The winner will face Democratic candidate Kevin Van Ausdal in November.
Greene, who owns a construction company in Alpharetta, won 40.32% of the vote in the nine-person primary. Cowan, a Rome neurosurgeon, was the runner-up with 21.01%.
All precincts will be open from 7 a.m. to 7 p.m. for voters to come out and cast their ballots for the Republican Primary Runoff.
After three weeks of early voting, 3,350 people were able to cast their ballots ahead of time. Any voter who voted Republican, nonpartisan or didn't vote at all can participate in the runoff election.
The polls are set up to ensure social distancing and follow safety protocols from Gov. Brian Kemp, according to Chief Elections Clerk Robert Brady.
"They will be wiping things down and keeping everything as clean as possible," he said.
While masks aren't a requirement to enter the polls, it is highly encouraged by Brady. All of the poll workers will be wearing masks and gloves while at the precincts.
The elections office sent out 5,271 absentee ballots to voters in Floyd County and almost 3,000 ballots have already been processed.
Voters who have not yet returned their absentee ballot can take them to the drop box at Rome-Floyd County Library at 205 Riverside Parkway or the box in front of the elections office at 12 E. Fourth Ave. Voters can drop off their ballots until 7 p.m. on Tuesday when the boxes will be emptied for the final time.
Starting around 9 a.m. on election day, workers will begin tallying the absentee ballots, but won't know the total until after the polls close.
To find out where your polling place is, visit the Rome-Floyd website and go to the Board of Elections page. On the side menu under elections, click on polling locations for a list.