Setting a one-day record, 22 more Floyd County residents were reported positive for COVID-19 on Monday — bringing the cumulative number of cases to 426.
The previous highest number occurred on May 19. That makes the third time since March that over 20 people were reported positive in a single day. The other was on April 1, when 20 people reported positive after increased testing began.
Over the last week, Floyd County has had 55 more people confirmed positive for the disease caused by the new coronavirus. Since March, 15 people have died, although Floyd County has not had a fatality attributed to COVID-19 since May 26.
Statewide, 65,928 positive tests for the coronavirus had been reported as of Monday afternoon, over 2,000 more than Sunday.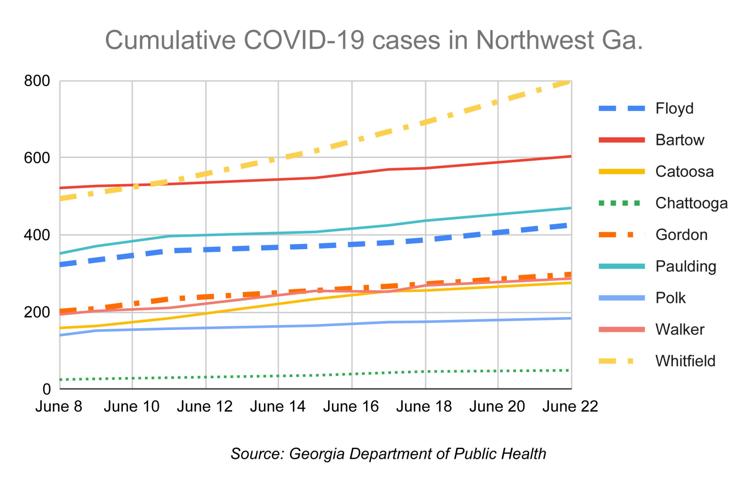 The statewide hospitalization rate was just over 15%, with a total of 9,837 people needing medical care at some point. The fatality rate was about 4%, with a total of 2,648 deaths.
Here's a look at the situation as of Monday in some nearby counties:
♦ Polk: 184 cases, 15 hospitalizations and one death.
♦ Bartow: 604 cases, 150 hospitalizations and 39 deaths.
♦ Chattooga: 49 cases, 3 hospitalizations and 2 deaths.
♦ Gordon: 298 cases, 39 hospitalizations and 18 deaths.
♦ Whitfield: 741 cases, 45 hospitalizations and 10 deaths.
♦ Paulding: 470 cases, 87 hospitalizations and 13 deaths.
Recovery
Among the news of rising numbers, hospitalizations have stayed relatively low locally. As of Monday, Floyd County EMA reported there were only seven patients being treated for a COVID-19 infection at the two hospitals. The patients are not necessarily Floyd County residents.
Many of those infected never show symptoms and others are struck hard. Most recover — and one man who spent 57 days hospitalized finally left the hospital last week.
Josh Penson walked out of Floyd Medical Center on his own power Friday, after spending nearly two months hospitalized with COVID-19.
His wife, Tiffany Penson, credited Dr. Daniel Valancius with saving her husband's life and said other caregivers also played a key role in his recovery.
Penson was overcome with emotion as he left the front entrance to be greeted by a throng of friends, family and FMC staff.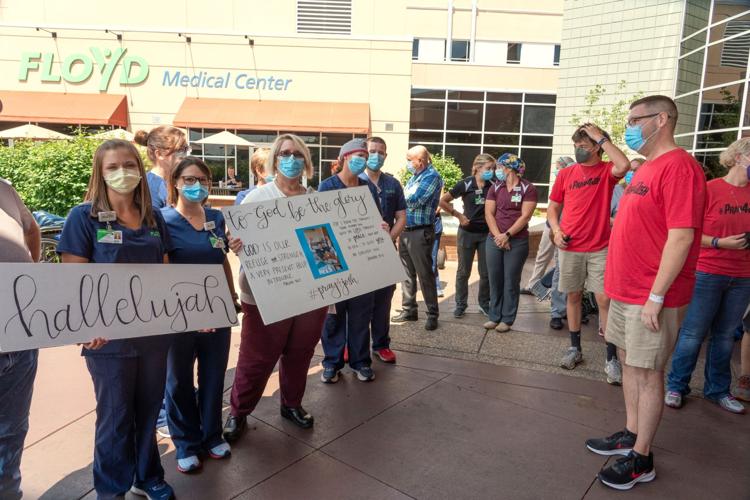 Tiffany Penson said her husband was in the hospital for about three days when it was clear he needed more intensive treatment. He was hooked up to a machine that helped both his heart and lungs overcome the strain put on them by COVID-19.
Valancius, a hospitalist at FMC, treated Penson and has been heavily involved with the treatment of other COVID-19 patients. His recommendation that a patient be tested for the virus resulted in FMC treating its first COVID-19 patient in March.
"Everything they have done, it works. He's proof that it works. Dr. Valancius saved his life," Tiffany Penson said.
A report released by the Georgia Department of Community Health last week shows that most residents in long term care facilities who had been confirmed with COVID-19 had recovered. In mid-April there were five deaths reported at Rome Health and Rehabilitation facility on Redmond Circle, however the other 20 residents who had been infected recovered from the disease.
Cases rise in bordering states
Meanwhile, the Associated Press is reporting a rise in coronavirus cases in states that have started lifting restrictions on public gatherings.
Coronavirus cases in Florida surpassed 100,000 on Monday, part of an alarming surge across the South and West as states reopen for business and many Americans resist wearing masks or keeping their distance from others.
The disturbing signs in the Sunshine State as well as places like Arizona, Alabama, Texas and South Carolina — along with countries such as Brazil, India and Pakistan — are raising fears that the progress won after months of lockdowns is slipping away.
"It is snowballing," said Marc Boom, CEO and president of Houston Methodist Hospital, noting that the number of hospitalizations in the Texas Medical Center system that includes the hospital has more than doubled since Memorial Day.
"If we don't do what we can RIGHT NOW as a community to stop the spread, the virus will take our choices away from us," Boom said.
The number of newly confirmed coronavirus cases across the country has reached more than 26,000 per day, up from about 21,000 two weeks ago, according to an Associated Press analysis of data compiled by Johns Hopkins University. The analysis looked at a seven-day rolling average through Sunday. Over 120,000 deaths in the U.S. have been blamed on the virus.
In Orlando, 152 coronavirus cases were linked to one bar near the University of Central Florida campus, said Dr. Raul Pino, a state health officer in the resort city.
"A lot of transmission happened there," Pino said. "People are very close. People are not wearing masks. People are drinking, shouting, dancing, sweating, kissing and hugging, all the things that happen in bars. And all those things that happen are not good for COVID-19."
Although he asked health officials to renew calls for people to wear masks and keep their distance, Gov. Ron DeSantis has not signaled he will retreat from reopening the state after three months of shutdowns that have damaged the economy.
Dr. Michael Ryan, the World Health Organization's emergencies chief, said that the outbreak is "definitely accelerating" in the U.S. and a number of other countries, dismissing the notion that the record daily levels of new COVID-19 cases simply reflect more testing.
He noted that numerous countries have also noted marked increases in hospital admissions and deaths.
"The epidemic is now peaking or moving towards a peak in a number of large countries," he warned.
At Maryland's Fort Washington Medical Center on the outskirts of the nation's capital, workers described a scramble to find new beds, heartbreaking interactions with family members of critically ill patients and their frustration with Americans who do not believe the coronavirus threat is real.
"Everybody is out lounging on the beaches. Just thinking that it's over. And it's not," respiratory therapist Kevin Cole said. "It's far from being over. And unfortunately, it's those people that keep we'll keep this pandemic going."
Nearly 9 million people have been confirmed infected by the virus worldwide and about 470,000 have died, according to Johns Hopkins, though experts say the actual numbers are much higher because of limited testing and cases in which patients had no symptoms.
Companies around the world are racing to find a vaccine, and there is fierce debate over how to make sure it is distributed fairly. WHO's special envoy on COVID-19, Dr. David Nabarro, said he believes it will be "2 1/2 years until there will be vaccine for everybody in the world."