The number of new COVID-19 cases reported in Floyd County in one day eclipsed the previous record set earlier this week.
The Georgia Department of Public Health reported 24 people had tested positive Wednesday for the disease caused by the coronavirus. The previous highest number of cases was reported on Monday, at 22.
The number hasn't been that high since May 19, when over 20 people were reported positive in a single day. Over the past seven days, Floyd County has had 77 more people confirmed positive for COVID-19.
However, hospitalizations have stayed flat. The number of people being treated at local hospitals remained at seven, according to Floyd County Emergency Management Agency Director Tim Herrington. Overall, just 51 of the 457 local residents who have tested positive needed in-patient care.
The number of young adults testing positive for COVID-19 has increased in recent weeks across many states, according to Georgia Health News reports.
The age group in Georgia with the most new infections is people from ages 18 to 29, according to state data.
Officials said the recent spike — among those ages 20-39 — could be explained by a combination of increased testing, rejection of social distancing and masks, and a continued misconception among young people that they're not likely to become infected.
While younger people rarely get seriously ill or die from the virus, they often catch it and can spread it to more vulnerable populations.
In the 10-county Northwest Georgia Health District, which includes Floyd County, there has been anecdotal evidence that the number of young adults infected with COVID-19 has increased.
"Over the past month, the state median age has dropped five years, from 50 to 45. Over the same time, our median age has dropped from 52 to 48," said Logan Boss, the district's public health spokesman.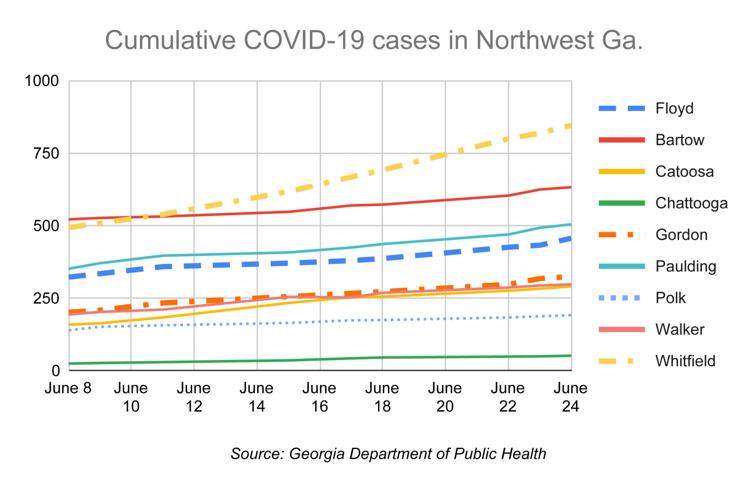 The median age of the health district's 2,860 cases is 48, however the median age for the areas' 106 deaths is 78, Boss said.
Floyd County has a total of 15 fatalities attributed to COVID-19, but no deaths since May 26. The people who have died were between the ages of 56 and 81 and all had preexisting medical conditions, according to DPH statistics.
Those with less risk less likely to take precautions
Georgia Health News reports that a CDC survey of attitudes toward stay-at-home orders and social distancing guidelines showed people aged 18-24 were significantly less likely than other groups to agree that nonessential workers should stay home.
Less than 30% said they were consistently staying 6 feet away from other people, and only 44.4% said they always wore a mask in public.
Dr. Mark Ebell, a professor of epidemiology at University of Georgia's College of Public Health, told GHN that up to 90% of younger people who have the virus don't show symptoms. Plus, "they tend to be willing to take more risks," he said.
In the beginning of the outbreak, only people with symptoms got tested, if a test was available. Now many places offer tests to anyone who wants one.
But public health experts point out that because younger people are more likely to ignore restrictions, they're making it easier for coronavirus to spread.