Rome is still in talks with Atlanta Gas Light over starting the construction of a 9.3 mile gas pipeline because of access to easements.
The city's Director of Engineering Aaron Carroll said AGL will need the easements to begin the boring process under the Oostanaula River near the pump station at Ridge Ferry Park to start the eight-month long construction.
"They're very interested in trying to get started on that bore as quickly as possible, but we're still trying to work through negotiations about construction conditions... we're holding our easements close to our chests to protect city property, as well as make the project as pleasant as possible for our tax payers and residents along the streets where the project will be involved," he said.
Some of the easements include one between Martin Luther King Jr. Blvd and Spider Webb Drive, an easement beneath the parking deck near Burwell Creek and another through the dog park at Ridge Ferry Park
Once construction begins the dog park will be downsized, Carroll said they most likely won't close the dog park.
There will also be some boring under the driveway leading to the Rome ECO Center.
According to Carroll, boring is a drilling process that creates a "kind of mole hole" and lines it with stabilizing material — in this case, 12-inch steel piping.
The Public Works Committee will meet on Wednesday at 10 a.m. to discuss the project with AGL.
One thing that's also still up in the air is what will happen to the new Mount Berry Trail. Carroll said they're still debating on how the construction will impact the trail since it has become so popular.
"They're (AGL) very amenable and they understand and they're continuing to work with us up on that particular spot to see if we can come up with a better solution for the disruption in that area," he said.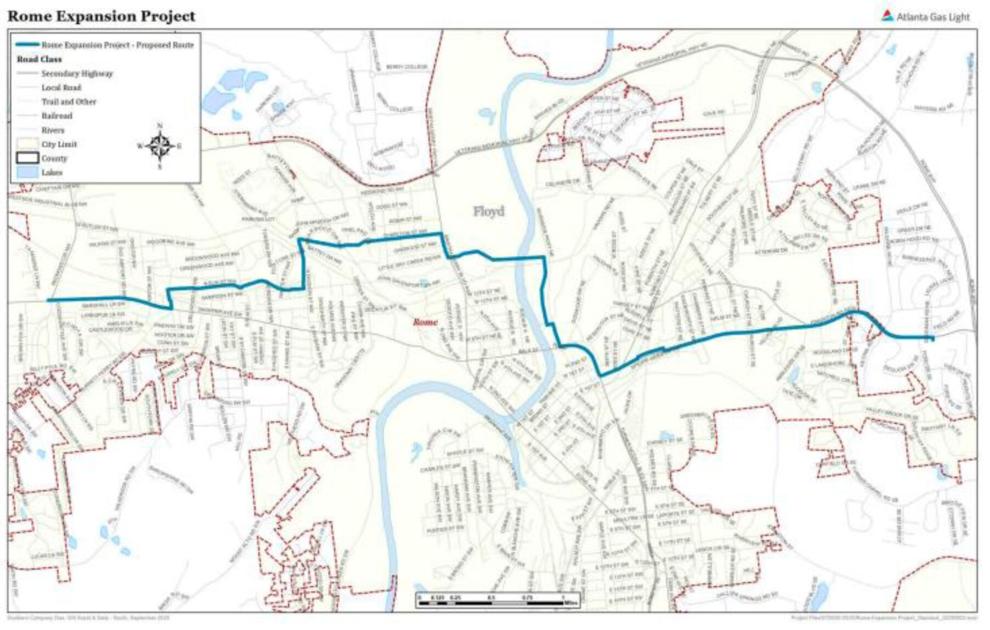 Once completed, the International Paper line will come in from the west along Alabama Highway and Shorter Avenue, turn north on Watson Street, then go east on Elm Street across Lavender Drive to John Davenport Drive.
From there, it will run north on North Division Street, east on Charlton Street and then south on Martha Berry Boulevard to the area of the post office — where the line will cross the river into Ridge Ferry Park.
From the park it will run up to Turner McCall Boulevard, head along Martin Luther King Jr. Drive and then on Kingston Highway. It will end at the gas company's Rome Tap One.
The line will provide a 300 psi system with roughly 494,000 cubic feet of natural gas per hour to International Paper. The average residential home uses about 168 cubic feet a day.