The Rome-Floyd County Development Authority approved an inducement resolution for the expansion of VT Industries early Tuesday.
The company announced plans for a 39,000 square foot addition to its plant in West Rome this week. The addition is expected to be complete by early 2022.
The company will receive a 10-year tax abatement plan, with 100% of local taxes abated for the first three years, a 50% reduction in years four through six, a 25% reduction in years seven through nine and a 10% abatement in the tenth year.
In lieu of taxes, the company will make a $30,481 payment each year to the development authority.
VTI makes a variety of architectural wood doors, laminate countertops, butcher block countertops and similar products. The expansion will largely be devoted to the laminate countertop line of products for both residential and commercial use.
Director of Operations Ryan Miller said the company plans to bring on more than 40 additional employees over the course of the next 18 months.
Also on Tuesday, the authority recognized Kelly Hudson of Hydro Dynamics Inc for receipt of the GLOBE Award from the Georgia Department of Economic Development. The award recognizes Georgia companies that have expanded to serve new international clients during the past year.
HDI has received the GLOBE Award on several previous occasions. Hudson said the company has added a large customer in the Seychelle Islands off the coast of Africa, giving HDI a presence on six of the seven continents.
HDI manufactures a cavitation device, which is able to extract oils out of hops that greatly expands the capacity of the crop in the production of beer.
One of the newest and fastest growing uses for the equipment involves the extraction of CBD oils from hemp.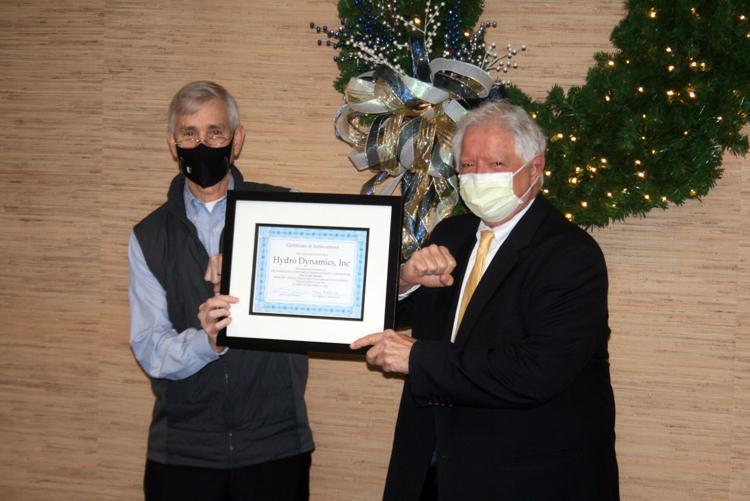 R-FCDA Chairman Jimmy Byars also presented plaques of appreciation to outgoing Floyd County Commission Chair Scotty Hancock, who will be succeeded by Commissioner Wright Bagby next year.
Scott Preston, the chairman of the board at the Rome Floyd Chamber, also received a plaque from Byars. Preston will be replaced on the authority by Cassandra Wheeler next year.
Greater Rome Existing Industries Association Chairman Mark White at The Fairbanks Co. will also be leaving the authority, replaced by John Cothran of Brugg Lifting North America.
The authority's real estate committee is still working to find additional acreage for future industrial development, Byars said, but does not have any specific sites to bring to the panel for consideration.
The 110-acre tract at the northwest intersection of Ga. 140 and Ga. 53 is the largest tract in the public inventory at this time.