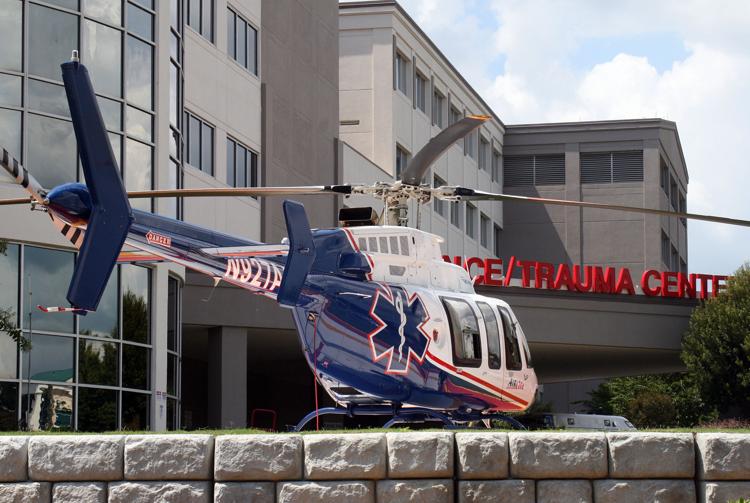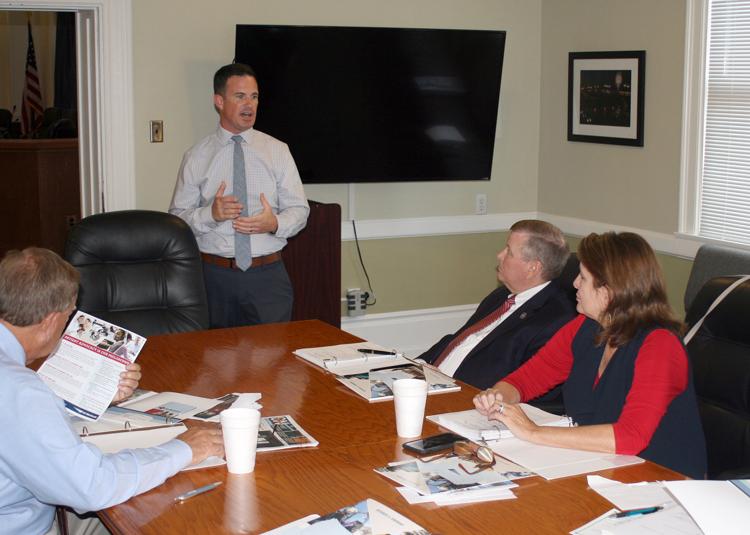 "Our crew members are empowered to make clinical decisions based on the patient's needs and we generally transport the patient to the closest appropriate facility that offers whatever services that patient may need, be it trauma, cardiovascular or otherwise," Lindsay said. "We also try to honor patient requests. People don't often think that someone in a helicopter may be able to say, 'My doctor is with this particular hospital system' or 'I see my doctor at this hospital.' We certainly try to honor those when appropriate."
Air Methods Air Life 15 is now based 24/7 at the new Redmond Regional Medical Center helipad. The aircraft is a 2-year-old Bell 407 GXP helicopter. It has a cruising speed of approximately 164 miles per hour with a range of about 380 miles with a full load of fuel.
In the event of particularly inclement weather, the chopper may be shuttled over to the Richard B. Russell Regional Airport, where it will use the Tillman hangar.
In order to accommodate a full-time helicopter, Redmond installed electrical inputs and recess lighting into the groundwork of the helipad. In addition to the $350,000 cost of construction, living quarters were built out just below the emergency room to accommodate the on-call pilots. Redmond is getting lease payments from Air Methods to occupy those quarters.
"It's a fair market value rate. You have an independent third party that does the evaluation."
"The motivation for Redmond was our heart program. We qualify to be a Level One Cardiac Center. The state of Georgia in 2017 passed legislation to create these cardiac centers just like the trauma centers," Quinlivan said. "It just makes sense to think that there are going to be cardiac emergencies that could and should be flown in to us."
He said serious trauma patients would be likely to come into Floyd Medical Center, so both hospitals would benefit from the helicopter being based in Rome.
There is another medical evacuation helicopter based at Tom David Airport in Calhoun. Lindsay said it would be up to the specific first responders at the scene of a wreck or disaster to determine which chopper to call.
Air Methods Corporation, according to Lindsay, is the largest air medical company in the world with over 5,000 employees, and the sixth largest air carrier in the country, behind the five major commercial airlines in the U.S.
The base in Rome will function with between 12 and 15 fulltime employees. Lindsay said each base of operations for the company typically has four pilots, eight clinicians and a fulltime mechanic who works solely on that particular aircraft. Each flight includes the pilot, a clinical care nurse and a clinical care paramedic.
Wesley Smith is one of the Air Life pilots based at Redmond. He will work 12-hour shifts for seven days and then be off for seven days. Smith has been flying for 30 years and has been a helicopter medical transport pilot for the past 13 years.
Smith said the biggest challenge is generally a night-time scene when they don't really know what kind of environment they're being called into.
"With night vision goggles, that was the best thing they've done for us safety-wise. It takes the whole crew to get us on the ground," Smith said. The chopper is often off the ground within six to ten minutes of getting a call, depending on the weather.
Traci Lee is a flight nurse who is in her third year on a chopper. She had previous experience on fixed-wing medical transport aircraft. She said, "There is a lot more attention to detail from a crew aspect." Getting used to assisting the pilot with landing while also paying attention to a patient has been a change for her.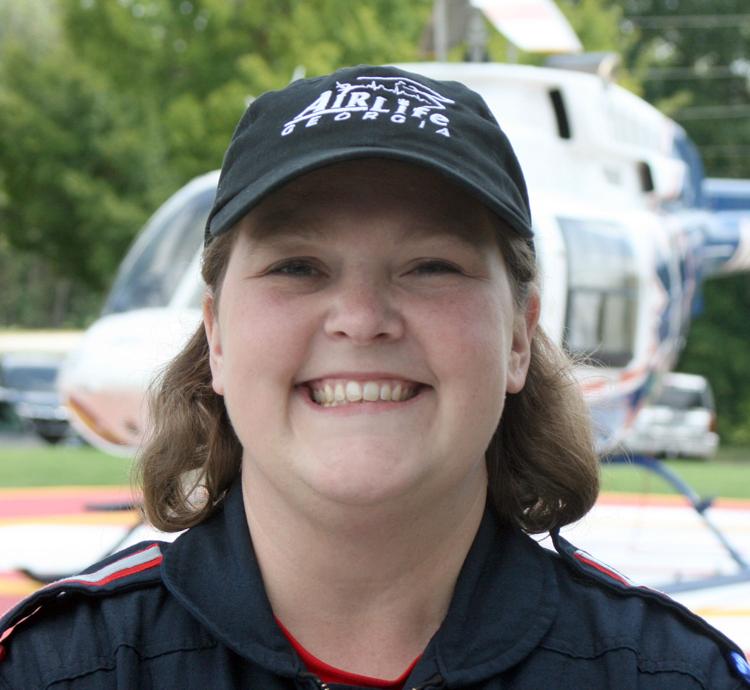 She said the ride for patients is very smooth in the chopper and the entire crew works to make sure the helicopter is properly equipped with all of the potential medical necessities prior to flight.
Flight paramedic Darren Vandegriff has been a paramedic for 17 years, the last five in the air. He recalled a serious wreck that he worked with Lee as one of the most critical cases he has handled since joining the helicopter transport team.
"We had to stand and wait 45 minutes for the patient to be extricated from the vehicle, so the stress level was really elevated," Vandegriff said. "We have a game plan, but we have to be able to deviate from that plan at any moment."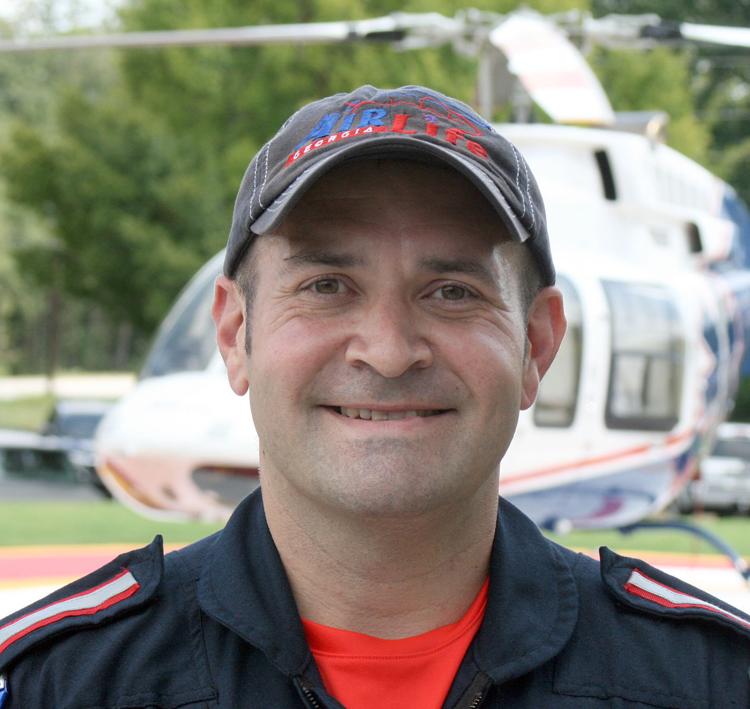 Vandegriff said transporting the cardiac patients can also be very challenging. He said they typically require very specific medications and must be treated in sync with each other and any other supportive devices. Each member of the crew undertakes at least 100 hours of continuing education training annually
"We want to expand the reaches of our partner hospital systems and bring hospital-level care to the field, and timely and efficient transport to specialized care that might not always be available in the communities we serve," Lindsay said.
Lindsay said the aircraft would be purchasing between $50,000 and $60,000 worth of fuel at Richard B. Russell Airport on an annual basis.
Air Methods has its own research department and is committed to evolving its clinical care, but takes even greater pride in its aftercare following a transport situation.
"We realize that when our services are needed its often the scariest time of someone's life. I can only imagine," Lindsay said to the full commission. "The last thing that we want is for those patients families to be concerned with anything to do with the bill or even insurance challenges after the fact."
"Air Methods assigns each patients a patient advocate to help them work through the billing process and to minimize the out-of-pocket costs," Lindsay said. The company also offers a unique membership program that allows an individual or family to pay an annual fee, which starts at $40 per year for someone who does have primary health insurance coverage. Covered family members enrolled in the program would not have to pay anything over and above the amount paid by insurance for a medically-necessary transport.