MARIETTA — President Donald Trump made a short stop in Marietta on a brisk Friday afternoon before heading to Atlanta for a day of campaigning and fundraising.
Air Force One touched down at Marietta's Dobbins Air Reserve Base at about 12:10 p.m., and the president was greeted by a cheering crowd, many of whom were friends and family of members of the Secret Service.
As he stepped out of the massive plane, Trump waved to the crowd of supporters gathered across the tarmac and walked down a line of Georgia leaders including Gov. Brian Kemp and his family, Lt. Gov. Geoff Duncan, Attorney General Chris Carr and Speaker David Ralston. 
The president's greetings were brief, but before hopping into the awaiting motorcade that wrapped around Air Force One, he stepped to the side to wave again to the crowd. Trump pumped his fist and gave a thumbs-up to the cheering families, some with children wearing red or camouflage "Make America Great Again" hats or sitting on the shoulders of their parents to get a better view of the commander in chief. 
Also spotted during Trump's brief stop was Jared Kushner, the president's son-in-law and senior adviser.
Ralston posted a picture on his Facebook page shortly after the president's landing: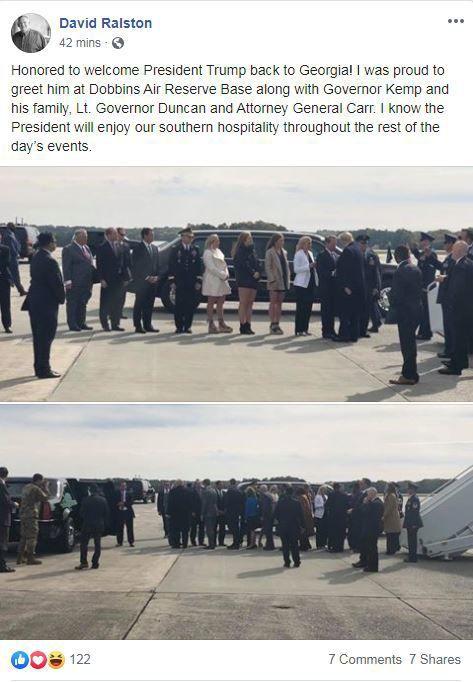 "Honored to welcome President Trump back to Georgia!" the post said in part. "I know the President will enjoy our southern hospitality throughout the rest of the day's events."
Duncan also offered his own take on the president's visit, tweeting a selfie in front of Air Force One. The caption read, "Fun day at work today."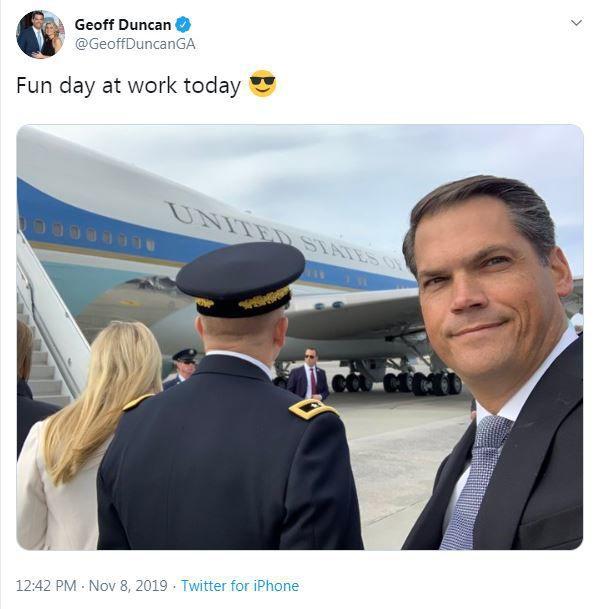 After his short stint at Dobbins, Trump headed to a private donor event, a fundraiser aimed at boosting U.S. Sen. David Perdue's chances of reelection and a campaign event aimed at recruiting black voters. 
The "Black Voices for Trump" event was scheduled for 2 p.m. at the Georgia World Congress Center, according to the president's campaign website.