As Georgia enters into the fifth month since the coronavirus hit the state, health officials warn the pandemic has not only been wearing down Georgians physically, but mentally and emotional as well.
Dr. Ryan Breshears, Chief Behavioral Health Officer for Wellstar Health System and the Director of Psychology and Psychiatry for the Wellstar Medical Group, spoke on the affects of the pandemic at Roswell Rotary Club's July 23 meeting.
Throughout the COVID-19 pandemic, Breshears has led Wellstar's system-wide strategy to support the emotional needs of the workforce. In practice, he works with patients with complex medical conditions, providing neuropsychological evaluations and health psychology interventions.
As the coronavirus spread, COVID-19 exposed vulnerabilities in individual, institutional and societal levels. Early on, doctors and scientists identified those with pre-exisiting conditions and older adults to be considered physically vulnerable, but Breshears said that people with psychological illnesses are vulnerable as well.
"With all the social distancing, if someone is struggling with major depression, for example, they may feel increasingly isolated and that would represent a vulnerability, or people who just have deficiencies in coping with various stress," Breshears said.
Breshears said scientists realized that individuals with social vulnerabilities, especially older adults who became increasingly isolated from families and friends.
"When you think about COVID and its impact on all of us, I don't know if we can look out of it outside of it a bio, psycho, social impact on all of us," Breshears said. "I would also put spiritual needs as well."
Within the north Fulton and Roswell area, Breshears said he was hearing a number of local healthcare workers saying they were becoming concerned, anxious and scared.
In 2003, a SARS outbreak swept across the world, with 8,437 confirmed cases and 813 deaths, according to the World Health Organization. In Canada, there were 438 probable and suspect SARS cases reported, which included 44 deaths. During that pandemic, around 30 to 35% of the country's workforce reported high levels of psychiatric distress.
According to Breshears, the three major risk factors included working as a nurses, working in high risk area or if they had children at home. Two years after the outbreaks, researchers also found long term effects in their frontline workers. Frontline workers had higher levels of PTSD, burn out and reduced patient contact.
Breshears said he and the Wellstar team used this information to prepare and anticipate the mental needs of their medical workers. Wellstar created multiple support groups as well as a COVID-19 Help Line for their employees.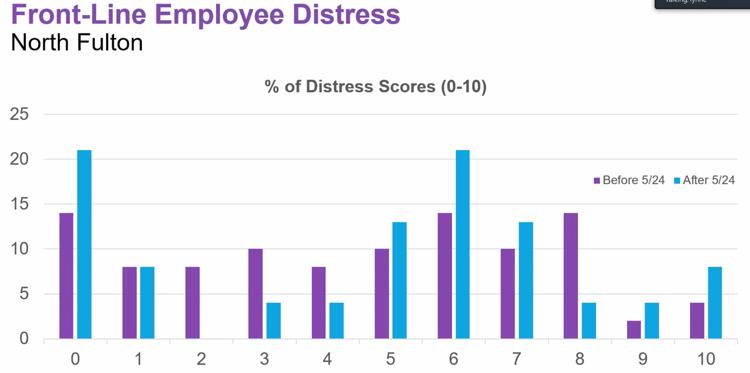 "You're seeing a shift of the mild to moderate range and that's concerning. this is a lot of our colleagues, friends... and family members in this line of work," Breshears said. "Every human system is being affected. It's all connected. Wherever people are experiencing distress and higher stress levels in their life, it is not in a vacuum from broader and more complicated things."
"This whole (pandemic) has caused extreme fatigue, extreme levels of stress and distress and its certainly impacting the Roswell community just as it is all of our community," Breshears said.
At Wellstar North Fulton, 6,932 stress calls were made by healthcare workers and staff between April 5 and June 28.
"This is really a behavioral health pandemic in addition to COVID-19 as a biological pandemic," he said.
Anxieties of catching the coronavirus, economic concerns, racial tensions and a presidential election this November are all snowballing into what Breshears calls a behavioral health pandemic. Behavioral health officials are also concerned that suicide attempts will escalate.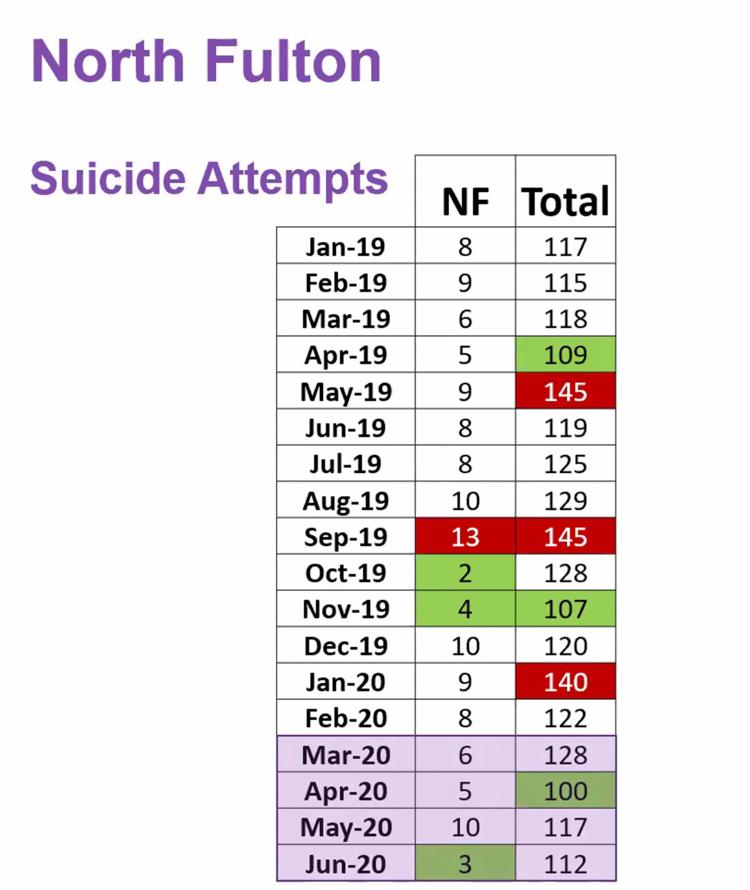 In the Roswell area within the last 19 months, north Fulton emergency departments are seeing a decrease over the last several months. However, Breshears says there has never been a point in his career where he has heard more anecdotes about deaths by suicide.
"We really don't know the magnitude of this," Breshears said. "What I can tell you is the grievances that would make for a situation of which people would be more at risk (for suicide) are present right now."
"We have an obligation to pay attention," he said.
In order to combat a potential rise in deaths by suicide, Wellstar launched a seven step process for suicide prevention — lead, train, identify, engage, treat, transition and improve. Better training practices, engaging with patients, being able to identify signs of suicide and helping patients after they are discharged are all skills the program is working to improve.
"In behavioral health, our primary objective should be the safety and wellbeing of our patients, so we're committed to that," Breshears said.
For those in distress or in need of resources, the National Suicide Prevention Hotline can be reached at 1-800-273-8255 and is available 24/7.