Cobb County as of Saturday has 93 more confirmed coronavirus cases than were reported Friday, per the state Department of Public Health.
Since Cobb began reporting confirmed COVID-19 cases in March, 4,526 people have tested positive. Saturday's report follows a recent rise in new cases this week. Tuesday, there were 165 new cases from the day before. The highest one-day increase before that was 118 on May 6.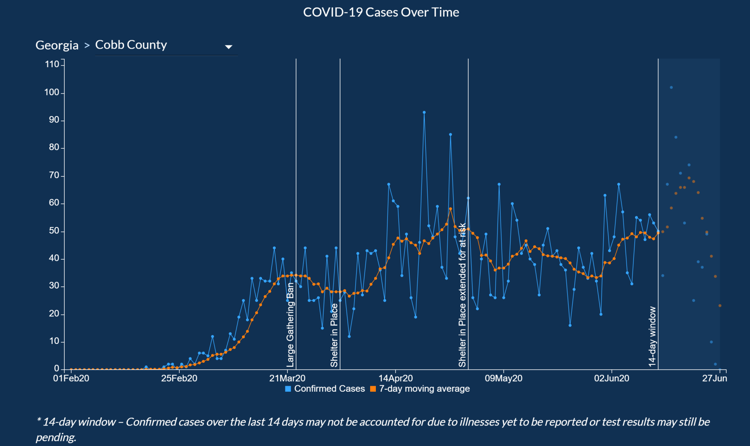 A total of 239 people in Cobb have died of the virus, one more than was reported Thursday. 
There have been 848 reported hospitalizations in the county, per the state's website.
Of COVID-19 tests completed at Jim Miller Park, 5.63% have had positive results, according to Cobb and Douglas Public Health. 
Cobb remains fourth among Georgia's 159 counties in terms of the number of cumulative confirmed cases (4,526), trailing Gwinnett (7,604), Fulton (6,506) and DeKalb (5,404).
Statewide, the number of positive cases is 74,985. The state reports 2,776 Georgians have died, making Georgia's fatality rate from the virus about 3.7%.
The Centers for Disease Control and Prevention reported on its website Friday that 2,414,870 people have tested positive for COVID-19 in the United States, and 124,325 have died. The national death rate based on these figures is about 5.15%. The CDC says 40 states or other jurisdictions have reported more than 10,000 cases of COVID-19.
For a Cobb and Douglas Public Health report that includes data on how the coronavirus is affecting different ZIP codes, visit bit.ly/2Nj3xs9.