In times like these, the good in people shines.
If you know of an instance of benevolence — on any scale — and are willing to share with MDJ readers, tell us your story.
Friday, Aug. 7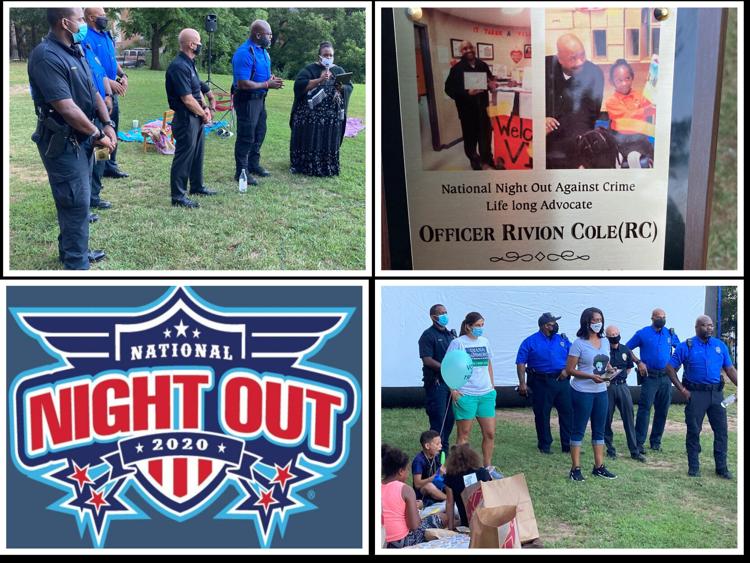 National Night Out Against Crime, a community and law enforcement effort, was celebrated by the Riverside/Austell community on Aug. 4, with a movie on the lawn at Parkview Apartments.
Everyone respected their social distance and free masks were distributed at the well-attended event. There were also complimentary beverages, school supplies, Census reminders and take home gifts.
This year's National Night Out honored Cobb County Officer Rivion Cole. Former colleagues of Officer Cole were in attendance to honor the memory of their brother.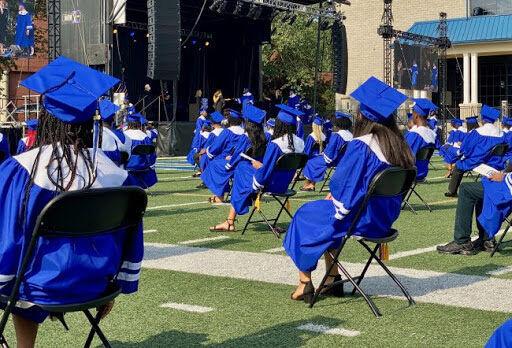 When the Cobb County School District announced plans to hold in-person ceremonies for the 2020 graduating class, the Cobb County Department of Transportation (Cobb DOT) responded with staff, personnel and resources to help make these ceremonies a success.
McEachern High School's Cantrell Stadium was chosen as the location for all 16 ceremonies because its size allowed room for social distancing. However, this location posed some traffic-related challenges, including on-going construction zones and road closures in the area surrounding the school.
To successfully manage traffic around the ceremonies, Cobb DOT staff developed a traffic control plan to route graduation traffic around multiple construction projects with short notice. Changeable message boards were placed in strategic locations to guide traffic flow to and from the ceremonies.
Crews installed a portable camera at Macland Road and Old Lost Mountain Road to monitor traffic and adjust signal timing as needed. Additional traffic devices were placed on New Macland Road to funnel traffic onto Old Lost Mountain Road. As a result, the traffic was managed safely and efficiently.
-From Cobb Commission Chairman Mike Boyce's newsletter
---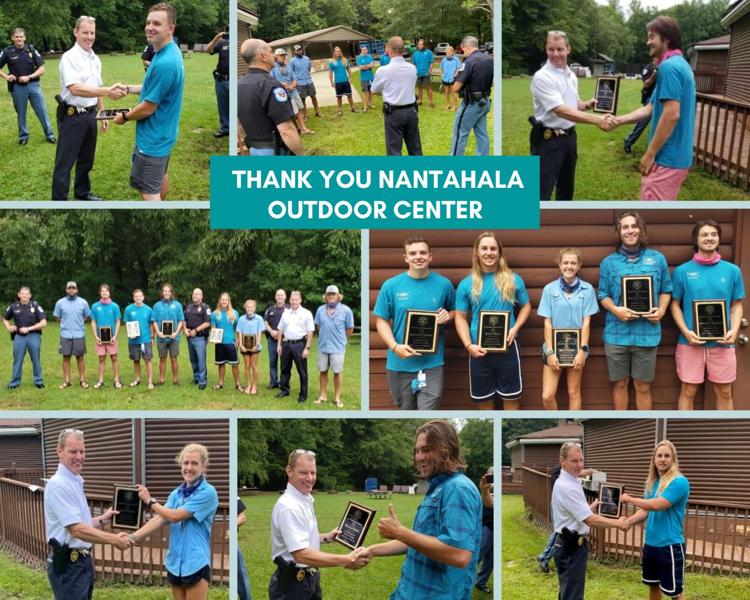 On July 24, Cobb Police Deputy Chief J.D. Adcock along with members of the Cobb County Police Department, Precinct III, presented "Good Samaritan" awards to members of the Nantahala Outdoor Center for their efforts in locating a 15-year-old autistic youth who went missing on July 13 in the Chattahoochee River near Paces Mill Park.
It was originally reported that he was lost while on the river. Precinct 3 officers, Sgt. Tompkins, FTO Beiermann, FTO Talps, Officer Janke, Officer Moreland and Officer Garrett, responded and quickly assessed the situation and determined this to be an urgent rescue operation. The factors considered were the outdoor temperature of 94 degrees, the low functioning abilities of the child, the vast wooded areas surrounding the park and the usual risks associated with any river search effort.
Every available officer responded and spread out in search of the child. They covered all of the likely locations where previous rescues had shown potential for success - Power Island, The Diving Rock, Sandy Point, etc.
After meeting with the family and questioning other witnesses it was determined that the teen was removed from the river at the boat ramp by Jerimiah Thorne who works for the Nantahala Outdoor Center. Thorne specifically remembered assisting the child from the river but at the time did not realize that he had been separated from his group, nor did he realize that the child was autistic. With this development the search transitioned to a land search operation.
All of the officers, volunteers and even employees of the Nantahala Outdoor Center fanned out and began to search the trails, fields and roadways near the boat ramp. After 31 minutes, the teen was located on the hiking trails, midway between Paces Mill Park and Cochran Shoals Park. He was escorted back to Paces Mill Park and reunited with his family safely.
- From District 2 Cobb County Commissioner Bob Ott's newsletter
---
Jennifer Wilkes shared the below Facebook post by her daughter, Kendall Wilkes - a senior at Harrison High School, with the Marietta Daily Journal.
"Let's face it, most of us are not happy about what school will look like in two weeks. Kids need social interaction, especially those with special needs. After hearing my mom discuss this with one of her best friends, who has a special needs daughter, I knew I wanted to do something to help moms like Mrs. Kim. After much thought and consideration, I have decided to start a group called Hoya Helpers ... don't let the name deter you from helping if you go to another high school ... I will want help from students at various high schools.
Upon completion of our daily work, Hoya Helpers will volunteer to work with special needs children on their school work, a few hours each week.
We will truly work with the students and give their parents a much needed break.
The exact time will be determined by the volunteer and the family you are helping.
If you are interested in helping out, please message me or text me. Also, please let me know if you know a family that could use our help.
I am very excited to work with everyone, especially sweet Lainey Barfield!
Important note: This is a completely volunteer opportunity and there is no charge for interested families."
---
Erica Miller shared the following with the Marietta Daily Journal:
"A local neighbor, Bob Kilinski from Indian Hills, started a nonprofit organization a few years ago. He gave a car away to someone working at Every Woman Works. She was a single mother with children. He also paid her tax, tag and title. At the same time he bought himself a new vehicle. His daughter asked how he liked his new car. He said he felt better about the car that he gave away. She challenged him to do it again. Last week, he gave his 100th car away. He doesn't pick the mothers. He allows nonprofits and churches to pick the single mothers with children. He meets them on the same day that he gives them the car and pays their tax, tag and title."
---
Mandy Swartwood shared the following Facebook post by her neighbor Rebecca McAfee Partain to the Hardage Farm Moms Group with the Marietta Daily Journal:
"I would love to help support those of you in the neighborhood who are working and now having to virtual learn. Thinking of ways to come around you. PE at the basketball courts twice a week? Art lessons in the home? Helping with virtual learning so you can run errands? This is going to take a village. Let me know how I can come alongside you!"
---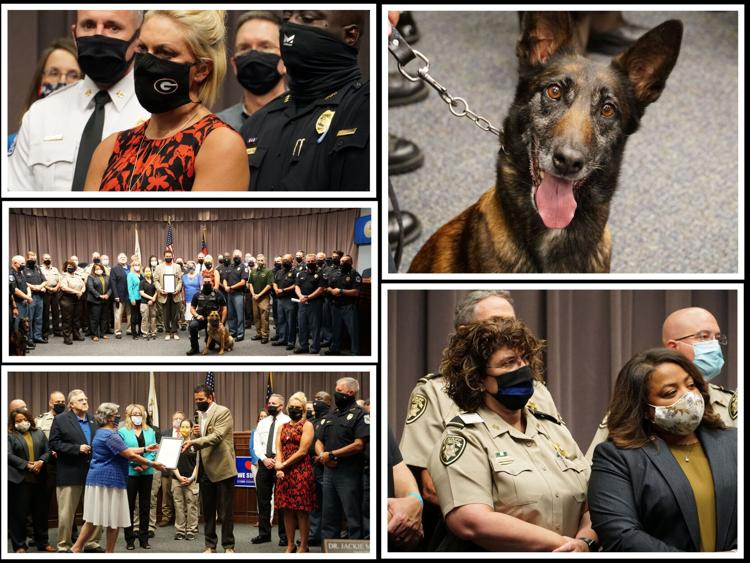 At the July 28 BOC meeting, Cobb commissioners presented a proclamation to the Public Safety team in appreciation of their efforts to keep our community safe during these unprecedented times.
Dedicated employees from the Emergency Communications department, Fire & Emergency Services, Animal Services, Cobb County Police and the Emergency Management Agency worked non-stop to ensure residents, businesses and employees were apprised of each development by providing professional and efficient services during the coronavirus pandemic.
Thank you to all our frontline workers for their commitment to Cobb County.
-From Cobb Commission Chairman Mike Boyce's newsletter
---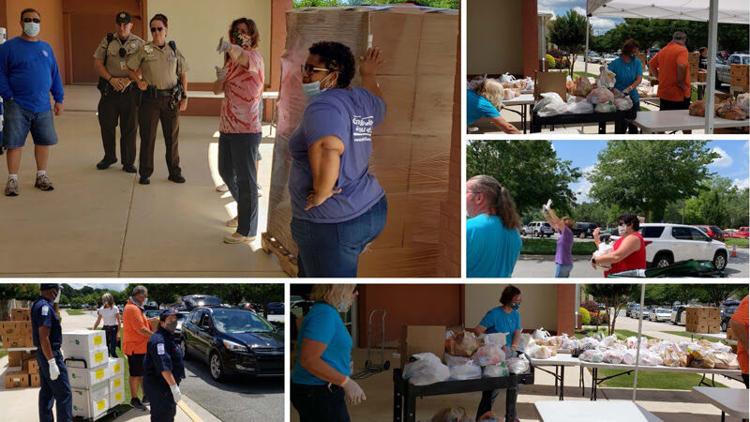 "As our liaison commissioner, I wanted to thank you, Commissioner Gambrill, for your continued support of Senior Services and especially for highlighting the work that we have done and will continue to do," said Dr. Jatunn Gibson, director of Cobb Senior Services. "It meant a lot for the staff to know that you shared comments about Senior Services at the BOC meeting. It is good for the staff to hear that they are making an impact in the Cobb community, and that their work is recognized. Thank you."
We are appreciative of how hard Jatunn and the entire Cobb Senior Services staff has worked to continue serving our older residents during the pandemic.
Ioana Bovo-Nicolescu, division manager, presented the idea to have a drive-thru for Cobb seniors where we can provide shelf-stable food to seniors in need. Many of our existing partners provided items to assist and many residents have donated to support our efforts. We started the drive-thrus on April 16, and have since given out 2,260 meals. Other items that we've distributed during the drive-thru includes - produce (for the past 5-6 weeks), phones (land line phones with larger numbers), crossword, Sudoku and coloring books, toiletries (paper towels, toilet paper, soaps, lotion, shampoo, hand sanitizer, wipes) and masks.
Snapshot of the July 16 drive-thru. There were 331 total people served, 357 food boxes given, 101 dairy boxes, 87 produce boxes, about 300 masks and 20 cases of water.
Merline Tippens, program specialist, coordinates the collection of all donations, schedules drop-off times for donations and works with staff who volunteer to box and bag all items for our drive-thru. These items are also used to supplement our Meals on Wheels delivery.
Jobcy Alexander, nutrition manager, has rerouted all of our deliveries for Meals on Wheels to accommodate schedules of recipients and to make sure Cobb staff is able to deliver to all who are on our list. During the pandemic, many of the volunteers who usually deliver meals could not, so we reverted to staff. The innovative scheduling and changes to routes allow us to, on average, deliver three-days a week with minimize contact, while delivering approximately 1,400 meals serving 280 plus Meals on Wheels clients. We have documented a 22% increase in the request for Meals on Wheels since mid-March.
Swannie Wilson, transportation manager, and Tamira Dennis, transportation supervisor, adjusted all routing to deliver Meals on Wheels as wells as continue to offer demand response to seniors seeking rides to medical appointments.
Allison Hall, project/technology manager, continues to monitor the needs of each center as we plan for a safe reopening in the future. She monitors our needs for personal protective equipment and keeps Cobb Senior Services current with changes to make sure that we are in a safe working environment.
Kathy Lathem, strategic partnerships manager, makes sure information is shared with our staff, our partners and on a county level through Cobb Communications. She has pitched in during the pandemic to help in all areas and continues growing our partnerships to address specific needs associated with COVID-19.
Sandee Panichi, deputy director, provides leadership to our staff and works to ensure we are operationally-sound with all of the changes to our centers and deliveries to seniors. She even finds time to go on Meals on Wheels routes and work the drive-thru. She continues to find ways for Cobb Senior Services to improve and meet our changing needs during this pandemic.
-From District 1 Cobb County Commissioner Keli Gambrill's newsletter
---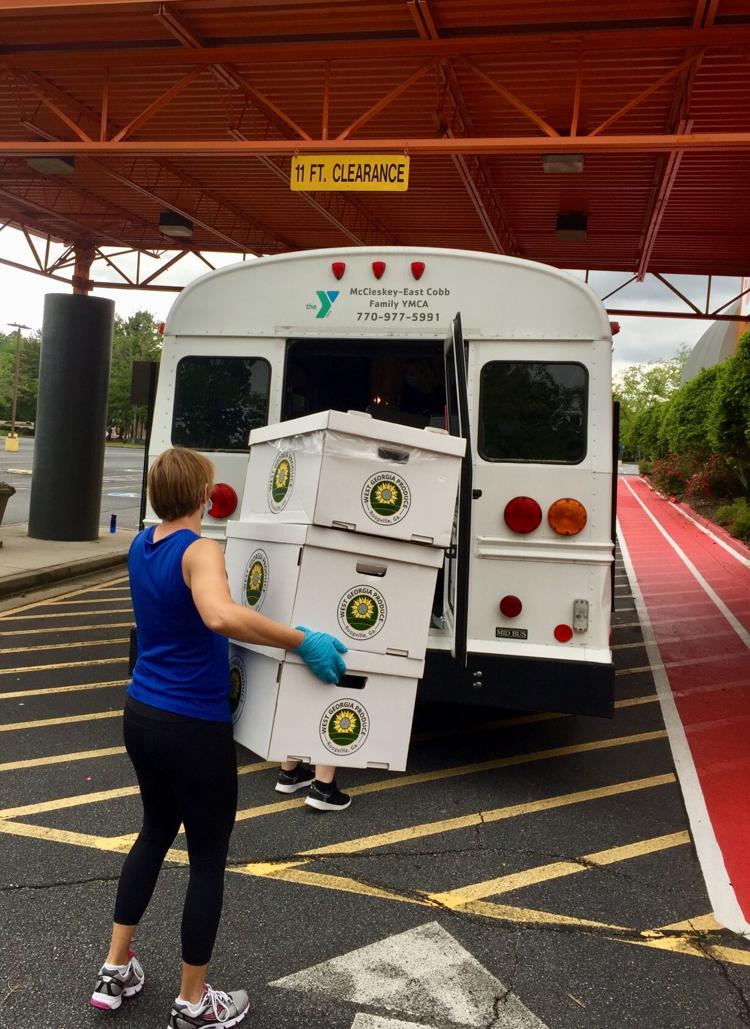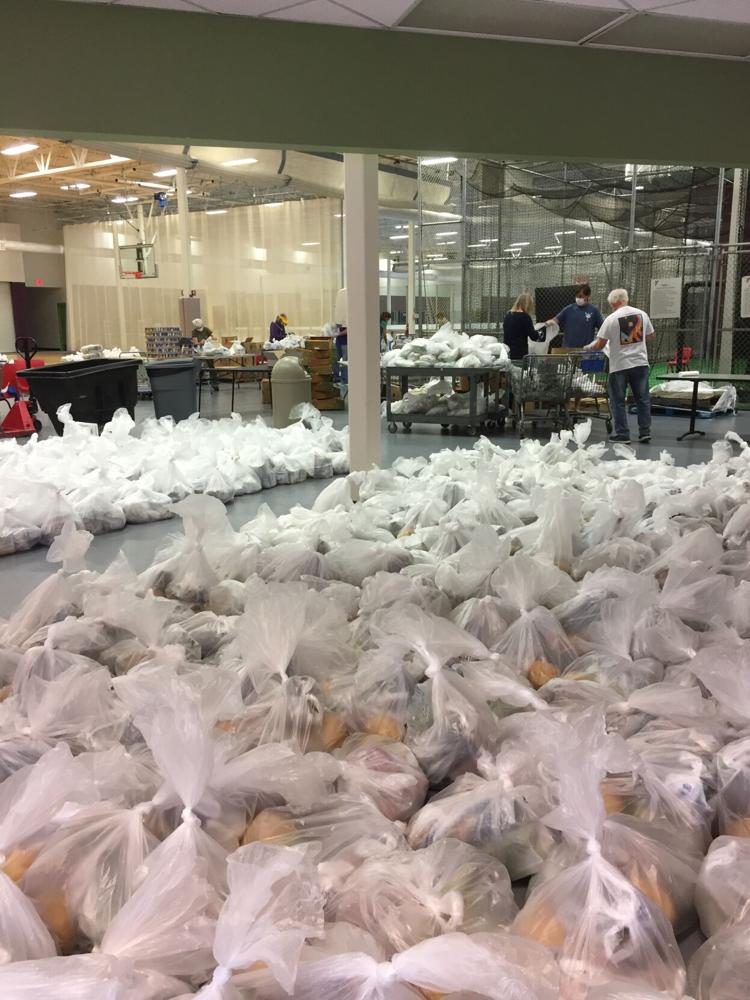 The YMCA of Metro Atlanta has played an integral role in hunger relief efforts during the COVID-19 outbreak.
Since March 16, The Y has provided 116,456 grab-and-go meals and 28,311 family packs of food, for a total of 229,700 individual meals. Through partnerships with World Central Kitchen and Common Market, the YMCA continues to increase its contributions.
In Cobb County, the McCleskey – Northeast Cobb YMCA and Northwest Cobb YMCA have collectively packed 12,007 back packs of food for Marietta City School students and families living in low income apartment complexes. The McCleskey Northeast Cobb YMCA is also helping provide free breakfast and lunch to students all summer long. In the past two weeks, 6,550 meals were served to Marietta City School students.
---
The Episcopal Church of Saint Peter and Saint Paul, 1795 Johnson Ferry Road in Marietta, is partnering with There's Hope For The Hungry to provide free food for those in need on the first Tuesday of each month.
The next offering will be Aug. 4 from 10 a.m. to 1 p.m.
Participants can drive by, follow signs through the church parking lot, pick up a box of food that will be placed into one's car. Participants do not need to leave their car. The food will feed four people for two weeks.
For more information, contact Tom Martin at 678-427-0416.
---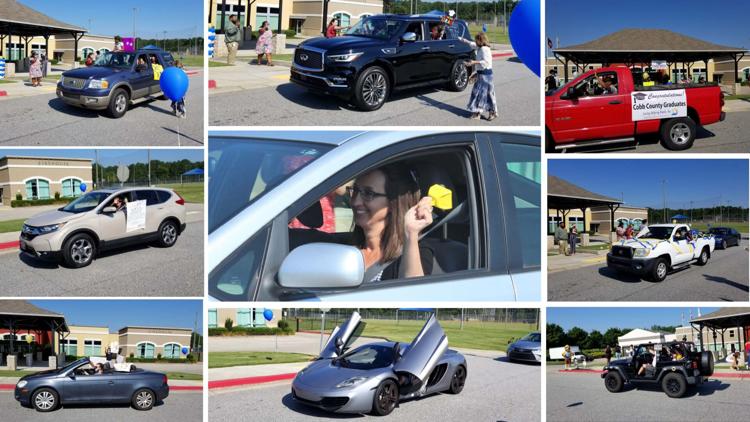 We were proud to participate in the parade last week and share the excitement of our graduates.Nineteen youth in foster care graduated from high school or received a GED, and one young adult recently graduated from college. The celebration included foster families, case workers, stakeholders, public safety personnel and others, including community leaders. We will forever remember the class of 2020 who faced a great challenge, but are posed to positively impact our future.
-From District 1 Cobb County Commissioner Keli Gambrill's newsletter
---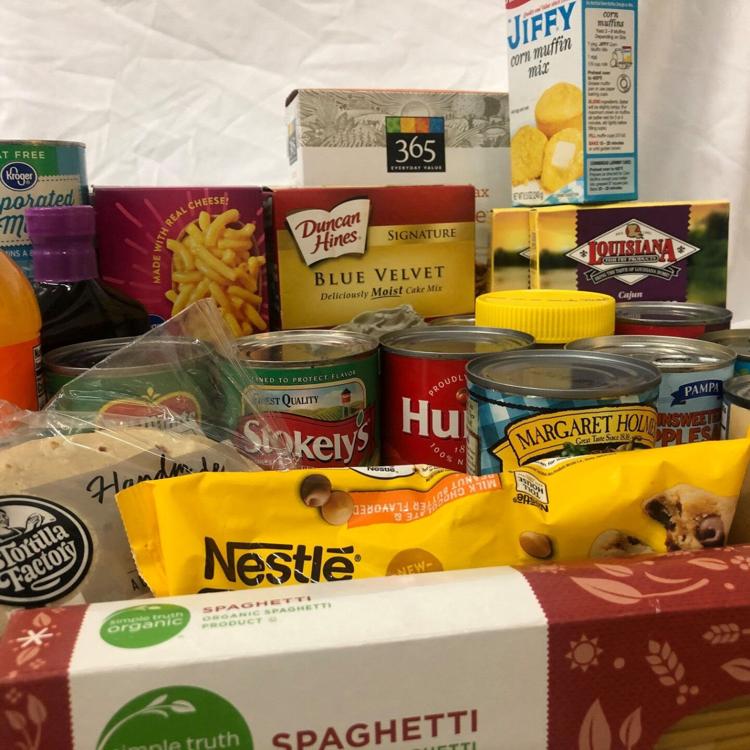 In the United States there are currently over 11 million Americans unemployed.
Imagine trying to pay rent, utilities and feed your family with little to no income. We can't solve the national problem however we can support our community.
Cobb schools team with MUST Ministries to stock food pantries. Please consider being part of the "50 with $50" Food Drive.
We are challenging 50 families to spend $50 to purchase items to help fill Cobb School Pantries. We also invite you to call on two families to participate.
The drop off date is Sunday, July 26 from 11 a.m. to 2 p.m. in the parking lot at Massey Automotive, 2050 Lower Roswell Road in Marietta.
The following items are requested canned corn, canned mixed fruit, canned pasta, canned veggies, chunky soup, jelly, instant noodles, boxed macaroni and cheese, canned pasta and rice.
Every precaution will be made to maintain "safe distance." Participants do not need to get out of their car to drop off donations. Participants will be eligible for 10% off at the Zaxby's at this location on this date.
For more information, contact Fred Massey at 404-731-4466.
-From Cobb County District 2 Commissioner Bob Ott's newsletter
---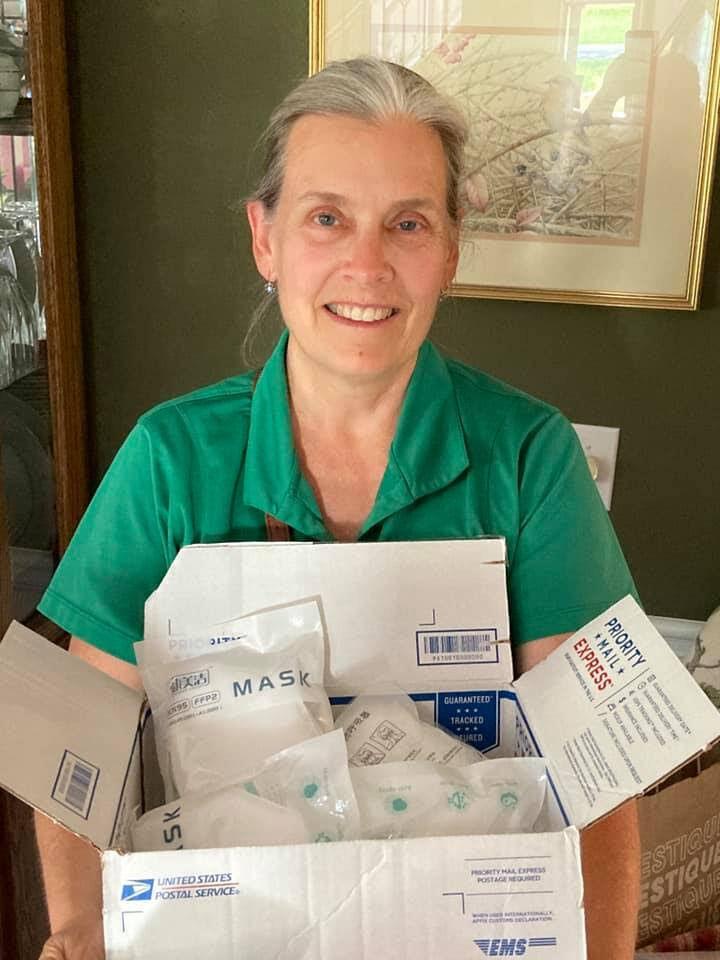 Today's #KennesawCares highlights Shelly Browne and Blue Thanksgiving, a non-profit that provides support to the Kennesaw Police Department, 911 Center and surrounding counties' law enforcement agencies.
Browne, owner of All-Star Chem-Dry in Kennesaw, was able to donate 45 KN95 masks to members of Blue Thanksgiving so they can continue supporting first responders during COVID-19. Blue Thanksgiving has donated over 1,000 meals, 700 bottles of hand sanitizer and 4,500 face masks to various law enforcement agencies, fire stations and 911 dispatch offices throughout Cobb County. The organization has been donating meals throughout the COVID-19 pandemic, for both our police officers and 911 operators.
While providing for our law enforcement officers and public safety personnel was their main objective, they also strive to support local business owners by purchasing these meals from local restaurants, including - Paul's Pot Pies, Major Q's BBQ, Zaxby's, Pasta Bella, Marietta Pizza Co. and Pisano's. Funding for their pandemic project came from a private donor who wishes to remain anonymous.
- From the City of Kennesaw's newsletter