Standard Journal Area Calendar of Events from the Wednesday, January 8, 2020 edition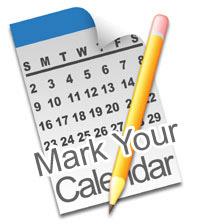 The annual Martin Luther King Jr. Walk and Celebration is coming up on the afternoon of Monday, January 20, 2020 to honor Dr. King. After a walk down Main Street and service in Holloway Park, participants are invited to Turner Street Park for refreshments following the event. All are invited to participate in the walk set to start at 1:30 p.m.
The annual Polk County Martin Luther King Jr. Breakfast is coming up on Saturday, January 18 in Ledbetter Hall at Cedar Lake Christian Center, 1890 Rome Highway, Cedartown. It's set to start at 9 a.m., and tickets are $10. Contact Jennifer Hudson at 706-346-5494, Pastor DC at 678-471-6420, Lynda Kelley Dave at 770-375-0144, Forrest McCombs Sr. at 770-546-9199 or Minister Donnarae Bradley at 706-238-2457 about tickets.
Mt. Olivet Baptist Missionary Church of Yorkville, is sponsoring a Dr. Martin Luther King Charitable Gala to support local charities on Saturday January 18, 2020 at the Paulding County Senior Citizens Ballroom, located 54 Industrial Parkway North, Dallas GA 30132 from 5:30 p.m. to 10:30 p.m. The charities are the Fellowship of Christian Athletes and Paulding County Helping Hands. The gala will start with a social hour at 5:30, followed by entertainment at 6:00 p.m. with Lady Q, a Christian comedian, and music by Just 3 and Samuel Davis. The speaker for the evening is former Paulding County Board of Education member Sammy McClure Sr. The evening will culminate with dinner and presentations to the charities for their continued community advocacy and enrichments in Paulding County. Ticket are $40.00 per person and can be purchased on line at Eventbrite.com and search by the gala name.
Get tickets now for the Jan. 24 Stand Up for Hope fundraiser hosted by Kay Dodd, featuring Cyrus Steele and starring Marty Simpson. The proceeds go to the Open House Women's Shelter. Tickets are $10 in advance, $12 at the door at the Rockmart Theatre. Contact 770-684-2707 to reserve tickets now.
"Annie Jr." will be opening on the CPAC stage on Friday, January 24 and continue through shows on Saturday, January 25 for musical lovers of all ages to come and enjoy. Tickets are $10 and are available online at Cedartownshows.com.
Celebrate Recovery meets every Monday night at the First Baptist Church of Rockmart starting with dinner at 6 p.m. to 6:45 p.m. Large Group at 7 p.m. and Small Share Group at 8 p.m.
The Polk County Democratic Committee meets on the second Saturday of every month except December at 10 a.m. In the "even" months (February, April, June, August, etc.) the organization meets at the Rockmart Library at 316 N. Piedmont Ave., Rockmart and during the "odd" months (January, March, etc) they meet at the Cedartown Welcome Center, 600 Main St., Cedartown, GA 30125. There will be no meeting in December due to the holidays.
RCAC has classes for toddlers, children and adults at the Rockmart Cultural Arts Center in drawing, painting, photography, yoga, chorus, piano, whittling, and pottery. For more information, call 770-684-2707 or email rcac@rockmart-ga.gov
Several RCAC classes are coming up for the creative side in local art lovers. Check out the Polymer Clay class coming up on Saturday, January 18 from 10 a.m. to 4 p.m. for $45 per person. All supplies are included. Call Anita Kennerley to sign up at 678-372-2755. Also this month is a Fused Glass kiln carving class on Saturday, January 25 from 10 a.m. to 12:30 p.m. for $35 with all supplies included Call Elizabeth Mobley at 770-851-4431 to sign up.
Check out paint parties at the RCAC starting on Saturday, January 11 from 2 to 4 p.m. The opening paint party with Merari Morales includes a red cardinal, followed by a Friday, January 24 party featuring a snowman. $20 per person, all supplies included. Call or text Morales to sign up at 706-591-9028.
Give a child a safe place to go after school and learn valuable lessons about community, life and academics by getting involved in the Boys & Girls Club of Northwest Georgia in Cedartown. Visit their center at 321 E. Queen St., Cedartown from 2:30 to 6 p.m. on weekdays and bring your children ages 5-18 for afternoon activities. For more information on how to participate or volunteer, call our office at 770-749-0869 or email asams@bgcnwga.org.
The Rockmart History Museum on South Marble Street in downtown Rockmart is open Tuesday through Friday, 10 a.m. until 4 p.m. and on Saturday 11 a.m. until 3 p.m. The Museum welcomes visitors and group tours. Contact Pat Sampson at 678-764-5201 for information. RHM meetings are held on the first Wednesday of each month and volunteers are welcome and encouraged to take part.
Interested in becoming a Foster or Adoptive Parent? Open your heart to a child in need and find out how you can help. Join others who seek the love of a child every second Tuesday night of each month at 6 p.m. at Polk County Division of Family and Children Services office, 100 County Loop Road in Cedartown. Information sessions explain what is required to become a foster or adoptive parent in Georgia. For more information call Robin Forston at 404-895-6517 or email robin.forston@dhs.ga.gov or call 1-877-210-KIDS. Visit www.fostergeorgia.com for more information.
The American Legion in Rockmart is hosting their monthly all-you-can-eat spaghetti dinner coming up this Wednesday, January 15. Meal of spaghetti, meatballs, garlic toast and salad, $5. They hold dinners on the third Wednesday of every month. Join the group for a good meal and to support veteran and children's programs. The Legion is located at 1 Veterans Circle, Rockmart.
USAPA Pickelball Ambassador Daneen England is holding a free pickleball clinic every Monday (weather permitting) from 6:30 to 7:30 p.m. at the Rockmart Tennis courts, located at 436 Hogue Avenue, Rockmart. Loaner paddles and all necessary equipment will be on hand to learn t he sport. This is a free event for anyone and they just need to wear comfortable gym clothes and tennis shoes. Contact England at 770-356-1282, or by email at howardd999@yahoo.com for more information.
The office of Exceptional Students of Polk School District is available to assist with the identification of children with disabilities and provision a free appropriate public education beginning at the age of three through the age of 21. If you suspect your child is experiencing any developmental delay or you suspect your child might have a disability and would like assistance or for more information about services available through Polk School District, contact the PSD Exceptional Student Services office at 770-684-8718.
Lutheran Services of Georgia's Heritage Adoption Program partners with DFCS to find Forever Families for children waiting in Georgia's foster care system. Information Sessions are held on the third Thursday of every month at 6 p.m. at the Rome Office, located at 336 Broad St., Suite 200. Individual sessions may be scheduled to accommodate families as needed. For more email aweaver@lsga.org or call 706-506-0649.
Did you know that nationwide the American Red Cross assists 53 people every 60 seconds during personal and local disasters? Our Northwest Georgia Red Cross Chapter serves Polk County. If you'd like to do some meaningful volunteering, please contact Arthene Bressler at 762-231-9896 and visit our website at www.redcross.org/local/georgia.
Get assistance
Do you think you might be pregnant? You can know for sure. Contact Life Matters Outreach today to schedule a free pregnancy test. You have a right to know all the options available to you. We offer free evidence-based education and resources so that you can make a well-informed decision. The services provided at LMO Pregnancy Care Center are free of charge. Clients are treated with respect and unconditional acceptance. We are here to help YOU. Call 770-748-8911 for more information.
Anna Kresge Memorial United Methodist Church will be sponsoring a clothing bank for children ages infant to 5 years old on the first Thursday of each month beginning in September from 9 a.m. to 11 a.m. in the conference room of One Door Polk in Cedartown. Contact 770-748-6811 for more information on how to donate or participate in the giveaway.
Victory Baptist Church's Bread of Life Food Pantry is now open. One bag of non-perishable food, five items to pick from produce, eggs and milk and two items from frozen meats, breads and others will be available. ID is required. Limit of two IDs per address. Regular hours are Mondays, 1 to 3 p.m.; Tuesdays, 5 to 7 p.m.; and Thursdays, 8 to 10 a.m.
Community Share Ministries is hosting "Hope for the Hungry" on the first Tuesday of every month to provide food assistance to the community. They'll be in town again on Tuesday, June 4. Food is provided free of charge, and no identification is required to get help. Those interested can visit Community Share Ministries Cedartown thrift store at 1116 N. Main St., Cedartown.
The Georgia Legal Services Program's Claire Sherburne will be on hand at One Door Polk in Cedartown every fourth Monday to help those in need with free civil legal services to low-income persons. This will include all cases related to housing, employment, education, domestic violence, consumer fraud, wills, healthcare and other issues involved in the legal complications of everyday life. Call 404-206-5175 for more information.
The Polk County Alzheimer's Caregiver Support group will meet monthly on the first Monday at 11 a.m. at Polk Medical Center. Those interested can join for fellowship and lunch in the cafeteria. For more information call John Giglio at 678-246-8188.
Aragon First United Methodist Church offers a food pantry for the community to use if they need assistance. They are open Mondays from 5:30 to 7 p.m. and Tuesday mornings from 9 a.m. to 11 a.m. A picture ID is required to participate. Call 770-684-4855 for more information.
Soup and Savior, a local nonprofit organization, meets from 6 to 7 p.m. Tuesdays to provide needed items to deserving people. This includes a free meal (soup), clothing and gives other assistance. Meetings are held at Glad Tidings, located at 703 Robert L Parks Blvd. in Cedartown. Donations are accepted.
Just Us Ministries Inc. Food Bank has distribution every Tuesday and Thursday at 904 Young Farms Road in Cedartown. On Tuesday the distribution is from 10 a.m. to 2 p.m., and on Thursdays from 10 a.m. to noon. A picture ID is required. For more information call 770-687-1009 or 678-901-3354, email justusmin.org@gmail.com, or visit Justusministries.com.
A caregivers support group meets on the second Monday of each month at 11 a.m. at Rockmart Presbyterian Church. Call 770-684-6289 for more information.
Take back your life and get help. Narconon can help you take steps to overcome addiction in your family. Call today for free for screenings or referrals at 1-800-431-1754.
Churches
The Rev. Gilbert Richardson and the Ware's Grove Church family of 200 Potash Road, invite everyone to join the Impact Service held each Sunday at 9:45 a.m., followed by regular worship services at 11:15 a.m. Bible class is held Wednesday nights at 7 p.m.
Anna Kresge United Methodist Church invites children, kindergarten age through middle school, to come to Kresge Kids each Wednesday from 6 to 7:30 p.m. Supper is provided. There is also a high school youth program as well. For more information, call 706-346-3100.
Rockmart First United Methodist Church invites the community to come out and join in worship on Sundays and Wednesdays at the church located at 135 W. Church St. Sunday morning worship begins with Bible study at 9:45 a.m., followed by Sunday school at 10 a.m. for all ages, and an 11 a.m. worship service. Wednesday night includes at 5 p.m. community meal on the last Wednesday of every month, 6 p.m. Bible study and choir practice at 7 p.m. Weekly children's events at the church include a 5:45 p.m. children and youth meal, 6:15 Children's music and MYF, followed by L.I.F.E. at 6:54 p.m. All are invited to join in. Call Rev. Thomas Hall at 706-836-7378 or email tg.hall@ngumc.net for more information or questions. The church also updates weekly on their website at rockmartumc.org.
Harmony Baptist Church, 882 Little Harmony Rd, Cedartown (Esom Hill area) invites everyone to attend their weekly Sunday morning Services. First Sunday morning service begins at 9:45 a.m. with Sunday School followed by worship service at 11 a.m.. Our doors are open to all and we are looking forward to seeing you. For more information visit our Facebook page, Harmony Baptist church, Cedartown.
Shiloh Baptist Church would like to invite the community to come participate in worship services weekly at their sanctuary at 433 Shiloh Road. Join the church for Sunday school at 10 a.m., followed by 11 a.m. service or Wednesday nights at 6 p.m. Call Pastor Jamie Newsome for more information at 404-425-8510.
Cedar Lake Christian Center is a non-denominational community who invites anyone looking to find the Holy Spirit within them to come join in worship services on Sunday mornings at 10:30 a.m. with the Rev. Neil Hopper, along with Hispanic services as well to the community. Those interested in participating can join in at Cedar Lake Christian Center, located at 1890 Rome Highway, Cedartown. For more information call 770-608-0651.
Join the Church of God of the Union Assembly, 32 Prospect Road, Rockmart, for praise and worship weekly. The church welcomes anyone to come and worship regularly on Sundays and Wednesdays as well. Praise and youth services are held at 7 p.m. on Wednesday nights, and services start at 10:30 a.m. on Sunday following Sunday School at 9:45 a.m. Call Pastor Jesse Starnes at 678-757-4572 for more information.
The Church of Jesus Christ of Latter-day Saints provides opportunities to local residents interested in hearing the message of Jesus Christ. For more information about how you can speak to local Elders, contact 687-852-7497, or visit their meeting house at 10005 N. Main St., Cedartown for worship services at 10 a.m. on Sundays.
Do you have interest in studying the Bible and prophecies within? Contact Dr. Idel Suarez about a new study group being formed locally for serious scholars of the text. Contact him at 813-310-9350 for more information about how to participate and future meetings.
The Church of Jesus Christ of Latter-day Saints in Cedartown, hosts a genealogy group that meets from 6 p.m. to 9 p.m. on Thursday nights, except holidays. There are no fees for these sessions and they are open to anyone. Please bring all of your basic family history (if you have it) such as names, birth-dates/death dates of parents, grandparents, children, etc. Bring your laptop or tablet, if you have one. If not, we can still help. Questions? Contact us at 678-477-2861 and leave a message or visit our Facebook page at www.facebook.com/FamilyQuest42/
Clubs and Organizations
The Ferst Readers Community Action Team meets the first Monday of the month at 5 p.m., alternately in Cedartown and Rockmart. Call 404-862-1273 for the meeting location. Find out more about how to help improve childhood literacy in Polk County at ferstfoundation.org.
The Cedartown Optimist Club meets on Thursday mornings at 7 a.m. for their weekly breakfast meeting and encourages members to join in and take part at the Goodyear Civic Center on Prior Street in Cedartown. Those interested in joining the Optimist Club and help local youth organizations can contact Ronnie Dingler by email at nmvideo@bellsouth.net.
The Polk County Beekeepers are now meeting the second Thursday of each month at the Polk County College and Career Academy's Cedartown High campus in the community room at 7 p.m. Whether you are an experienced beekeeper, new beekeeper or want to learn all are welcome. For details email polkcountybeekeepers@gmail.com or visit polkbees.com for more information.
Members are invited to join the Cedartown Exchange Club weekly on Thursdays at 6 p.m. at the Cherokee Country Club for meetings and dinner. New members from across Polk County are encouraged to get involved by contacting club president-elect Edward Guzman at 770-546-2482 to take part in the organization that is involved in a wide range of community projects. Visit their website at cedartownexchangeclub.com to learn more. Annual dues are required to be a member.
The Rotary Club of Polk County now meets weekly at Polk Medical Center's conference room on Highway 278 for lunch at noon every Tuesday unless otherwise noted and are encouraging members and potential new members to take part. Contact Missy Kendrick with the Rotary Club at 770-584-5234 for more on how to participate or become a member. Annual dues are required to be a member.
The Kiwanis Club of Cedartown encourages members to take part in weekly meetings on Fridays at noon at the Cherokee County Club. Potential new members are asked to get in touch with Rhonda Heuer, Club Secretary at 770-748-1016 to learn more about how you can take part in making the community a better place. Annual dues are required for membership. Visit kiwanis.org to learn about the club.
Arts
The Sit and Stitch is back to sewing at Rockmart First United Methodist Church in the fellowship hall. The group will meet the first and third Monday's of each month from 10 a.m. to 2 p.m. Participants can bring any craft they choose or help with a ministry project this year. The group is making crochet or knitted caps for donation to Helping Hands. A pattern will be provided and the group has crafters who can help those in need of instruction. Bring a sack lunch. Coffee or tea provided. Any questions please call Madeline Brown 678-435-5032.
Have a hidden singing talent, or want to get back into a chorus? Lend your voice and take part in the Rockmart Community Chorus on Tuesdays at 7 p.m. The choir is preparing for it's Spring and Christmas concerts. Contact Debbie Miller, director, about taking part by calling 404-219-9572 or debbiebmiller@aol.com.
The Rockmart Cultural Arts Center's Children's Classes hosted by Margaret Bearden include monthly classes for children 3 to 6 years old on the second Wednesday of each month from 10 to 11 a.m. ($15 per child per class.) Bearden hosts Drawing and Painting classes for students seven to 12 years old on Mondays from 5 to 6:30 p.m. ($60 for 6 classes paid at first class, or $15 per.) Classes are also available on Thursdays from 10 to 11:30 a.m. for students 7 to 12 for Home School Mixed Media ($60 for 6 classes on first class, or $15 per) and Paint Parties are available as well. Contact Bearden at 770-500-4207 or by email at margaretbearden@gmail.com.
Pottery by Paul Craighead continues through the winter season at the RCAC, which includes Beginning Hand building on Tuesdays from 6:30 to 8:30 p.m. Prices are $145 for 8 weeks. He also hosts an Open Studio for more advanced potters Wednesdays from 10 a.m. to 11:30 a.m. and 6:30 to 8:30 p.m., and Thursdays from 10 to 11:30 a.m. $15 per class. 16 and up for all classes, but Age 8 and up if accompanied with a parent or approved by Craighead. Contact him at 770-843-5302 or by e-mail at rivoletti@netzero.net.
Learn Drawing and Painting at the RCAC with James Hill on Wednesdays 6 to 8 p.m. or other days if available. Ages 12 to adult, $90 for a six week class. Contact Hill at 770-355-1535 or by email at jhill2411@gmail.com
Take part in a bi-monthly class for adults influenced in arts and self-empowerment, HeARTS and SOUL at the RCAC. $20 per person, includes all supplies. Dates and times to be announced. Contact Donna Duff at 770-855-7767 or by email at ctwarts@gmail.com.
The RCAC is hosting Now and Then of Rockmart to provide students with help gaining an eye for seasonal and home decor. Classes are being planned for Thursday nights and Saturday mornings, but dates are to be determined based on interest. Contact Tina Lanier at 678-883-9300 or by email at thenandnowofrockmart@gmail.com.
Piano lessons are available from Madelyn Stringer through the RCAC on Mondays from 10 a.m. to 6 p.m. and Wednesdays 1 to 5 p.m. Ages 6 to adult, all skill levels. $15 per weekly half hour private session, or $25 for an hour. Contact Stringer at 678-988-4133 or by email at madelynaudrey2000@gmail.com.
Carla Redding is providing a variety of photography classes this winter at the RCAC, ranging from getting to know a camera and how to take good photos, to using professional level software like Lightroom and Photoshop CC. Additional outings are available as well. Contact Redding for prices and schedules at — 770-546-3943 or ctr7510@aol.com.
Beginning Yoga can help people gain greater flexibility and stregth while maintaining graceful movements. Learn from Ramona Camp for $12 for an hour long class on Thursdays 6 to 7 p.m. Age 12 to adult, but those under 18 must be accompanied by a parent. Bring a mat, pillow, water bottle and wear comfortable clothing and get ready to stretch out at the RCAC! Contact Camp at 706-621-2306 or ramonacamp7@gmail.com to sign up!