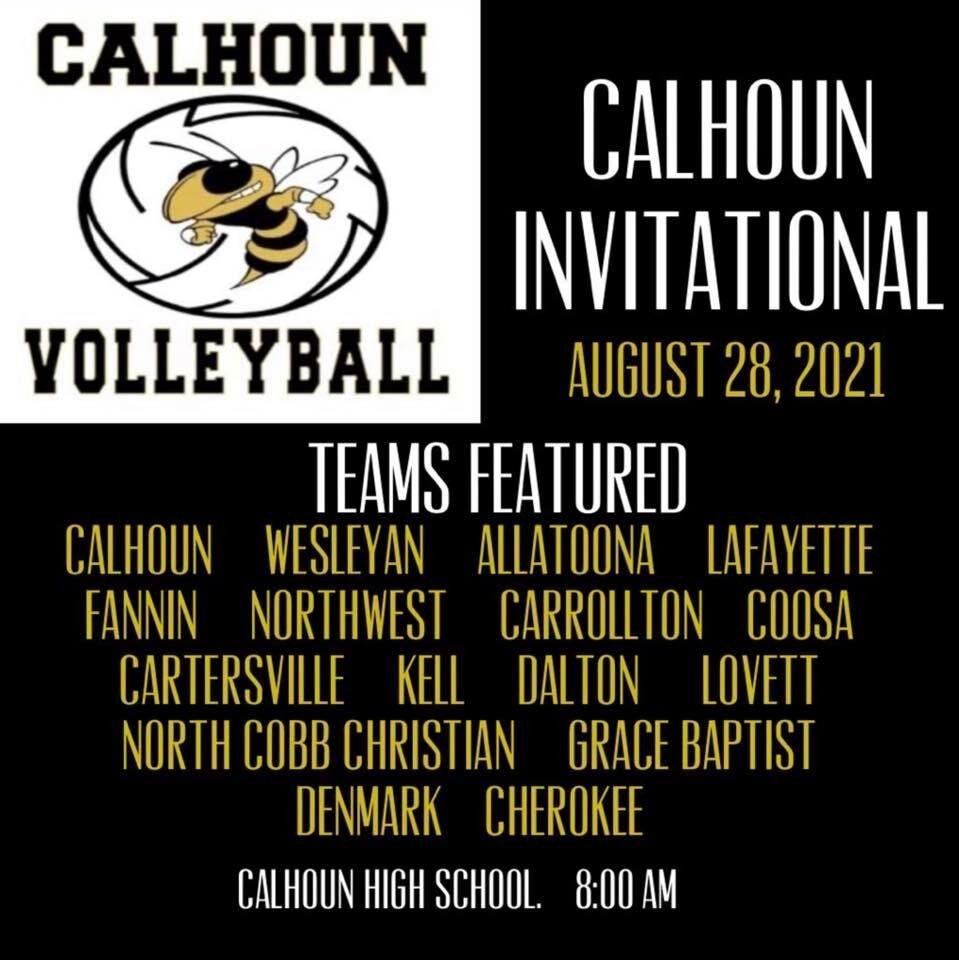 Some of the top high school teams and players in the state will be in town Saturday when the first-ever Calhoun Volleyball Invitational is held at Calhoun High School.
A total of 16 teams, some from as far away as Atlanta along with other parts of North Georgia, will be in the field hoping to bring home the Gold Bracket championship later that day.
"We're very excited about this," said Calhoun volleyball coach Nic Hann. "This is the first year of holding this and we're looking forward to it. It's the first time there's ever been a varsity volleyball tournament like this in the city of Calhoun, so we think that makes it even more exciting.
"We did have a junior varsity tournament last year to kind of test the waters and that went very well. It gave us a really good idea of what we needed to do to be able to host a varsity tournament like this.
"But we wanted to expand it to a varsity tournament this year, so I started sending out emails to see who we might be able to get to come and I got a tremendous response. And because of the response, I feel like we've put together a outstanding tournament, even if it's the first year were holding it."
State powers like Wesleyan and Lovett High Schools from Atlanta and Allatoona from around the region reached out, saying they wanted to participate and before Hann and his assistant coaches knew it, they had what he describes as "a very tough field."
"I wanted to at least bring in a couple of teams that were state championship caliber, but we really wanted to bring in as many tough teams and proven teams as we could and I feel like we've been able to do that," said Hann. " I really don't think we could ask for a much better 16-team field then we actually have, especially with this being a brand new, first-time event.
"But that is why we are holding it. We want to get to where this tournament is something special. It's something other teams want to be a part of because they know it's an excellent opportunity to showcase their players and showcase their team and play some great competition. But we're very excited about the Calhoun Invitational because we think it's going to be a great day of volleyball."
The 16 teams will be placed in four four-team pools and everyone will play three pool matches to determine their championship status after that.
The first-place teams from all four pools will automatically advance to the Gold bracket championship with the first club to win three games being the first-ever Calhoun Invitational champ
"For the team that wins it, they're going to have to play well from when we start at 8 a.m. until we finish, probably around 6 o clock," Hann said. "I mean I know that this is the first time we're holding this, but I also know that we're very fortunate with the teams we've got playing in it, that it is going to be a very strong tournament.
"The team that wins the Gold bracket will have to win six games and that's not easy to do period. So I know against the teams in this tournament, the team that does win six consecutive games to win it, will have to play very well."
In all though, there will be four teams that can walk away with a trophy as there is also a silver, a bronze, and a consolation bracket after pool play.
The four teams that finish second in pool play will move to the silver bracket to determine a winner among those teams.
It will be the same way for the four teams that finish third as they will go onto the bronze bracket and the fourth and last place team in each pool will move on to the consolation bracket.
"That's what the Silver and Bronze and consolation brackets are for. It gives those teams that maybe struggled earlier in the day a chance to still play for something," said Hann. "I definitely know that the teams that make it to the Gold bracket are strong, but I also know that you're going to have some very good volleyball teams playing in the other brackets as well."
Hann also said he doesn't see a favorite because quite a few teams come in having a chance to win the Calhoun Invitational.
"I have a buddy of mine who is bringing in a team that he coaches, and he has been asking me, 'who do you think is going to win it?', or he has asked, 'who I think is the favorite,' and I tell him that I do not know because I think there are a number of teams that could win it.
"I do think it will come down to who plays the best all day and there are number of strong teams in the tournament that could come in and play very good volleyball for a few hours."
The teams will play at four different sites with Pools A, B, and C playing at Calhoun High School and Pool D will compete at Calhoun Middle School.
Calhoun, Lovett, Carrollton, and Coosa are in Pool A and those teams will play in the main gym on Court 1.
Lafayette, Fannin, N. Cobb County, and Wesleyan are in Pool B and those schools will play in the main gym on Court 2.
Grace HS, Cartersville, Denmark and Allatoona are in Pool C and they will compete in the Auxiliary gym.
Northwest, Dalton, Kell and Cherokee are in Pool D and they will play in the Calhoun Middle School.
The first games are scheduled to begin at 8 a.m. and the Gold championship match is slated to begin around 5 p.m.
All the matches will be held at Calhoun High School.
Pool A games
Main gym, Court 1
Calhoun vs. Lovett, 8 a.m.
Coosa vs. Cartersville, 9 a.m.
Calhoun vs. Coosa, 10 a.m.
Lovett vs. Carrollton, 11 a.m.
Calhoun vs. Carrollton, 12 p.m.
Coosa vs. Lovett, 1 p.m.
Pool B games
Main Gym, Court 2
Lafayette vs. Fannin, 8 a.m.
N. Cobb vs. Wesleyan, 9 a.m.
Lafayette vs. N. Cobb, 10 a.m.
Fannin vs. Wesleyan, 11 a.m.
Lafayette vs. Wesleyan, 12 p.m.
Fannin vs. N. Cobb, 1 p.m.
Pool C games
Calhoun HS Auxilary gym
Grace vs. Cartersville, 8 a.m.
Denmark vs. Allatoona, 9 a.m.
Grace vs. Denmark, 10 a.m.
Cartersville vs. Allatoona, 11 a.m.
Grace vs. Allatoona, 12 p.m.
Denmark vs. Cartersville, 1 p.m.
Pool D games
Calhoun Middle School
Northwest vs. Dalton, 8 a.m.
Kell vs.Cherokee, 9 a.m.
Northwest vs. Kell, 10 a.m.
Dalton vs. Cherokee, 11 a.m.
Northwest vs. Cherokee, 12 p.m.
Dalton vs. Kell, 1 p.m.