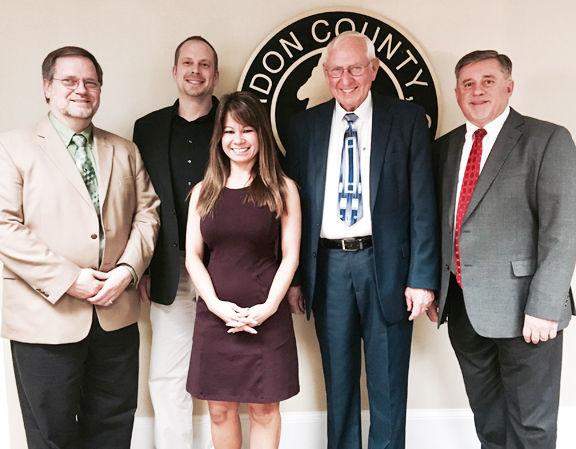 Members of the Gordon County Board of Commissioners approved the county's $56,030,970 budget for the Fiscal Year 2020-2021 during their meeting Tuesday evening, but not before Commissioner Bud Owens received a verbal agreement that the board will revisit the need for a new employee in the county's Emergency Management Agency.
Currently, Director Courtney Taylor is the only person who works for that department, and Owens said it is irresponsible for the county to not have a second person working in such an important department. He acknowledged that the economic slow down caused by the COVID-19 pandemic has made budgeting difficult, but he believes that department needs to be addressed sooner rather than later.
"I just think it's critical that we look at this position in the coming fiscal year," Owens said.
Commission Chair Becky Hood and Vice Chair Chad Stewart both agreed it was something that should be revisited in December or January, when they'll have a better idea of the economic impact of the pandemic on the county's coffers.
The budget is based on the current year's fiscal budget, but it will also rely on fund transfers from other areas, such as the solid waster management fund, the jail maintenance fund and the county's general fund reserves. Additionally, the county will cover a 2.5% increase in employee insurances costs. Still, the FY2020-21 budget total represents a 3.17% decrease compared to the current fiscal year.
"This has been the toughest budget I've done, based on so many economic unknowns," said County Administrator Jim Ledbetter.
He noted that a lot of requests from the county's various departments have gone unfilled recently because of the current economic situation, and they have also implemented a hiring freeze.
In other business Tuesday, the commission also:
♦ Heard on first reading a proposed amendment to the Gordon County Animal Control Ordinance for the leash law section that would enable the county to cite someone whose animals are running lose. The change would allow a fine of as much as $1,000 and/or 60 days in jail. Ledbetter said the intent would be to work with animal owners to resolve any problems before a citation would be issued, but this change would allow officials the ability to take action should a problem become ongoing. He also said the punishment would be determined by a judge and would likely not be the maximum on first offenses.
♦ Approved a zoning change request for Jerry M. Gurley's property on Dempsey Loop Southeast in Adairsville. The property has been subdivided and the change was required to remain in compliance with zoning rules.
♦ Approved a temporary change to the mileage and travel reimbursement policy. Beginning July 1, all non-essential travel, expense and mileage reimbursements for elected officials and county employees will be eliminated. Any necessary travel must be approved in advance. Ledbetter said the move will likely save the county about $100,000 to $120,000 in the coming year.
♦ Declared a Glock Model 17 9mm duty pistol as surplus so that it could be gifted to a retiring employee of the Gordon County Sheriff's Office.
♦ Approved a list of surplus items from various departments that will be sold at auction.
♦ Approved a contract extension with Prosecuting Attorneys Council of Georgia. The contract helps fund local prosecutors.