7-year-old girl dies, mother flown to Erlanger after SUV hits pole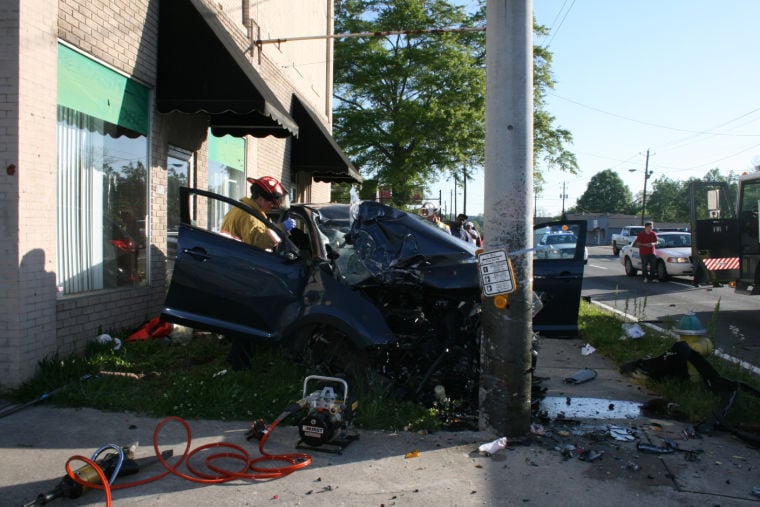 A 7-year-old girl who was the front-seat passenger of an SUV that hit a utility pole on North Broad Street died Saturday morning while being be treated at Floyd Medical Center, according to officials.
Her mother and 3-year-old brother were airlifted to a Chattanooga-area hospital and are in fair condition after the wreck that took the life of M'Kenzey Olivia Floyd, 7.
Rome police officer and accident investigator Pfc. Danny Story said the early morning wreck happened at approximately 8:15 a.m. Saturday.
A dark blue Kia Sportage, driven by M'Kenzey's mother, Tewanna Marie Atkins, 34, of Rome, was traveling north on North Broad Street when it veered across the southbound traffic lanes.
The Sportage struck a utility pole at the corner of Callahan Street and North Broad.
"I talked with the mother. ... she was distracted," said Story. "She said she reached down to pick up something her daughter dropped and when she looked back up, there was the pole."
Story said M'Kenzey, Atkins and 3-year-old Kayden Floyd of Rome — who was in the back seat of the Sportage — were not wearing seat belts at the time of the wreck.
Neither child was in a booster seat or car seat, he added.
M'Kenzey had to be extricated from the front-seat of the SUV by Rome-Floyd firefighters. The three were then rushed to Floyd Medical Center.
Deputy Coroner Gene Proctor said M'Kenzey died while being treated in FMC's emergency room. She was pronounced dead at 8:55 a.m.
Meanwhile, Kayden and Atkins were flown via helicopter to Erlanger in Chattanooga, Tenn.
Erlanger House Supervisor Dave Trillet said Kayden and Atkins were listed in fair condition at the hospital late Saturday.
Storey said the wreck was still under investigation late Saturday.