YOUTH SOCCER: Arsenal teams pick up wins before spring break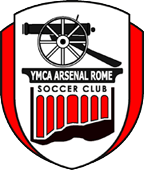 The Rome YMCA's Arsenal Select teams posted a 3-3 record to bring their season record to 18-13-4. Most will now take a spring break before resuming play April 8/9.
The G15 B traveled to Ellijay on Saturday and won a friendly against the Cartecay United Strikers, 3-2. After allowing an early first-half goal, Arsenal struck back in the 33rd minute when Sydni Hazelwood lofted a shot to the top left of the goal to tie the game at 1. Hayley Alred assisted. Less than 3 minutes later, Perry Durden staked Arsenal to a 2-1 lead when her header found the top left corner. Hazelwood assisted. Cartecay returned the favor midway through the 2nd half to knot the game at 2. Hazelwood got taken down in the box on a strong run late in the game. Lauren Akemon placed the ensuing penalty kick in the bottom left side of the goal, giving Arsenal the 3-2 advantage. Emma Couch played strong in goal, recording seven saves. Arsenal sits in 4th place and returns to action 4/22 hosting 2nd place SSA Chelsea Yellow.
The B13-V West dropped into a tie for 3rd with a 4-0 loss to 6th place SAF in Warner Robins. Goalkeeper Jacob Fisher had 3 saves, Kevin Espinoza 2. They travel to Cumming to play 9th place UFA this Saturday.
The B13-III West lost to 1st place CFA Dalton 8-1 Saturday.
The B14 V-W beat North GA Utd 2-0 Sunday with goals from Jorge Herrera and Alex Gramajo. They are now tied for 2nd. They have a rematch with North GA in Armuchee on 4/8.
The B14 II beat 8th place GA Rush 2-0 Saturday and lost to 7th place Athens Utd 4-3 on Sunday. They remain in 3rd place.
The Arsenal Academy teams posted a busy 6-20 record in Canton and Kennesaw this weekend. That makes their season record 14-35. They are also taking a spring break.
The G9 dropped two in Cherokee, 8-1 with the Elite and 6-4 with the Premier. On Sunday they lost two to SSA.
The G10 lost Cherokee's Impact Elite 5-0 before coming back to beat the Impact Premier 4-3. On Sunday they beat SSA's Predator 5-4 and lost to Mundial 5-1.
The G11 lost to Cherokee's Impact Elite 8-0 and the Impact Premier 3-2. On Sunday they lost to SSA's Predator 4-0 and Mundial 5-1.
The B9 traveled to Cherokee Saturday and lost to the Impace Elite 9-1 and Impact Premier 9-2. On Sunday they lost to SSA Predator 12-0 and SSA Mundial 3-1.
The B10 dropped 2 in Cherokee, 5-0 to the Impact Elite and 4-1 to the Impact Premier. On Sunday they lost to SSA Predator 9-2. Goals came from Tripp Watterson and Klae Theakston. They then beat SSA Mundial 6-2 with goals from Theakston (2), Sam Miles, Watterson (and 2 assists), Kostas Pateritsas, and Gabriel Sandoval, (Giovanni Echanique 2 assists). They completed the day with a 9-1 win over SSA Samba. Scorers were Brallam Cux, Theakston (2), Pateritsas, Dmitri Castro, Watterson, Sandoval, George Loveless, and Eduardo Guijosa.
The B11 lost to the Cherokee Impact Elite on Saturday 7-1 with a goal from Yahir Pineda (assist Grayson Perry). They then lost to the Impact Premier 3-2 with goals from Sebastian Ramirez and Cristian Perez (assist Perry). On Sunday they lost to SSA Predator 1-0. They then beat SSA Mundial Sunday 4-1. Goals came from Christian Blanco, Pineda (assist Matt Belteton), and Perry (2, assists Gabriel Atkins and Daniel Segura).