YOUTH SOCCER: Arsenal teams complete season with tournaments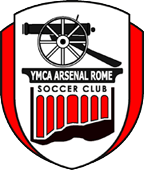 The G10 team played in the Academy Cup. On Saturday they lost to Savannah United 9-1 and Top Hat Blue 10-1. Sunday they lost to the Dekalb YMCA Wolves 12-1.
The G11 team played in the Georgia Express Festival. They started with a 4-0 loss to Cobb YMCA Striker Blue. They then had to beat Peachtree City FC twice by the same 1-0 score to earn the right to face Cobb again in the final. They lost 4-1.
The G14 D team lost to third place Georgia Storm 3-1. Ashley Marin got the goal. Malone Christen finished with 7 for the season, 2nd in the division. That gives them a 6-4-2 record to finish in 6th place.
The G15 B team beat seventh place Georgia Storm 3-2 to close out the season with a 4-3 record that has them in 4th place.
The B9 team played in the Academy Cup. On Saturday they lost to Buckhead YMCA Blue 9-1 and Dekalb YMCA Wolves 8-0. Sunday they lost to Cobb YMCA Strikers 9-2.
The B13-III West team closed out their regular season Friday night in Alpharetta tying 11th place Concorde Fire Central White 1-1 to finish in ninth place with a 2-7-2 record, out of the relegation zone.
On Saturday they were in the Academy Cup. They finished second in Group A of the U12 boys 11v11 Blue bracket, with a tournament record of 1-1-1. In the first game on Saturday, they lost 6-1 to the eventual undefeated tournament champion Georgia Rush Blue. Steven Villatoro scored the lone goal, assisted by Tyler Garrett. Goalkeeper Will Payne had three saves. Kevin Espinoza had one save. In the second game, they tied the Dekalb Wolves Elite team 0-0. Goalkeeper Kevin Espinoza had four saves, while Isaiah Johnson was credited with a defensive save. On Sunday they defeated the Roswell Santos Red 2-0. Goal scorers were Gavyn Williams and Tucker Wright. Goalkeepers Kevin Espinoza and Will Payne each had one save.
The B14 II team finished the season with a 5-5-1 record in fourth place by beating fifth place Inter Atlanta 2-1. Last weekend they won their bracket in the Tennessee Invitational tournament in Nashville. On Saturday they beat the host Tennessee Soccer Club Elite 4-0 and Memphis' Midsouth FC 3-0. On Sunday they beat St. Louis' Rush SC 9-0 to take the championship.
The B17 II team competed in the Atlanta Fire Select Elite Cup. On Saturday they beat the eventual champion Concorde Fire 2-1. Later that day they tied SSA Chelsea Elite 1-1 to make Sunday's semifinal. In an early game they lost to the Atlanta Fire Elite Black 5-0. They play Saturday to qualify for the State Cup.