YOUTH SOCCER: Arsenal's U15 girls' team wins Alabama Open Cup as teams reach Easter break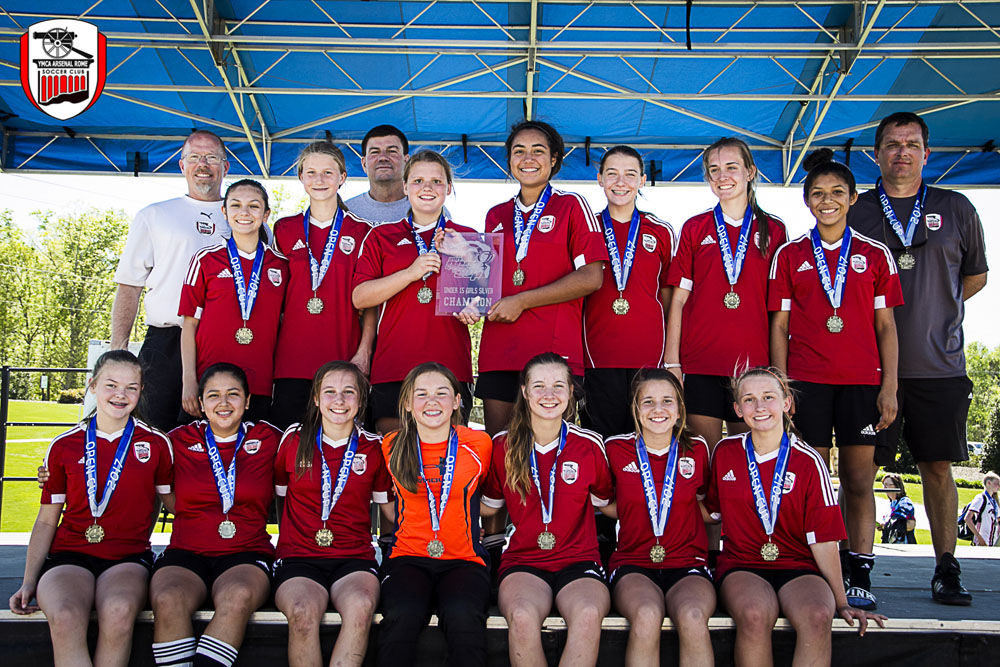 After opening the Alabama Open Cup with a 1-0 win over the Mandeville Lakers last Saturday, the Arsenal's G15 B team found themselves with a rematch in their division's championship game the next day after going 3-0.
After 45 minutes of back and forth, Arsenal's Jayden Boswell scored on an assist from Anna Ruth Parker that lasted until the end of full time. Arsenal keeper Emma Couch made nine saves in goal for her second clean sheet of the tournament.
Maggie Eddins scored the game-winning goal with eight minutes left in Arsenal's first game against Mandeville, assisted by Lauren Akemon. Couch recorded six saves. Arsenal then defeated fifth-ranked Tupelo United 2-1 and opened Sunday with a 4-3 win over Purple Rain out of Memphis, Tennessee to secure a spot in the championship match.
The Arsenal team returns to its regular season schedule April 22 following the Easter weekend.
Arsenal's G14 team topped 6th place SSA Chelsea Yellow on Saturday in Marietta 2-0. Joey Kunczewski scored the opening goal of the match midway through the 1st half off an assist from Deyvis Reader. Reader upped the score to 2-0 early in the 2nd half when she scored off an assist from Malone Christen. Hayley Alred recorded the clean sheet in goal, recording six saves on the afternoon. The win moves Arsenal to 5-1-1 on the season and keeps them in 2nd place. Christen is still tied for 1st in scoring in the division with 6. Arsenal will take Easter weekend off and then host 1st-place Oconee on April 22 and the 4th place Georgia Storm Silver on April 23.
The B13-V team West traveled to Cumming and tied 3-3 with UFA White last week. They led 3-1 at half-time. Henry Vicente scored the 1st goal, assisted by Maddox Pyle and Isaiah Johnson. Vicente was fouled in the box several minutes later, setting up the second goal via PK from a perfect shot to the top left corner of the net by Isaiah Johnson. Vicente then scored the team's 3rd goal, assisted by Evan Sumner. Goalkeeper Kevin Espinoza had 1 save in the first half. The UFA team scored 2 goals in the 2nd half, to tie the game, despite 7 spectacular saves by goalkeeper Josh Hernandez. On Sunday they lost to Macon 2-0 and dropped into a tie for 3rd.
The B13-III West team lost to 3rd place Concorde Fire 9-0. They are tied for 8th place with a 1-4-1 record.
The B14 V-W team is in a 3 way tie for 1st place after they made it 2 over North GA United with a 2-1 in Armuchee with goals from Jackson Rosales and Tony Cruz.
The B14 II team lost to Concorde Fire Central 3-1 to remain in 3rd place.
Most Arsenal Academy teams were off for spring break. Our young girls' teams posted a 0-3-1 record with Calhoun and Chattanooga this weekend. That makes the season record 14-38-1.
The G10 team tied Calhoun 2-2 with goals from Teagan Bollwerk and lost to Chattanooga North 2-1 with a goal from Camilla Laguna. On Sunday they lost to Chattanooga South 6-4 with goals from Laguna, Ayden Hurst, and Cecillia Baggett
The G9 team lost to Chattanooga South's G10 6-3 with goals from Bollwerk, Sarah Ekey, and Baggett.