YOUTH SOCCER: Arsenal girls advance to state Sweet 16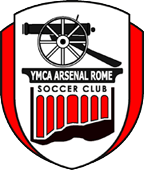 The Rome YMCA Arsenal Select G15 B team won a division play-in game to reach the Sweet Sixteen of the State Cup in a weekend where teams continued their postseason.
The G15 B team faced Southern Alliance FC's Elite in Macon on Saturday and fought a back-and-forth battle for more than 70 minutes with no score.
Arsenal's Maggie Eddins broke the deadlock with eight minutes left when her strike found the back of the net, assisted by Sydni Hazelwood.
Goalkeeper Emma Couch made five saves in goal on her way to earning a clean-sheet in the 1-0 win.
The team will travel to Columbus Saturday for the next round and have been placed in Bracket C with Columbus' Red Star Elite, Gwinnett's Red, and the Atlanta Fire's Elite.
Bracket winners advance to the Final Four in McDonough on June 3.
The B17 II team lost its play-in game to Atlanta's Kalonji Academy 3-2.
The B13 V team came in second in its bracket at the Peach Classic this past weekend.
The Arsenal team beat Roswell Chiefs Premier 1-0 and the Dekalb YMCA's Wolves 1-0 on Saturday.
The team kept it going with a 2-1 win over Stockbridge's Nexus FC Elite on Sunday before losing their rematch with Roswell in the final, 2-1.
The G14 D team also played in the Peach Classic.
They lost three tough ones to Atlanta's SAF (3-0), Griffin's Excel (4-1), and the AFC Lightning (4-0).