Roman Doug Shows officiates NCAA title game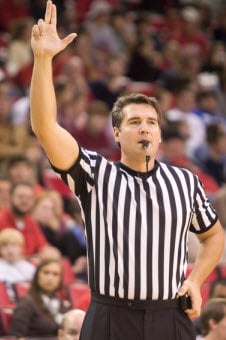 While UConn's dreams came true with Monday night's NCAA championship win, it was also a crowning achievement for Rome's Doug Shows.
He was an official in the big game in Houston.
"It's exciting. It's a blessing and certainly an honor," said Shows, a few hours before tip-off.
He was among 10 officials approved by the NCAA Division I Men's Basketball Committee for the Final Four and Championship games.
Shows says he has known for about a week that he'd been tapped for the big game, but that it's "kept under wraps until game day."
Crews of three officials work each game, while one official serves as the standby official for each game, according to the NCAA.
"A season-long evaluation of hundreds of officials ultimately led to officials being selected to work the Division I Men's Basketball Championship, each of whom were eligible for advancement throughout the tournament," said John Adams, the national coordinator of officiating. "We have evaluated their work based on their ability to get the calls right, communicate effectively and manage the games, and the men's basketball committee has selected these officials because their performance has been excellent."
During this year's tournament, Shows officiated during the first two rounds as well as the Elite 8 round in Anaheim when UConn bested Arizona to reach the Final Four.
"This is my first championship game," Shows said, noting that it was his second time on the floor officiating during the Final Four.
Shows has been a Division I official for 18 years. "I love college basketball, the environment, the people I work with, the coaches and players and my crewmates."
He touted the caliber of "talented referees" working the games and said "it's a privilege and an honor to work with them."
Since he officiated the title game, he obviously was not in the business of predictions. But when asked if he was surprised by the Final Four with the Cinderella teams Butler and Virginia Commonwealth, Shows said, "Nothing surprises me in college basketball. On any given night, any team can win. That's what makes the game so great."
Shows spent Monday sequestered in a hotel with his crewmates under heavy security before the game. He said as game time grows closer that his pre-game regiment includes stretching to get ready physically for the game and getting his gear ready.
Then two hours prior to the game the officiating crew heads to the stadium. Before anyone is allowed in the arena, officials conduct required pre-game checks on the floor and clock to make sure everything meets regulations and are ready.
Then there's the adrenaline of a big game that caps the season for the teams and officials alike.
Post-game duties include "reviewing any plays that we think may need it and then heading back to the hotel" ... again under tight security.
Even though they didn't get back until around midnight, Shows and his crewmates were set to enjoy "a very late dinner" back at the hotel to celebrate.
His wife Corinne and 14-year-old son John were in Houston to watch the championship game and support Shows.
They head back to Rome today.
Shows said he was looking forward to a breather after Monday night's season ender.
That's why he and his wife are heading to the Caribbean for a much-needed vacation.