Arsenal teams finish regular season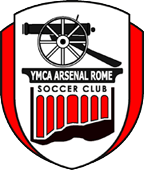 The YMCA's Arsenal Rome Soccer Club's Select teams finished the regular season with four wins and six losses this last weekend, bringing the season record to 43-48-15. They are now preparing for the postseason tournaments.
The G14-C lost to UFA Norcross 4-1. Ashlyn Jay scored and ended as the team's leading scorer with four goals. Alexis Jackson had 17 saves. They host Calhoun Tuesday and will be traveling to the UFA Fall tournament this weekend in Suwannee.
The G16-B lost to sixth place TSC Elite 2-0.
The G19-C lost to the Barrow County Lady Galaxy 2-0. They finished eighth of 12 with a 3-7-1 record. Amy Moreno was their leading scorer with six goals.
The B13 lost to fourth place UFA Premier 7-3 on Saturday with goals from Greyson Padgett and Andreas Svardh (2). They lost to second place Rush 7-1 on Sunday. Svardh finished as the team's leading scorer with five goals. Their 3-7-1 record has them tied for eighth place.
The B14 finished in fifth place with a 6-4-3 record. Rahdriq Turner was the leading scorer with eight goals.
The B15 beat Concorde White 4-0 to finish in sixth place with a 6-5-1 record. Tied for leading scorer with four goals are Eduardo Zavala and Sergio Vazquez.
The B16-V team beat the Atlanta Fire Silver 2-1 on Saturday.
Model's Logan Burdette and Pepperell's Alex Santillan scored for Arsenal, both assisted by Woodland's Dioney Ochoa. Coach Joseph Gray praised Jose Orellana and Samy Nolasco, both from Rome, for their strong defensive efforts in the contest.
On Sunday, they lost 4-3 to Coastal Outreach in Brunswick. Rome's Edgar Blanco scored twice, once assisted by Burdette. Ochoa netted the final goal off an assist by Orellana. Santillan filled in at keeper and gathered six saves in the game.
The team's 5-4-2 record puts them at fifth place in the 12-team conference. Burdette, Ochoa, and Darlington's Jack Pearson all scored five goals on the season to share the leading scoring title for the team.
The B17-III squad finished the season with a 5-4-2 record, good enough for sixth place in the 12-team league. Rome's Angel Morente led the team and the league with 13 goals on the season.
The undefeated B19-III beat the sixth place Roswell Santos Blue team Saturday 7-0.
Goals were scored by Rome High's Kyle Banks (2), Pepperell's Felix Guijosa (3), Rome's Elijah Donner and Coosa's Kevin Camacho.
On Sunday, they beat third place Alpharetta Ambush White 4-0 with goals scored by Guijosa (2), Donner, and Camacho.
Rome's Will Eberhart had two shut-outs this weekend as goalie and has had seven shut-outs all season.
They finished in first place with a 12-0-1 record, 93 goals scored, and only allowed 12 goals which was the most goals scored and fewest goals allowed in their division.
Banks was the leading goal scorer for their division and the Arsenal Rome Club with 18.
Felix Guijosa was second with 16 goals. Out of the top 20 leading goal scorers for their division, seven of those players were from the Arsenal Rome team.
They play in the GSA Adidas Invitational Tournament on December 6 to 7.