NFL: Campaign underway to induct former East Rome standout Ray Donaldson in Pro Hall of Fame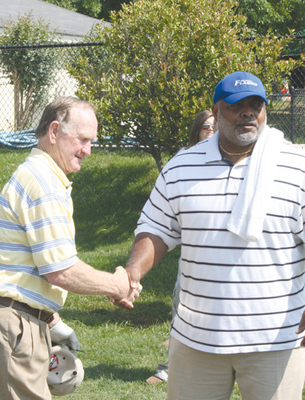 Ray Donaldson, a graduate of East Rome High who became an All-SEC center at Georgia and went on to become the NFL's most dominant center for 17 seasons, will serve as the Wolves' honorary captain for the game and be recognized before and during the game by the entire Rome community.
Last week, Donaldson was one of 108 modern-era NFL players nominated for potential induction into the Pro Hall of Fame in Canton, Ohio.
Fans in Rome and the nation now have the opportunity to cast a ballot for Donaldson in an online fan voting process that mirrors the same process the Hall's 48-person committee will hold to narrow the field down to 25 semifinalists in November. A list of 15 finalists will be unveiled in January.
A pre-game tailgate to welcome Donaldson back to his hometown beginning at 5:30 p.m. Friday, as family, friends, and former East Rome teammates and coaches join Rome High fans for the festivities.
Donaldson will join the Wolves' captains for the pre-game coin toss and be honored for his standout career during the game.
A six-time Pro Bowl selection, Donaldson was a standout in football and basketball for the Gladiators at East Rome but it was on the gridiron where he quickly drew notice, earning All-American and All-State honors.
He went on to play at the University of Georgia where he arrived as a linebacker but, due to injuries, was moved to center, and became an All-America and All-SEC standout.
Donaldson was drafted by the Colts in the second round of the 1980 NFL Draft and quickly emerged as the nucleus of team's offense. He became the NFL's first African-American starting center and went on to play for the Colts in Baltimore and Indianapolis for 13 seasons.
He ranks third in the team's history in games played (184) and to this day is still tied for second all-time for years of service with the team, trailing only Johnny Unitas, who spent 17 years with the franchise.
Donaldson went on to play for two seasons with the Seattle Seahawks before being signed by the Dallas Cowboys in 1995, where he helped the team win Super Bowl XXX and closed out his career with back-to-back Pro Bowl selections.
All told, Donaldson played in 244 games during his NFL career, starting in 228 of them. He was enshrined in the Georgia Sports Hall of Fame in 2004 — the first person born and raised in Rome to do so — and was inducted into the Rome-Floyd Sports Hall of Fame in 2010.