YOUTH SOCCER: Rough weekend sees Arsenal teams take losses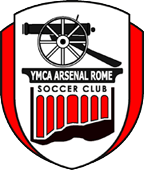 The B9 beat the GA Knights 5-2 with goals from Evans Drinkard (2, one assisted by Cristian Perez), Mason Cochran (2, another assisted by Perez) and Saul Valerio Martinez. On Sunday they lost to Dalton North 5-2 with a goal from George Loveless assisted by Cochran who got the other.
The B10 beat the GA Knights 3-0 Saturday with goals from Tripp Watterson, Zeke Donner and John Miles Mason. Klae Theakston and Bryson Rosales had assists. On Sunday they lost to CFA Rome 8-2 with goals from Donner and Theakston assisted by Donner. They then lost to CFA Calhoun 5-0.
The B11 lost to the GA Knights 4-3 Saturday with goals from Cristian Blanco (2, both assisted by Yahir Pineda), and Grayson Perry. On Sunday they lost to CFA Premier 1-0 and CFA Elite 2-1 with the goal from Pineda assisted by Bowen Childs.
The B12 lost to the GA Knights 5-3 Saturday. Goals came from Evan Sumner, Roberto Andres (assist Peyton Sumner), and Steven Villatoro (assisted by Evan). On Sunday they lost to CFA Elite 10-2 with goals from Josh Hernandez (assist by Noah Weaver) and Isaiah Johnson (assist Peyton). They then lost to CFA Premier 3-0.
The G14 D lost to the 1st place Walton Sharpshooters 5-0. Their 2-4-1 record has them in 7th place. They host the 5th place Atlanta Fire Saturday.
The G15 B traveled to Forsyth on Saturday and lost to 1st place UFA Gold 2-1. UFA scored twice in the first half. Arsenal battle back to within one goal when Haley Guerrero scored in the 56th minute. Goal keeper Emma Couch made six saves. On Sunday, they hosted UFA South of Tifton. Arsenal took an early lead in the 4th minute when Maggie Eddins scored, assisted by Lauren Akemon. Haley Guerrero secured Arsenal's victory in last minute of the game when her free kick found the back of the net, for her second goal in as many games. Arsenal goal keeper Emma Couch made 8 saves in earning the clean sheet. Their 3-2 record puts them in 4th place. This weekend they host 7th place SSA on Saturday and 6th place Tophat on Sunday.
The G19 B lost to the 2nd place UFA Gold 2-1 on Saturday. Despite a back and forth game Arsenal was down 2-0 with less than a minute left in the first. Woodland's Allie Moates scored in the final seconds to bring Arsenal within a goal. Arsenal had several chances to score in the second half but came up short. Goal keeper Brianna Bullock from Rockmart made 8 saves. Their 1-3-1 record has them in 11th place. They travel to 7th place Alpharetta Ambush on Saturday and 13th place Roswell Lady Chiefs on Sunday.
The G19 C lost to 9th place Liberty 5-0 Saturday. Despite a three goal effort by Rockmart's Ashlyn Jay they fell just short of 6th place SSA Yellow from Northside 4-3 on Sunday. Goal keepers Imani McCluskey and Brianna Bullock made five saves each. This week they host 7th place Spirit on Sunday.
The B13 IV-E beat 4th place UFA Black 2-0 with goals from Tyler Garrett both assisted by Liam Marshall. They are 5-0 and tied for 1st place on games played. Next weekend they host 1st place GA FC Saturday and travel to 10th place SSA Marietta on Sunday.
The B14 V-W lost to 3rd place Columbus Red Star 3-2 to drop to 2-3 and 6th place. Next weekend they host 7th place NASA White.
The B14 II lost to the Roswell Santos 3-1 to drop to 2-6 and 11th place. They travel to 12th place Augusta Saturday and Atlanta's 8th place Concorde Fire on Sunday.
The B16 III-W beat the 4th place Concorde Fire Central Red 3-2 to remain undefeated at 5-0 but in 2nd place with a game in hand. Goals came from Christian Fonseca, Luis Guzman, and Avery Wright. Next weekend they host Atlanta's 6th place NASA team.
The B18 II-W lost to UFA Saturday 8-0. Their 1-3 record has them in 8th place.