YOUTH SOCCER: Regular season ends with 5 Arsenal teams finishing in the top 2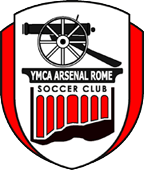 The G14-D West wrapped up the regular season Saturday playing to a 2-2 tie with 3rd place Inter Atlanta Premier. After falling behind 1-0 on a penalty kick, Arsenal's Payton Brown knocked home a penalty kick to tie the contest at 1-1. Joey Kunczewski staked Arsenal to 2-1 lead late in the first half only to have Inter Atlanta knot the game up in the final seconds before halftime. Arsenal had some close chances in the second half but had to settle for the tie. Deyvis Reader recorded 5 saves in goal, while Tatum Ballinger added 3. The win gives Arsenal a 7-0-2 record and also ensures them of winning Athena D with 39 points. On the season, Arsenal scored 35 goals and allowed only 4, which leads the club. Kunczewksi finishes with the league lead in goals with 11. Five other Arsenal players finished in the top 10 of scorers for the league including Malone Christen (7), Ashley Marin (5), Carlee Brock (3) and Tatum Ballinger (3). The keeper combination of Reader and Ballinger recorded six shutouts on the season. The team will now play in the Atlanta Showdown Tournament on Dec. 2-3.
The G16-A beat Henry County's Elite 4-1. Their 6-5-1 record has them in 4th place.
The G16-D finished in 5th place with a 5-4 record. They lost to 1st place CFA Dalton 4-1 this weeekend.
The G19-A lost to Augusta 7-0.
The B13-III West closed out their regular season with a 10-2 record, earning second place in their division. They scored 37 goals and only allowed 13. On Saturday, they traveled to East Lake/Atlanta and lost to Inter Atlanta 2-0. Goalkeeper Will Payne had 4 saves. They lost to SAF Elite (Warner Robins) 1-0 at home Sunday. The teams were evenly matched, but SAF scored on a PK. Goalkeeper Will Payne had 2 saves in the 1st half. Joseph Hall had 5 saves in the 2nd half. The team will play in the GSA Puma Invitational tournament on December 2-3.
The B14-III West lost to Atlanta's 2nd place NASA Elite 5-1. They finish in 6th place with a 4-6-1 record.
The B15-I lost to the 5th place Cherokee Impact 6-2. They finish in 9th place with a 3-7 record.
The B15-V West scored 51 goals which leads the club and allowed 18. Their 6-2-1 record has them in 2nd place.
The B17-III secured 2nd place when Smyrna beat Cherokee 3-1 to capture 1st. Andreas Svardh won the club's Golden Boot with 14 goals.
The B19-II beat Norcross' UFA Red 4-0. Their 7-1-2 record and +19 goal differential saves them 2nd place.
Three Academy teams began tournament play.
The B9 went 2-0-1 in the Rush Academy Cup this past weekend. They beat Smyrna Soccer Club's A team 5-3 and B team 7-2 but only managed a tie with Clarkesville's Rapids FC 2-2, who won the tie breaker on goals allowed to go on and win the division.
The G11 went 0-3 in the Cherokee Impact Premier Cup with losses to Atlanta's Tophat Blue North 3-1, Smyrna White 2-0, and Chattanooga Elite 2-0.
The G12 went 0-3 in the Rush Academy Cup with losses to GA Rush 9-2, Peachtree City's MOBA Soccer Academy 5-0, and SSA Northside Gold 2-0.