YOUTH SOCCER: Arsenal teams recover for better results this past weekend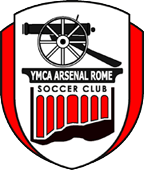 The Rome YMCA's Arsenal Select teams battled back into good form this weekend and posted a 6-3-2 record. That pushes them closer to a .500 season with 32 wins, 33 losses, and 8 ties. The Academy hosted Jones Bridge this weekend and went 1-3 for a season record of 41-59-7. Next weekend they travel to Ft. Payne.
The B10 beat Jones Bridge 1-0.
The G9 lost to Jones Bridge.
The G10 lost to Jones Bridge.
The G11 lost to Jones Bridge 2-1.
The G14 D lost to the 7th place GA Express 1-0. Deyvis Reader had 6 saves in goal. Their 2-6-1 record has them in 11th place. They host 10th place Liberty this Saturday and 4th place UFA White on Sunday.
The G15 B tied last place Tophat QP 2-2. Their 4-2-2 record puts them in 5th place. This weekend they travel to 9th place Alliance Elite on Saturday and host 7th place Augusta Arsenal on Sunday.
The G19 B are in 7th place with a 3-3-1 record. They beat 8th place Alpharetta Ambush on Saturday and 14th place Roswell Lady Chiefs 5-0 on Sunday. They host the 2nd place GA Rush on Sunday.
The G19 C are in 10th place with a 1-5-1 record. They lost to the 4th place Alpharetta Ambush 3-0. Next Sunday they play 5th place KSA Select in Lawrenceville.
The B13 IV-E beat the last place Dekalb Wolves 7-1 on Saturday and tied 4th place SSA Yellow 1-1 on Sunday. They are 7-1-1 and in 2nd place. Next weekend they host Carrollton's 8th place GA Storm Silver on Saturday and Tucker's 9th place Triumph Gold on Sunday. Tyler Garrett is in 2nd place in the division for scoring with 10 goals.
The B14 V-W beat last place Harris County 6-0 to improve their record to 4-3 and 5th place. Goals came from Brinson Sumner (2, 1 assisted by Will Burnes), Jamie Hughes (assist Patrick Bollwerk), Tony Guzman (assist Jorge Herrera), Herrera, and Burnes (assist Mikey Lopez). Next weekend they host 8th place Inter Atlanta Saturday and travel to 3rd place Alliance SC on Sunday.
The B16 III-W beat the 7th place Griffin Excel 5-4. Andreas Svardh got the hat trick (3 goals) along with Christian Fonseca and Avery Wright. Their 6-1 record puts them in 2nd place. Next weekend they host the 1st place GA Storm Elite on Saturday and the 10th place Concorde Fire White on Sunday. Andreas Svardh is tied for 3rd in most goals in the division with 9.
The B17 II are in 7th place with a 2-2-1 record. This weekend they beat 6th place Columbus Red Star 4-0 on Saturday and lost to 3rd place South GA Premier 1-0. Next weekend they travel to Dacula to play the 8th place Revolution on Saturday and host Macon's 2nd place SAF on Sunday.
The B18 II are in 9th place with a 2-4 record. This Saturday they lost to the 3rd place Smyrna Red 5-2. Both goals came from Darlington's Harris Peek. Next week they are back in Atlanta against the 7th place Concorde Fire.