YOUTH SOCCER: Arsenal teams get top performances at weekend tournaments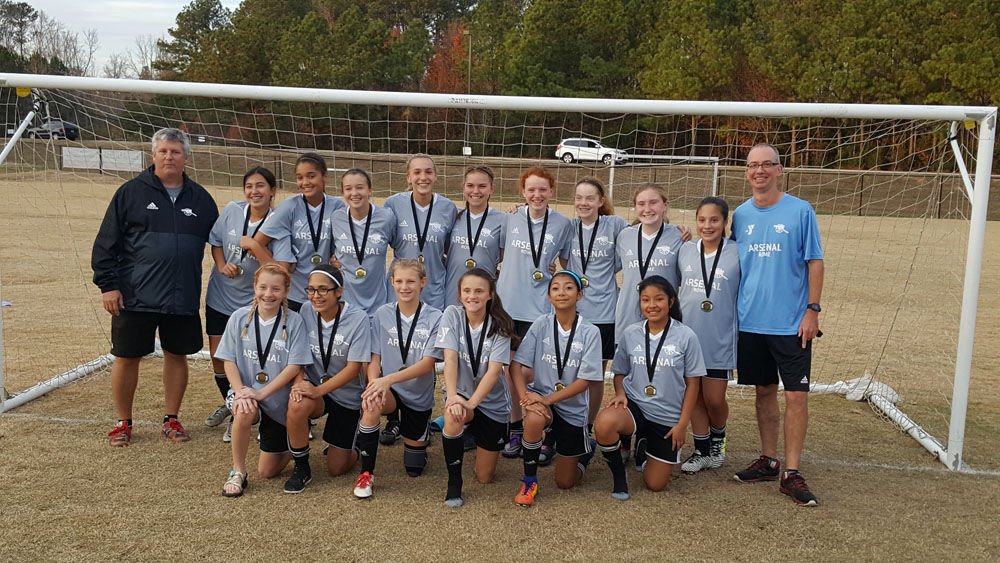 The Rome Arsenal G14 Athena squad captured the Atlanta Showdown tournament this past weekend in John's Creek. Arsenal compiled three wins and a tie and faced two U15 teams during the event. Arsenal grabbed a 2-1 win in the opening game against Peachtree City Football Club. Ashley Marin and Payton Brown netted goals for Arsenal. Alexis Medrano had an assist, and Tatum Ballinger grabbed seven saves in goal. Arsenal tied Gerogia Express 0-0 in the second game. Ballinger again had a great game in goal, recording the shutout and notching six saves.
After grabbing a forfeit win to open Sunday, Arsenal faced Express in the finals and came out on top with a 1-0 win. Joey Kunczewski scored the goal for Arsenal and Ballinger and the defense kept another clean slate. Ballinger ended with five saves. The tournament wraps Arsenal Red's fall season with a 12-1-4 record. The squad won the U14 Athena D division, won the Atlanta Showdown Tournament and were finalists in the NASA Tophat Girls Classic. On the fall, the squad tallied 51 goals in the 17 games, allowed only six and recorded 12 shutouts.
The B13-III West team traveled to Hampton this past weekend to compete in the GSA Puma Invitational tournament. The team went 2-1 for the weekend, beating two Classic II teams, and earning second place in group A of the U13B White division. After the final, the team was tied for third out of 8 teams on points.
In the first game on Saturday, the team defeated GSA South 05B Premier from Gwinnett County by a score of 4-1. Josh Hernandez sent a ball down field to Steven Villatoro, who earned an assist by feeding the ball to Tucker Wright, who scored the first of his three goals. Maddox Pyle scored a goal, assisted by Noah Weaver. In the second half, Tucker Wright scored 2 additional goals, assisted by great passes from the field. Goalkeeper Will Payne had 4 saves.
In the second game on Saturday, the team lost to eventual champion Tennessee SC '06 2-0. Goalkeeper Payne had 9 saves.
In Sunday's game, the team defeated GSA North 05B Premier from Gwinnett County by a score of 1-0. Steven Villatoro earned an assist by sending a long ball past the GSA keeper, who had come out of the box. Tucker Wright completed the goal close to the net.
The team members playing in the tournament include CJ (Christian) Acas, Jacob Davis, Jacob Fisher, Ezra Guerrero, Joseph Hall, Joshua Hernandez, Isaiah Johnson, Link Lignell, Will Payne, Cesar Perez, Maddox Pyle, Charlie Shaw, Steven Villatoro, Noah Weaver, and Tucker Wright. Gavyn Williams assisted the team as a club pass player. Regular season team members unable to participate include Allen Garcia, Abel Velasquez, and Bleu Winters. The team is coached by Dave Williams and Mark Fisher.