YOUTH SOCCER: Arsenal teams continue season; Boys' 13 team remains undefeated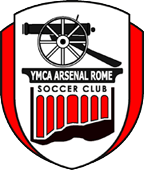 The Rome YMCA's Arsenal Soccer Club Select teams posted 6 wins, 5 losses, and a tie to improve their season record 18-14-4. Many are taking the next few weeks off for Fall Break. The Academy hosted Jones Bridge Saturday and went 5-2-1 to make their season record 30-22-2.
The B13-IIIW improved their record to 4-0, leading their division. On Saturday, they defeated Cumming's UFA Gold 3-1. Goalkeeper Will Payne had 5 saves for the game. Abel Velasquez scored on a curving long shot, with Allen Garcia at the net for offensive support. Tucker Wright earned 2 assists, one in the box to Steven Villatoro and one via corner kick to Isaiah Johnson.
On Sunday, they defeated 2nd place SSA Chelsea Yellow 2-1. Tucker Wright scored assisted by Jacob Fisher. Isaiah Johnson scored unassisted. Goalkeeper Will Payne had 7 saves. The team moved into 1st place and will return to action in two weeks with a game against Concorde Fire Central White in Atlanta.
The B14-IIIW lost to 2nd place Oconee 4-3 on Saturday and 2-0 to the 1st place Hammers of Dalton to drop to 8th place.
The B15-I beat 11th place NASA 5-3 to move up to 6th place.
The B17-IIIW beat the 9th place Decatur Wolves 6-0 to remain in 1st place.
The B19-II lost to the 6th place Steamers 1-0 to drop to 9th place. They go to Bonaire next weekend to play 3rd place Sacred Heart.
The G14-DE beat #10 Coastal Outreach 9-0 to move into 6th place.
The G14-DW fell behind, 1-0, early in the second half. Joey Kunczewski netted the equalizer with 10 minutes to play off an assist from Deyvis Reader. Reader held strong in goal, grabbing seven saves in the effort. They tied 3rd place UFA Norcross Red 1-1 and moved into 1st place.
The G16-A lost to 3rd place AFC Lightning 4-2 and are in 7th place. They go to Warner Robins next weekend to play 5th place SAF.
The G16-D beat 10th place Lawrenceville 10-0 Saturday and lost to 7th place Oconee 7-1 on Sunday. They remain in 5th.
The G19-AN lost to 2nd place GSA North 11-0 on Sunday.
The Academy had an abbreviated weekend and went 5-2-1.
The G9 tied Jones Bridge 2-2 with goals from Liliana Tapia.
The G10 were winning when the rain came.
The G11 lost to Jones Bridge 3-0.
The G12 beat Jones Bridge 3-0 on Saturday then Gadsden 5-1 and 7-1 on Sunday.
The B9 lost to Jones Bridge 8-2 with goals from Wallace Ordonez.
The B10 were beating Jones Bridge 5-4 when the rain came. All 5 came from Christian Lopez.
The B11 scrimmaged the B12 and won 3-1 with goals from Marley Price and Giovani Echanique (2).