YOUTH SOCCER: Arsenal Select teams have successful weekend to finish with 10-3 record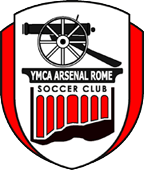 A busy weekend proved successful for the Rome YMCA's Arsenal Soccer Club Select teams as they went 10-3 and improved their season record to 48-29-5.
The G14-D West team went undefeated to stay atop the division with a 6-0-1 record, defeating SSA Chelsea Red 3-0 and SSA Chelsea Yellow 3-0. In both matches Joey Kunczewski scored a pair of goals while Malone Christen added the final one.
Deyvis Reader and Tatum Ballinger teamed in goal for the shut out in both contests. Kunczewski is tied for the league lead in goals scored with eight. Arsenal returns to action Saturday hosting second place UFA Black at Grizzard Park.
The B13-III West team remained in first place and improved to 8-0 on the season with a 5-0 win over Henry County's Elite on Sunday. Goals were scored by Noah Weaver, Isaiah Johnson, Cesar Perez, CJ Acas and Bleu Winters.
Goalkeeper Will Payne had three saves, and Joseph Hall came on in goal late and earned a dramatic save to ensure the shut out. Arsenal hosts two games at Grizzard Park this weekend.
The B15-VW team beat first place Concorde Fire Central White 9-1 to move into top spot with a 6-1-1 record.
The B17-III West team beat Cherokee Impact 3-2 and is in second at 8-1 this season. Andreas Svardh leads the division with 12 goals and 2 red cards.
The B19-II team is in a three-way tie for second in its division after defeating NGA 99B 5-1 last weekend.
Rahdriq Turner scored a pair of goals while Christopher Castro, Ivan Sandoval and Jack McCreless had a goal each. Arsenal will host the two other second-place teams, Smyrna White and Inter Atlanta, this weekend at Grizzard Park.
The G16-D team beat Troup County's GA Storm 3-1 to move into fourth place with a 5-2 record, and the G19-A team beat Jefferson County's Alliance SC 3-2.
The B14-IIIW team moved into fifth place with a 4-3-1 record after a 3-1 win over Putnam Impact Elite, while the G16-A team beat Cherokee Impact 2-0 and lost to GSA North Red 1-0.
The B15-I team visited Atlanta and lost to DeKalb's Wolves 3-2 and Lilburn's Eagles 4-0.