YOUTH SOCCER: Arsenal Select teams have good weekend with 8-4 record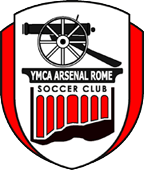 The Rome YMCA's Arsenal Soccer Club Select teams posted 8 wins and 4 losses this weekend to improve their season record 38-26-5.
The G14-D West topped Mays Striker 9-0 on Saturday at Grizzard Park. The win moves the team to 4-0-1 on the season and keeps them in first place. Malone Christen and Ashley Marin each tallied 2 goals. Tatum Ballinger and Alexis Medrano also scored in the first half, staking Arsenal to a 6-0 halftime lead. Deyvis Reader, Carlee Brock and Lizzie Ely all netted goals in the second half. Joey Kunczewski, Medrano, Marin, Brock, Hayley Alred and Sophia Campa all recorded assists. Reader and Ballinger teamed in goal to record the shutout. Each player had one save in goal. Arsenal plays seventh place Chelsea Red next Saturday at Grizzard Park and then travels to play fifth place Chelsea Yellow on Sunday.
The G14-D East lost to Chelsea Select Gold 1-0 Saturday which drops the team to 1-5 on the season. Rily Howe recorded 13 saves in goal, including stopping a first-half penalty kick. Arsenal, now in 8th place, plays next on Nov. 3 in Cartersville against fifth place SSA Chelsea Green.
The G16-A played away Saturday in Atlanta against Concorde Fire Central Black. Arsenal's Lauren Akemon scored the 1st half's only goal in the 22nd minute, assisted by Janet Hartman. The girls' doubled their lead 3 minutes into the 2nd half when Jayden Boswell's strike found the back of the net, assisted by Ashley Medrano. The Concorde Fire ladies made the game very interesting when they scored twice within a minute to tie the score with more than half an hour still to play. Akemon gave the Arsenal ladies the lead with her 2nd goal of the match in the 51st minute, assisted by Leilani Rojas. Allison Loveman scored the game's final goal with a header to the corner of the far post with 6 minutes left in the match, assisted by Boswell. Goal keeper Emma Couch made 8 saves in goal for Arsenal. Their 2-4 record has them in 10th place. Next weekend they host 7th place Cherokee Impact and 8th place GSA North Red.
The G19-A lost to 7th place All In FC 8-0.
The B13-III West improved their overall record to 7-0, with 2 wins over the weekend. They defeated Georgia Storm Troup in LaGrange with a score of 2-1. Goalkeeper Will Payne had 8 saves for the game. Jacob Fisher scored a goal, assisted by Bleu Winters. Link Lignell was fouled in the box, and Steven Villatoro scored on the PK. The team also defeated Rockdale YSA in Conyers 4-1. Goalkeeper Will Payne had 6 saves for the game. Link Lignell scored all 4 Arsenal goals in the 2nd half, 2 via breakaway. Bleu Winters and Maddox Pyle each earned an assist. The team is tied for 1st place on points with SSA Yellow and will return to action next weekend with an away game at undefeated 3rd place Inter Atlanta FC and a home game with 4th place HCU Elite.
The B14-IIIW moved into 4th place with a 4-0 win over Fayetteville Concorde Fire Central White. Next weekend they host 8th place Putnam Impact Elite.
The 7th place B15-I traveled to Alpharetta Saturday to beat 10th place Concorde Fire North Elite 4-2 then all the way to Savannah on Sunday for a 7-0 loss to 3rd place SSA Premier. Next weekend they are in Atlanta with Dekalb's 4th place Wolves and Lilburn's 1st place Eagles.
The B15-VW beat Griffin's 6th place Excel Navy 11-0. Next weekend they host 1st place Concorde Fire Central White.
The B17-III West beat 9th place NASA 1-0 on Saturday then lost to now 1st place Smyrna Sunday 3-0. That drops them to 2nd place. Next weekend they host the 6th place Cherokee Impact.