YOUTH SOCCER: Arsenal select's B13 team finishes second in league play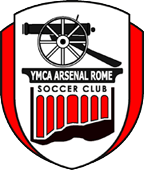 The Rome YMCA's Arsenal Select celebrated the B13's promotion to the 3rd division and 2nd place finish. The club posted a 7-4-3 record this weekend. That makes their season record 46-46-13. The Academy's season record is now 43-62-7. They are now gearing up for their season ending tournaments with most Academy teams at the Challenger Cup this weekend in Atlanta.
The G10 beat the Cherokee Impact Premier 2-0 Sunday to close out their season.
The G14 D wrapped up the season this weekend with a win and a loss. On Saturday, Arsenal fell 2-1 to Richmond Hill. Jaeme Bustos scored Arsenal's goal in the second half off an assist from Perry Durden. Deyvis Reader shined in net grabbing 15 saves, including saving a penalty kick. On Sunday, Arsenal topped SSA Chelsea Yellow, 3-1. Joey Kunczewski opened the scoring for Arsenal off an assist from Alexis Medrano early in the first half. Chelsea scored a goal to knot the game at 1 at halftime. Payton Brown put Arsenal on top, 2-1, early in the second half off an assist from Ashley Medrano. Kunczewkisi put the finishing touches on the score off an assist from Lizzie Ely to give Arsenal the 3-1 advantage. Reader recorded five saves in goal. They finish the season in 9th place out of 14 with a 4-7-2 record.
The G15 B lost to Dacula's Revolution 2-1 to close out the season with a 5-3-3 record in 6th place.
The G19 B are in 10th place with a 3-4-2 record. They tied 9th place Tophat White Saturday and have 2 games left in the season.
The G19 C finish their season in 10th place with a 2-7-1 record. They beat the 8th place GA FC 3-2 Saturday in Lawrenceville and dropped one to the 1st place NSA Belles 8-1 Sunday in Dalton.
The B13 IV-E beat Clarkesville's 3rd place Rapids FC 4-1 in their last game of the season. They finish with a 10-1-1 record and in 2nd place, which should earn them promotion to III division in the spring. Tyler Garrett finished first in the division in scoring with 13 goals and Arsenal Rome's Golden Boot. Roberto Valencia tied for 4th with 8.
The B14 II finished the season with a 3-7-2 record in 10th place. This weekend they tied 12th place Inter Atlanta 2-2.
The B16 III-W tied 4th place Inter Atlanta 2-2 Saturday with goals from Andreas Svardh and Christian Fonseca and beat 6th place SSA Blue 3-0 on Sunday with goals from Patrick Shealy (2) and Fonseca. Their 8-2-1 record earned them 3rd place. Andreas Svardh tied in 2nd place for most goals in the division with 11. Christian Fonseca was 5th with 10.
The B17 II finished in 5th place with a 5-4-1 record having won their last 2 games of the season. They beat 8th place SSA Savannah 2-1 and 11th place GSA in Lilburn 6-2. Sergio Vazquez tied for the division's leading scorer with 12.
The B18 II are in 8th place with a 3-6 record. This Saturday they lost to 5th place SSA Chelsea White 3-0 and beat UFA Norcross 5-0.