YOUTH SOCCER: All Arsenal teams see action in busy weekend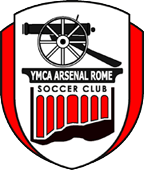 The Rome YMCA's Arsenal Select saw all teams in action this weekend and posted a 6-8-2 record. That makes their season record 39-42-10. The Academy split with Smyrna and Fort Payne for a season record of 42-60-7. All Academy teams are now gearing up for their season ending tournaments.
The B10 lost to Smyrna 5-4 with goals from Zeke Donner (2), Klae Theakston, and Tripp Watterson. They came back and won the second game 6-3 with goals from Kevin Espinoza (Marley Price assist), Price, Eduardo Guijosa (Price, Giovani Echanique assist), Echanique (2, Price, Evans Drinkard assist),
The B12 split with Fort Payne losing the first 5-4. Goals came from Isaiah Johnson (Maddox Pyle assist), Blue Winters (2, Josh Hernandez and Gavin Williams assists), and Williams who also had 4 saves in goal along with Hernandez' 3. They won the second game 5-2 with goals from Williams (Winters assist), Winters (2, Williams assist), Hernandez (Williams assist), and Pyle (Charlie Shaw assist). Williams and Jacob Davis combined for 6 saves.
The G14 D topped 13th place Liberty SC East 7-1 at Grizzard Park on Saturday afternoon. Arsenal struck fast with Joey Kunczewski netting a goal off an assist from Ashley Marin in the opening minute of the game. Perry Durden scored off an assist from Jaeme Bustos to give Arsenal a 2-0 lead 14 minutes in. Kunczewski added another goal off an assist from Ashley Lopez at the 19:24 mark, giving Arsenal a 3-0 lead. 
After allowing a goal before halftime, Arsenal bounced back with two goals from Lizzie Ely early in the second half. Ely scored off an assist from Kunczewksi at the 48 mark. Two minutes later, Ely scored off an assist from Lopez. Kunczewski added two more goals, scoring off assists from Hayley Alred and Eryelle Harris, respectively to close out the scoring at 7-1. Deyvis Reader recorded five saves in goal.
On Sunday, they tied fifth place UFA White 0-0. Deyvis Reader recorded eight saves in goal to earn the clean sheet. The weekend's action moves Arsenal into eighth place with a 3-6-2 record. They host Griffin's 10th place Richmond Hill this Saturday and travel to Marietta for 12th place SSA Yellow on Sunday to close out the season.
The G15 B travelled to Jefferson's 9th place Alliance Elite on Saturday for a 0-0 tie. Then they beat 8th place Augusta Arsenal 3-2 on Sunday. Their 5-2-3 record puts them in 4th place. This weekend they travel to Dacula's Revolution for their last game of the season.
The G19 B are in 8th place with a 3-4-1 record. They lost to the 2nd place GA Rush 2-1 Sunday. Next weekend they host 7th place Tophat White Saturday and 10th place All In FC on Sunday.
The G19 C are in 10th place with a 1-6-1 record. They lost to the 2nd place KSA Select in Lawrenceville 7-2. Next weekend they play 8th place GA FC Saturday in Lawrenceville and 1st place NSA Belles Sunday in Dalton.
The B13 IV-E beat Carrollton's 9th place GA Storm Silver 7-0 on Saturday and Tucker's 10th place Triumph Gold 5-0 on Sunday. They are 9-1-1 and in 2nd place. Next weekend they host Clarkesville's 3rd place Rapids FC in their last game of the season. Tyler Garrett now leads the division in scoring with 13 goals. Roberto Valencia is tied for 3rd with 8.
The B14 V-W concluded their season this past weekend with a 5-4 record and in 5th place. They beat 8th place Inter Atlanta 5-0 on Saturday with goals from Jorge Herrera (2), Mikey Lopez, Jamie Hughes, and Charlie Jones. Aidan MacFarland had 2 assists. Herrera, Lopez, and Tony Guzman combined for 6 saves in goal. They traveled to lose 1-0 at Jefferson's 3rd place Alliance SC on Sunday. MacFarland is tied for 4th in the division scoring race with 4 goals.
The B14 II have a 3-7-1 record and are in 9th place with a game remaining. This weekend they lost a close one to the 1st place Dacula Revolution 2-1. Next weekend they close out the season hosting 12th place Inter Atlanta.
The B16 III-W lost to Carrollton's 1st place GA Storm Elite 4-1 on Saturday with a goal from Luis Guzman. They beat the 10th place Concorde Fire White 6-1 on Sunday. Keeper Patrick Shealy got a hat trick with solo goals from Luis Chanax, Christian Fonseca, and Andreas Svardh. Their 7-2 record puts them in 3rd place. Next weekend they close out the season on the road at 4th place Inter Atlanta Saturday and 6th place SSA Blue on Sunday. They could earn promotion with two wins. Svardh is tied for 2nd in most goals in the division with 10.
The B17 II are in 9th place with a 2-4-1 record. This weekend they lost at Dacula to the 7th place Revolution 2-0 on Saturday and 2-1 to Macon's 2nd place SAF on Sunday. Next weekend they host 8th place SSA Savannah and travel to 11th place GSA in Lilburn to close out the season. Sergio Vazquez is the team's leading scorer with 6.
The B18 II are in 9th place with a 2-5 record. This Saturday they lost to the 7th place Concorde Fire 5-3. Next week they host Norcross' 10th place UFA and 5th place SSA Chelsea White to close out the season.