UPCOMING EVENTS: Sports Bulletin Board, Feb. 23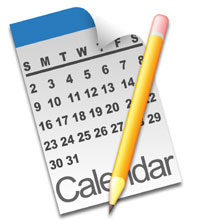 Here's a list of events currently in the Rome News-Tribune Sports Bulletin Board:
AAU BASKETBALL TRYOUTS — Northwest Georgia Select Basketball will hold open tryouts for seventh-grade, ninth/10th-grade and 17U teams on March 2-3 at the Anthony Center gym in Garden Lakes from 6-7:30 p.m. each day. For more information call Laura at 706-331-0180.
ROME TENNIS CIRCUIT TOURNAMENT — There will be a Rome Tennis Circuit tournament for high school and middle school players March 5 at the Downtown Tennis Center. Players from different schools will be able to compete for their school either individually or in doubles play. The tournament will be open to every player on a school team regardless of their position on the team. Teams may sign up as many players as they would like. Registration will cost $12 for individuals or $20 with a T-shirt. Registration is open at www.rometennisacademy.com.
SPRING TENNIS 101 — Spring Tennis 101, sponsored by USTA, Rome Tennis Academy and the Coosa Valley Tennis Association, will run from March 7 through April 11 on Mondays from 7 to 8 p.m. The fee will be $50 and includes a racket, first league fee, a players end-of-season party and a free USTA membership upon request. To sign up call the Downtown Tennis Center, 300 W. Third St., at 706-290-0072, email clopeztennis@gmail.com or visit rometennisacademy.com. Checks should be made payable to CVTA.
HARBIN CLINIC LEPRECHAUN-A-THON 5K — The Harbin Clinic Leprechaun-a-thon 5K will be held March 19 in downtown Rome, starting at the Harbin Clinic Cancer Center and ending on the track at Barron Stadium. The 5K will start at 11:30 a.m. and the health walk will start at 11:40 a.m. Pre-registration is $25 for the 5K race and $20 for the health walk. Runners can register online at rfpra.com or in person at the Rome-Floyd Parks and Recreation office at 1 Shorter Ave. Packet pickup will be March 18 from 10 a.m. to 6 p.m. at Harbin Clinic Vitality Fitness, 504 Redmond Road.
NO EXCUSES 5K, HEALTH WALK, FUN RUN — The fourth annual No Excuses 5K, health walk and hot dog fun run will take place April 16. The race benefits Braves Miracle Field of Rome. The 5K and health walk will take place at 8 a.m. and the hot dog fun run will be at 9 a.m. For details call 706-378-5100.
OL' COTTON MILL ROAD RACE — The 15th annual Ol' Cotton Mill Road Race, sponsored by the Pepperell High softball team, will take place, April 23 at Pepperell High School. The preregistration deadline is April 14. The cost to preregister is $20. Registration will take place through the day of the race. The 5K will start at 9 a.m., and the 1-mile fun run/walk will begin at 9:30 a.m. Participants who preregister will be guaranteed a T-shirt. Fruit and water will be available to all runners. For details contact Jeff Rickman at 706-236-1844 or jrickman@floydboe.net. Registration forms and a course map, along with the USATF certification number, can be found at www.pepperellhigh.com. Register online at active.com by searching for "Ol' Cotton Mill Road Race."
TRI FOR THE KIDS YOUTH TRIATHLON — The eighth annual Tri for the Kids youth triathlon will be held April 24 at 9 a.m. on the campus of Darlington School, 1014 Cave Spring Road. The race for children age 6-15 includes three different divisions. The course for 9 and younger will consist of a 50-yard swim, a 2.4-mile bike ride and a half-mile run. The course for 10 and older will consist of a 100-yard swim, a 4.8-mile bike ride and one-mile run. The race is sanctioned by USA Triathlon, and all proceeds will benefit the Boys & Girls Clubs of Northwest Georgia. Early registration is $35 and lasts through March 15. For more information contact Beth Smith at bsmith@darlingtonschool.org or visit www.racerome.org.
UP THE CREEK RIDE — TRED Rome/Floyd Inc. will host the 26th annual Up the Creek century ride April 30 at 8 a.m. There will be a new 13-mile trail ride along the Heritage Trail System. Riders can also choose from rides of 32, 53, 71, 104 and 109 miles that will depart from The Forum. Registration options include a lunch token and dri-fit shirt. Paper registration forms are at Cycle Therapy and Pullen's Ordinary Bicycle Shop. Register online at www.itsyourrace.com and search for "Up the Creek." For details or to volunteer contact Julie Smith at 706-235-4866 or julie@cycletherapy.us.
BULLETIN BOARD CONTACT INFORMATION
By mail: Sports Bulletin Board, Rome News-Tribune, P.O. Box 1633, Rome, GA 30162. Email: JBlaylock@RN-T.com or Fax: 706-290-5301.