TALKING TROUT: Cook-Off registration starts after midnight Thursday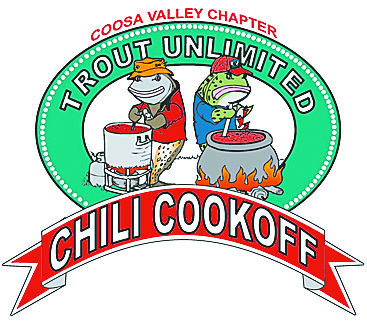 Just after midnight Thursday a lot of computers in the Rome area will be logging onto the Coosa Valley Trout Unlimited website to register their teams and choose their favorite cook site location. Yes, Friday is the day that many chili cooks have been waiting for as registration opens for the Trout Unlimited Chili Cook-Off.
There are plenty of cook sites available but many teams have their favorites. Some teams prefer to be by the river while others want to be near the stage or in some cases as far from the stage as possible.
TU has some restrictions for the cook sites that are available. First of all, Cook Off sponsors get to choose their cook site location prior to anyone else. That is always a priority as without their contribution the cook off would not happen.
We restrict all of the perimeter cook sites to be used by teams that have motor homes and pull behind camper trailers. There are a total of 66 perimeter cook sites and of those 66, there are six that back up to a fence that boarders the road to the stage. These six sites, 1 thru 6, are not really suitable for a large camper so these six sites can be used by anyone.
If your team is not bringing a motor home or camper trailer please reserve an interior site and do not take a perimeter site. We only allow two cook sites to be reserved per team. No exceptions will be made for anyone except the sponsors. If you are not entering a chili you cannot reserve a site. There is a map of the cook sites on the website that shows the location of teams and sponsors that will be updated daily if possible.
This year we are allowing the team leader to purchase additional arm bands for guests to allow access to the park for the Friday night festivities. At the time the cook team registers online, additional arm bands can be purchased for $11 each.
There is no limit to the number of armbands that can be purchased at that time. The last day that teams can register and buy additional arm bands on line is Oct. 1. Please note that if you decide to get additional armbands after the initial "online sign up" more can be purchased when you are at the park Friday by the team leader or the designated alternate. Arm bands on Friday are only $10.00 each. Arm bands must be worn by all persons in the park after 8pm Friday night or that person will be required to leave the park.
Cedar strip canoe raffle
For those who have been asking about the beautiful hand-made wood canoe that the chapter has built we will be having the drawing at this years' cook-off.
There are still a good number of tickets available at $25.00 each or five for $100. The canoe is currently on display at United Community Bank in downtown Rome. Tickets are available at the downtown location of United Community Bank or you can purchase tickets at the cook-off.
The drawing will be after the announcement of the actual cook-off winners around 3 p.m. Tickets can be purchased up until about five minutes prior to the drawing. There will be announcements of last call for tickets at that time.
The cook-off will be Saturday, Oct. 14 at Ridge Ferry Park in Rome. Gates open to the public at 10:30 a.m. and admission is $5 per person with children 5 or younger allowed in for free.
For more information visit the website http://coosavalley.tu.org. To register a team, go to the same website and follow the links. Registration is $50 per recipe and if you are purchasing additional arm bands we must have a mailing address for the team leader. The additional arm bands will be mailed to the team leader.