PREP FOOTBALL: Teams ready for region matchups amid approaching bye week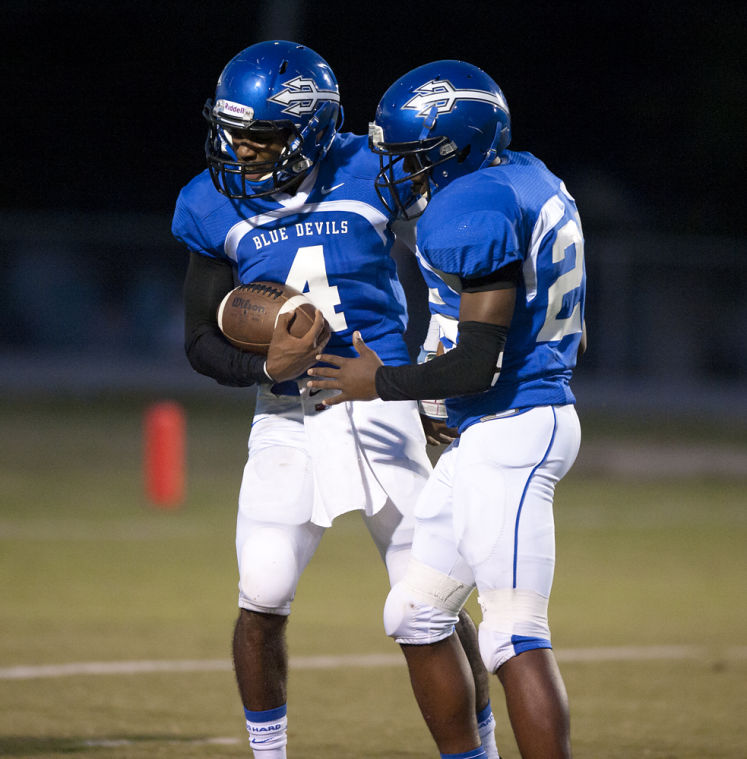 Call it the storm before the calm for several local teams as almost every area team plays one this Friday before getting a much deserved bye week next week.
In Region 7-AA, several key contests stand out and should have a significant impact on the region standings.
In Rome, Model and Armuchee are gearing up for their annual showdown. Like most years, this game's winner has a chance to move up in the Region 7-AA standings.
In 2012, the Blue Devils rallied late, winning the game on a field goal from then freshman C.J. Jackson. The win helped propel Model to a winning season and a playoff berth for the first time in several years.
On Friday, the Indians, who earned their first win of the season last week over Murray County, aim to settle the score and possibly make a run at the playoffs themselves.
After struggling a bit in the opening three games, Armuchee's offense came to life against Murray, grinding out 417 rushing yards.
Fullback Austin Gurley did a lot of damage with 122 yards on 13 carries.
Model (3-1, 1-0) surges into the game after struggling with a determined Chattooga team last week. The Blue Devils' offense had some good moments, but the going got tougher near the end zone.
The defense proved steady though, holding the Indians out of the end zone until the waning moments of the second half.
COOSA: The Eagles don't have time to rest after a close loss to Pepperell last week in the Shrine Game as they travel to Calhoun to take on the Yellow Jackets. Coming into this game, Calhoun has a 43-game home winning streak and hasn't lost a region contest since 2001.
As is typical, Calhoun coach Hal Lamb isn't overlooking any opponent.
"Coach Wheeler has done a tremendous job there (at Coosa), and they are very capable of coming in here and playing well."
Coosa has a run-oriented attack but can air the ball when necessary. Being able to mix it up offensively may be a necessity against Calhoun. The Jackets' defense has been stingy against all opponents except Class 4A Carrollton.
ROME: The Wolves return to Region 5-5A action on Friday, traveling to play at New Manchester. Unlike most other Rome-area teams, the Wolves actually had their bye week last week. The bye allowed the coaches and players to get in some extra work after dropping to Allatoona.
Rome's offense has shown signs of explosiveness but turnovers limited them against Allatoona. Tailbacks Myron Washington (216 rushing yards) and Frank Griffin (421 rushing yards) are extremely dangerous and can race past the opposing defense on practically any play.
New Manchester lost to East Paulding last week. Although New Manchester is a newer program, they find themselves in the thick of the Region 5-5A playoff race.
UNITY CHRISTIAN: The Lions return to action at Ben Brady field Friday night facing Creekside Christian. Unity is still recovering from Saturday's 47-6 loss to Dominion Christian.
Unity has been hit with a couple of key injuries to a lineman and to wide receivers, but Coach Joe Curtiss isn't focusing on who isn't playing.
"Even with the injuries we've had, we've been practicing in full pads all week," he said. "We need to be more physical. We're not losing from a lack of effort, we're just not being physical enough."
Creekside dropped to ICSGA power Loganville Christian last week. Loganville topped Unity earlier in the season.
"They're a good team. They've got a new coaching staff and they look like they're really improved," Curtiss said. "We have a huge game with Covenant on the horizon, so we need to step up and be physical."
DARLINGTON: The Tigers host Region 6-A foe Trion in the region opener for both squads. Darlington's defense is fresh off of holding King's Ridge to 55 rushing yards last week in a 31-7 win.
Darlington has been impressive on defense and offense helping lead the Tigers to a 3-1 record so far. The lone loss came against Class 3A power Cartersville.
"Trion is big and physical and they are very good at executing their offense," Darlington coach Tommy Atha said. "Our defense has a huge challenge. We've just got to make sure that we don't give up big plays."
Trion enters the game coming off their first loss of the season to Mt. Paran. The Bulldogs offense struggled a bit in the 31-12 loss.
Darlington's offense has steadily improved this season and quarterback Logan Rice is looking even more comfortable at quarterback.
"I said after the Pepperell scrimmage we were going to have to get on the same page," Atha said. "He continues to improve and last week he showed the ability to throw the football."
Another major asset for the Tigers this season has been the fan support, especially the renewed zeal of the student section.
"It's been great. Our students have really come out and supported us. We call them the bleacher creatures, and they're out making noise in the stands," Atha said. "When you combine that with the traditional support, it really helps."
PEPPERELL: The Dragons had a short week this week to get ready for Dade County. The Wolverines lost to Calhoun last week, but put up a fight in the first half.
Pepperell's defense came through last Saturday in the Shrine Game, forcing several turnovers and holding the visiting Coosa Eagles to 16 points.
Pepperell's Evan Ashley recorded over 100 passing yards and also picked off two Coosa passes. Devyn Collins led the attack on the ground in the game with 113 yards.
The Dragons will look to lean heavily on those two as well as the defense when facing Dade.
Jim Alred is New Media Director for News Publishing Company.​