Arsenal Rome teams go 3-2 over weekend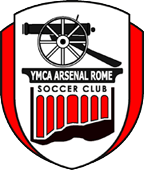 The YMCA's Arsenal Rome soccer teams posted a 3-2 record this past weekend, bringing their season total to 7-2.
The G13 team faced off against SSA's Select White team at Grizzard Park on Saturday and won 8-1. Maggie Eddins led the Arsenal girls with four goals while Jayden Boswell had three and Rhiannon Simpson had one.
Lauren Akemon contributed four assists. She was joined by Zoe Diehl, Amarantha Hernandez and Bos-well, who each got an assist. Goalkeeper Emma Couch made five saves.
On Sunday, the team squared off against Tophat's White team in Buckhead and won 3-0. Eddins scored Arsenal's first goal unassisted in the 11th minute. She then assisted Boswell on a goal 15 minutes later.
Arsenal finished its scoring in the fifth minute of the second half when Akemon assisted Boswell on her second goal. Couch earned the clean sheet in goal. The G13's 3-0 record has them in first place in the Athena C West division.
The B13 lost to Columbus 3-2, dropping them to fifth place. They play ninth-place AFC Lightning in Atlanta on Saturday.
The B14 beat Decatur YMCA Jaguars 1-0 Saturday with a goal from Andreas Svardh, assisted by Jordan Dupree. Arsenal dropped one to third-place Warner Robins SAF Elite on Sunday, 4-0.