WRESTLING: Three LaFayette wrestlers medal in Macon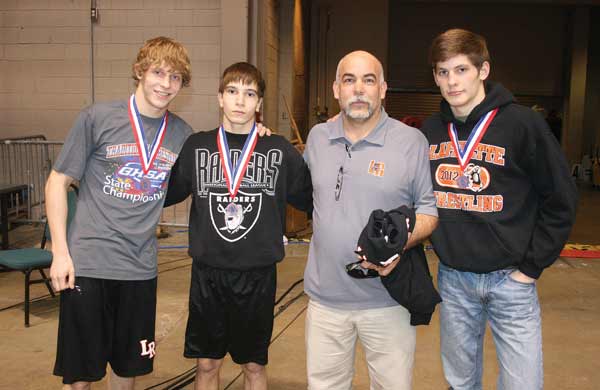 By Scott Herpst
MACON — The LaFayette Ramblers saw three of their six state qualifiers medal at the Class 4A state tournament over the weekend.
Junior Sam Lemons, the Area 7-AAAA and West Sectional champion at 132 pounds, won his first match on Thursday, but fell to Alexander's Chris Achenbach, 11-4, on Friday and dropped to the consolation bracket.
However, Lemons battled back to win four straight matches, taking third place with a 4-2 win over Gilmer's Brady McCollum on Saturday.
Third place was also the final podium spot for senior 138-pounder Britton Gilbert. Gilbert won his first two matches of the tournament to advance to the semifinals, but he was pinned in the first period by Kenya O'Neal of Hephzibah on Friday night.
Gilbert rebounded from the loss to win his final two matches, 3-0 over Heritage's Jacob Stephens, and 10-7 over South Effingham's Josh Gaspard.
Sophomore Caleb Mariakis also won a spot in the championship semifinals at 113 pounds, but suffered a 10-6 loss to eventual state champion Greg Hilliard of Lumpkin County.
Mariakis was beaten by Chestatee's Bartolo Velasquez, 4-0, in the consolation semifinals on Saturday morning, but bounced back to stop Jonesboro's Jalal Malik, 9-4, for fifth place.
Senior Barron Taylor went 2-2 at 220 pounds, coming up one win shy of the medal rounds, while seniors Joe Clayton (152) and Will Mefford (195) each went 1-2 on the weekend.
"We had a couple of matches that didn't go our way, but overall, it was a great weekend," head coach Keith Mariakis said. "Barron was just a win away from placing, and it was great to see Caleb, Sam, and Britton come back the way they did. They had some tough matches they lost, but they really regrouped nicely."
"It was nice to see Britton battle back for third," the coach added. "He's had a lot of injuries in the past couple of years, and he's fighting through a couple of shoulders injuries right now, but he showed a lot of guts out there and did a great job."
LaFayette placed eighth in the team standings with 57 points. The Ramblers finished with 52 points last year, tying them with Eastside for eighth place in Class 3A.
Ridgeland had just two wrestlers qualify for the state tournament. Seniors Cody Brooks (126) and Mark McKevitt (170) each went 1-2 in the tournament, picking up their lone wins in the consolation brackets.
The Panthers finished 43rd in the team standings.