WRESTLING: Large cast of local wrestlers advance through area tournaments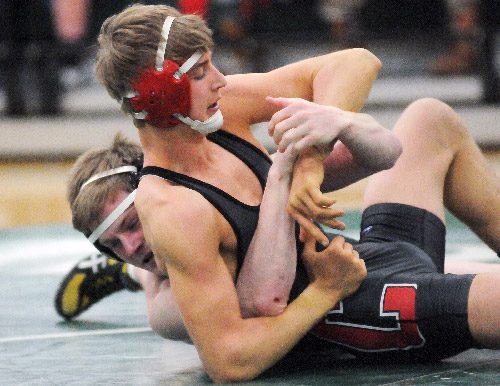 From staff reports
The Floyd County wrestling contingent had plenty of reasons to celebrate on Saturday.
On the final day of the area traditional tournament at various venues around the state, the Floyd County representatives racked up a combined seven individual championships at the Area 3-AA and 3-A meets.
Those seven will now advance to next weekend's state sectionals, and they will be joined by a host of other Floyd County wrestlers who earned their spots at state by finishing among the top four in their respective weight classes on Saturday.
At the Area 3-AA meet at Murray County, Armuchee teammates Braylen Scoggins and Thad Moore both won championships, as did Coosa teammates Tyler Chastain and Garrett Collins.
Scoggins won the 113-pound weight class, Chastain took first at 145, Moore won at 152 and Collins at 195.
Meanwhile, at the Area 3-A meet at Mt. Zion (Carroll), the Darlington Tigers had three champions — Jule Peek at 126, Jordan Beck at 152 and Hayden Cook at 170.
Also for Darlington, Collin Sheffield was the runner up at 160, and four other Tigers advanced to state by finishing among the top four in their class. They were: Landon Lawrence (who finished third in the 182 class), Jake Collier (third, 220), Jamie Beck (fourth, 106) and Rostam Zafari (fourth, 138).
All told, Darlington will be sending eight wrestlers to sectionals.
In AA action, Floyd County will be sending a total of 13 wrestlers to next weekend's event.
In addition to the four area champs — Scoggins, Chastain, Moore and Collins — the list will also include the following individuals who earned top four finishes:
PEPPERELL: Derek Combs (third, 120), Cory Johnson (fourth, 126) and David Boaz (third, 285);
MODEL: Walker Williams (second, 145), Dustin Rogers (second, 138) Dakota Willerson ( fourth, 195) and Lance Morris (third, 220).
COOSA: Michael Haas (fourth, 120) and Kaleb Ogles (second, 285);
ARMUCHEE: Easton Mathis (fourth, 106).
Also headed to sectionals next weekend will be 16 individuals who will be alternates in their respective classes after finishing either fifth or sixth on Saturday.
They are:
Pepperell's Deonte Morgan, Zach Brumbelow, Austin Adams, Hunter Boyken, Zachary Diggs and Jacob Walker.
Model's CJ Garrett, Trent Blakenship, Tyrell Turner and Andrew Strickland.
Armuchee's Charlie Waters, PJ Broome, Brody Everett and Branden New;
Coosa's Dani Matul and Calvin Love;
In other wrestling action news from Saturday:
GREATER ROME
In addition to the successful showings by the Floyd County representatives, numerous other individuals from Greater Rome advanced through the area event and qualified for state.
The list includes four invidivual champions from the Area 3-AA meet.
Chattooga had three first-place winners — Bradon Brown (120), JJ Blakenship (126) and Hyden Burdick (132) — along with Calhoun's Donnell Anthony (160).
Others who will be headed to state include:
Chattooga: Shawn Brown (third, 106), Seth Osley (fourth, 138), Donovan Dallas (fourth, 145), 
Calhoun: Jason Orellans (fourth, 113), Logan Knight (fourth, 132), Chandler Quinn (third, 138), Aaron Pass (fourth, 152), Will Conley (second, 170), Luke Green (third, 182), Dustin Harris (second, 220)
Qualifying for state as alternates were:
Chattooga: Blake Housch (sixth 113), Nic York (sixth, 152)
Calhoun: Aaron Aguirre (fifth, 106), Brandon Clark (sixth, 126), Eduardo Aguilar (fifth, 195).