WRESTLING: Jonathan Ragsdale named Catoosa-Walker Wrestler of the Year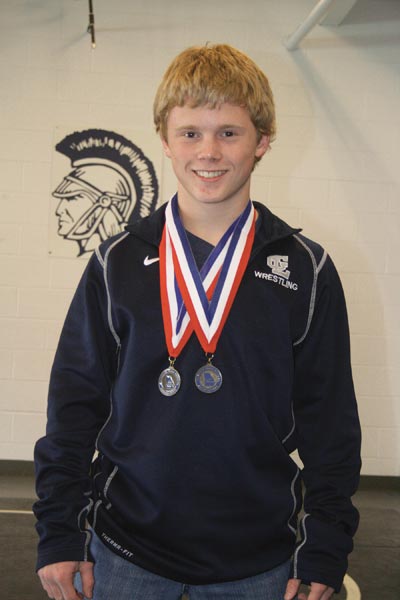 It may be hard to believe, but there was a time when Jonathan Ragsdale wasn't sure if wrestling was the right sport for him.
"My first year I lost every single match I wrestled," said Ragsdale, who started out in the sport in the third grade at the urging of his father. "Dad convinced me to wrestle one more year, and that second year, I finally won my first match. It felt amazing to win and I just wanted to keep on doing it and keep getting better."
And that's exactly what he's done.
The Gordon Lee grappler, the 106-pound Class A state champion as a freshman, reached the halfway point in his quest to become a four-time state champion after putting a cap on his sophomore season with a second state crown.
Today, he adds to his list of accomplishments as he earns the title of 2012-2013 Wrestler of the Year for Catoosa and Walker Counties.
Ragsdale went 48-1 this past season with the lone loss coming to a nationally-ranked wrestler during a tournament in Kentucky.
Among wrestlers in the Peach State, Ragsdale was simply dominant and has the numbers to back it up.
He collected 14 victories by technical fall, including both his state semifinal and state final matches at 113 pounds. He also finished the year with an astounding 302 takedowns, averaging more than six per match.
"A lot of people hear that number and ask, 'how can he have that many and just have wrestled 49 matches?'," Gordon Lee head coach Brent Raby said. "Well, when you take a kid down 12 times like he did in the state finals, I think that says it all. They build up pretty quickly when you're getting eight to 10 (takedowns) a match.
"He probably could have pinned a lot of the kids he got tech falls against, but we were going after that 300-takedown mark."
Ragsdale says his aggressive, attacking style has become his trademark and his mindset going into each bout.
"My dad and my coach are always telling me to attack and that's become my style of wrestling," h explained. "Coach Raby always tells me that if I wrestle my style of match, no one can beat me, so that's what I try to do each time."
"He's a stud, a hammer, and he's just fun to coach," Raby said. "Offensively on his feet, he's as good as any kid I've ever seen. You have to be able to wrestle on your feet in college, and that's his goal, to wrestle in college one day."
Raby said Ragsdale's tenacity is another important weapon in his arsenal.
"He's an in-your-face wrestler," added the coach. "He never takes a step backward. He's straight-forward and banging on you the whole time."
Ragsdale says he usually takes a month off from the mat in the summer, but he spends that time with extensive weight training, something he says gives him a competitive advantage.
"It's helped tremendously," said Ragsdale, who won a USA Weightlifting National Youth Championship in 2012. "It's gotten me stronger so I can wrestle some of the older guys I have to go up against."
Ragsdale and the Trojans made school history early in 2013 by winning their second straight Class A State Duals title and following it up with the Class A State Traditional title a month later.
"It feels really good to win them both, especially with what happened at the State Duals last year," he said, referencing the disputed shared State Duals title with Holy Innocents' in 2012. "This year, we won it outright, and winning the team traditional title just tied it all up."
Up next for Ragsdale will be nationals, then a focus on gaining weight with an eye toward next year and a potential college wrestling career.
"He's going to compete at the national tournament this year at 106 pounds," Raby said. "The goal there is to go and place high, and after that, the goal for him is to grow and get bigger. In college, the lowest weight class is 125 pounds. He's walking around now between 116 and 118 pounds most days, so hopefully by next year he can be wrestling at 120 or 126 by next year."
And as for the rest of his school career, he's hoping to add a couple more state gold medals to his growing collection."
"It feels amazing to win state," he said. "I hope I can do two more times."
THE REST OF THE CATOOSA-WALKER WRESTLING DREAM TEAM
Blake Clayton (Gordon Lee) The senior went 42-10 in his final season for the Trojans, winning an area and sectional championship before finishing second in the Class A state tournament at 120 pounds.
Shane Farmer (Gordon Lee) The junior was solid all season long for the Trojans, winning an area title and a sectional title at 182 pounds before taking second at state to finish the year with a 46-6 record.
Britton Gilbert (LaFayette) The youngest in a long line of wrestling siblings, the senior came into his own this past season, going 40-9 and finishing second in the area and third in the Class AAAA state tournament at 138 pounds.
Will Jacks (Gordon Lee) The 145-pounder finally reached the pinnacle as a junior, going 50-5 and backing up his area and sectional titles with his first-ever state championship as he helped the Trojans to a Class A sweep.
Corey Jewell (Gordon Lee) The senior was unable to duplicate his Class A state title from a year ago, but he still turned in a big season at 195 pounds for the Navy-and-White with a 52-3 record, an area crown, and runner-up showings at sectionals and at state.
Isaiah Knight (Heritage) It didn't take long for the freshman to make an impact in the Generals' lineup as the 113-pounder took third at the Area 7-AAAA championships before finishing second at state with a 28-9 overall record.
Stihl Lance (Gordon Lee) The sophomore racked up a 34-8 record for the Trojans, and picked up area and sectionals championship before finishing as the Class A state runner-up at 106 pounds.
Sam Lemons (LaFayette) After two solid seasons to begin his high school career, the junior had a breakout season this past winter, going 44-7 and winning the Area 7-AAAA 132-pound championship before placing third at state.
Nate Long (LFO) The senior concluded one of the winningest careers in Warriors' history by going 36-5 in his final season, including the Area 5-AAA title at 195 pounds before going on to place third at state.
Michael Moore (Heritage) The 182-pounder and future Davidson Wildcat finished second at state as a junior and equaled the feat in his senior season, going 44-8 to help the Generals to a sixth-place showing in the Class AAAA team standings.
Sam Shepard (Ringgold) The junior backed up last year's Class AAAA state runner-up finish at 120 pounds with a 38-7 record, an Area 5-AAA championship, and second-place finishes at sectionals and at state.
Alex Spires (Gordon Lee) The senior returned to the mat following a year's absence and became the school's first three-time state champion, finishing the year with an area title and a 34-6 record at 138 pounds.