VOLLEYBALL: Sonoraville's rally in second set gives them momentum for dramatic win in state second round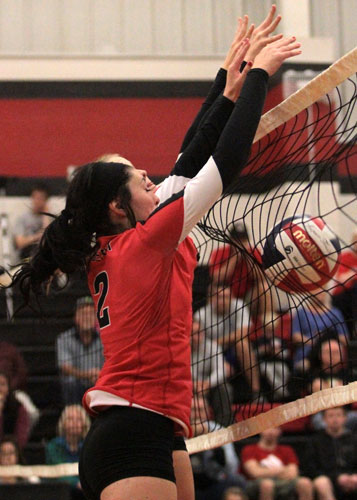 After losing the first set, and being down 21-9 in the second set, it would've been easy for the Sonoraville Lady Phoenix to accept defeat on Tuesday night in the second round of the state tournament against Oconee County.
But if you've seen this team any this season, you know that was simply not an option.
The Lady Phoenix dug down deep like they've done several times over the last few months and rallied for a dramatic and emotional 27-25 win in the second set. From there, they held the momentum and used it to earn a three sets to one win to advance to their second straight Class AAA Super Six.
"Down 12 points and already down a set, it's easy to give up, but this team doesn't have quit in them," said Sonoraville coach Trace Vaughn. "This team never gives up. They just keep fighting. They started to feel the momentum, and it was awesome to see."
Sonoraville (41-8) dropped the first set, 25-22, to the Lady Warriors before winning the next three, 27-27, 25-22, 25-15.
Once again, the Lady Phoenix were led by their two seniors Carrie Cheeks and Kristi Vaughn, who clearly didn't want their high school volleyball career to end on Tuesday on their home floor. Cheeks had 24 kills, 19 digs and was 12-of-13 serving, and Vaughn had 45 assists, 26 digs, three kills, two blocks and two aces on a perfect 17-of-17 serving.
"We're going to miss those girls next year for sure," said Trace Vaughn of his seniors.
Another big part of the comeback was the energy in the gym. Once the Lady Phoenix got rolling in that second set, the home crowd let their voices be heard in a big way, and Trace Vaughn said that was a definite advantage, being at home.
"The crowd was big tonight," said Vaughn. "Once they started getting loud, it was drowning everything out. I was having to yell at the girls just so they could hear me. I will take that, though, because the crowd support tonight was great to see, and that helped us keep the momentum."
Several other Lady Phoenix players made big impacts alongside the two seniors. Haley Ponder added 19 digs, four kills, three assists, a block and a 26-of-26 serving effort. Emalie Hicks came up big as well, with 19 digs, four kills, three assists and one ace on 23-of-25 serving. (Hicks was the server during Sonoraville's dramatic second-set run.)
Also contributing were Savannah Wilbanks with 10 digs, four kills, two blocks and two aces, Delaney Bell with nine digs and 10-of-10 serving and Becca Cheeks with four kills, two blocks and two digs.
The Lady Phoenix now head back to the Super Six where their season came to an end last season at the hands of eventual state runner-up St. Pius X. Trace Vaughn said just making it back to the final six teams again this season is another great accomplishment for the program.
"People know now that girls coming out of the Sonoraville volleyball program can play," said Vaughn. "It's grown in the last few years to where winning is an expectation now.
"I think the girls feel that pressure sometimes, but that's not the kind of team we are. We're usually a loose team. We came out a little tight tonight, and that's not our normal mode. Once they started to relax and start enjoying it, they started to fly around and play well."
The Lady Phoenix will now wait to learn their next opponent as the GHSA will re-seed the remaining six teams with the top two seeds getting a bye into the Final Four, and the No. 3 and 4 teams earning home-court advantage for the next round on Saturday.
Trace Vaughn said he has no expectations for what will happen with the re-seeding, and he said his team will take whatever they draw and give it 100 percent.
"The girls believe in themselves," said Vaughn. "We are a really good team, and our motto all year has been 'relentless.' Our girls did that tonight. They stayed after it and refused to be out-played or out-hustled."
For more photos from Tuesday's match, see Saturday's Calhoun Times.