VOLLEYBALL: Lady Panthers on the rise in 7-AAAA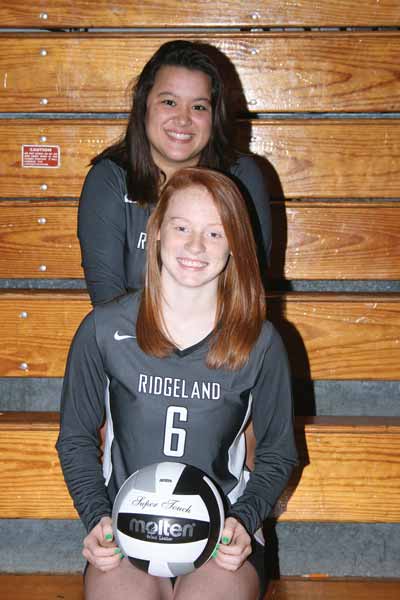 When one thinks of Auburn University, volleyball isn't necessarily the first sport that comes to mind.
But it was down on The Plains this summer, deep in the heart of SEC country where football is king, that the Ridgeland Lady Panthers volleyball team may have found the tools they need to get back toward the top of the Area 7-AAAA standings.
"We attended a team camp at Auburn, which turned out to be very beneficial for the girls," third-year head coach Kari Cooper explained. "Being our first time going, we didn't take a huge number of girls down there, but the ones who went were really receptive to the coaching I was giving them and to the coaching that others were giving them. They really started stepping up.
"We got to work on a lot of skills and we've already improved a lot just in the few weeks since we've been back."
Cooper said the camp was part of a jammed-pack summer schedule, specifically designed to keep volleyball in the forefront of her players' minds.
"We did a lot of work this summer, especially conditioning," she explained. "I tried not to give them too much time off so we could keep working on what we were building last season."
She said her team's biggest area of improvement has come in its technique.
"We've been drilling a lot on how to do certain skills and how to do them properly," she continued. "That was something that clicked pretty quickly, especially since we got back from camp, which I was pleased to see."
This year's squad features just two seniors in setter Ashley Bradley and libero Desiree Powers. Both were key contributors on last year's team and both have been asked to take on bigger roles this time around.
"I was really looking for them to bring leadership to the team and they are doing just that," Cooper said. "I need them to lead by example, not just on the court, but in their attitude and in keeping the team focused."
Cooper said having them both on the court at the same time will another plus. "We need Ashley to lead the offense and for Desiree to be a strong defensive presence in the back row," she added. "Between the both of them, they probably won't completely come off the court so we'll have that constant senior presence out there. Plus it will be a challenge for them to stay focused in their roles and not get down on themselves if something goes wrong."
Much of the team's offense will come from its junior class. Nicole Lonsford will be the team's go-to hitter in the middle, while Morgan Woody will be stationed on the outside of the front row, along with Madison Killen.
Middle blocker Katelyn Baker gives the team size up front, while Asia Davis will be a utility player on the varsity squad.
Among the sophomores looking to have an impact this season are Haley Young and Kayla Wimpee, who are both getting work as the blocker and hitter positions to help build depth.
"We also have a very good group of incoming freshmen," added Cooper, who will be joined on the bench by assistant April Lemonds. "It would not surprise me a bit to see some of them move up and play with the varsity this season."
Cooper said that while 7-AAAA is still a competitive region, she is cautiously optimistic about her team's chances.
"I think that if we play the way we are capable of playing, get out of own heads a little, and get used to winning, we can do very well," she said ."We have to avoid some of the pitfalls that held us back last year. If we do that, we can go a long way.
"The key for us is staying together as a team and always having that bond, no matter what's going on on the court. That's what was missing last year. At times, we just fell apart. If we can overcome that, we'll be fine."