VOLLEYBALL: Experience is helping Coosa the 2nd time around at state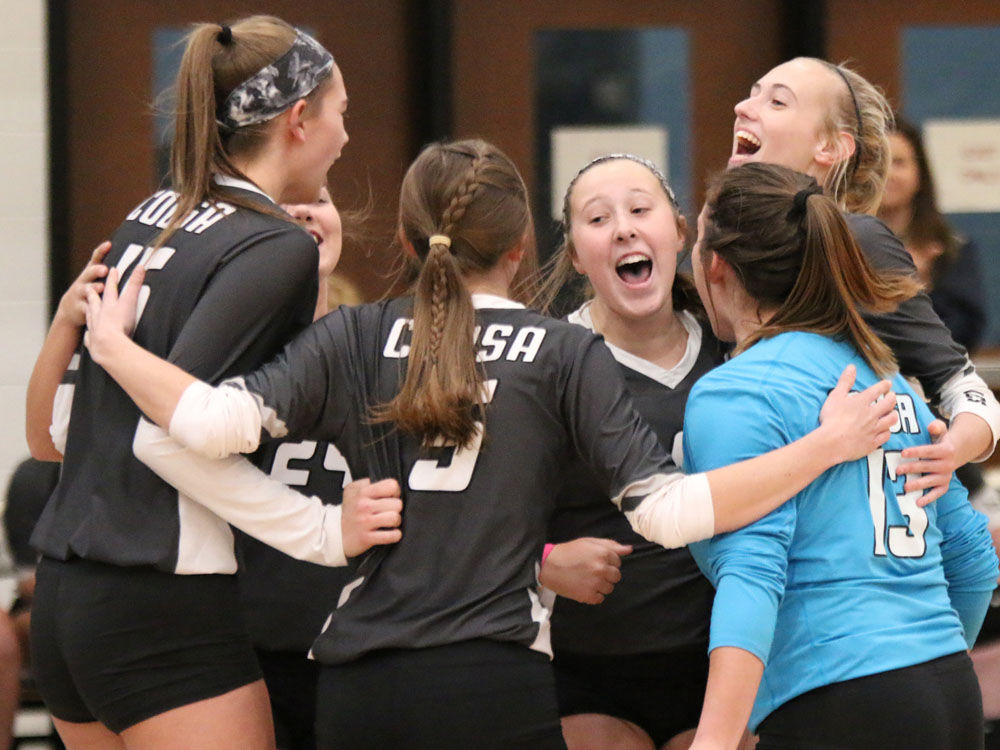 When Coosa entered the court for the Class AA state championship match a year ago, the Lady Eagles broke new ground.
It was the first time a Coosa squad had played for a state volleyball title and the first time a team from a public school had made it to the GHSA Class AA championship match.
Now, the Lady Eagles are back to finish the job.
Coosa will meet St. Vincent's Academy today at 1:30 p.m. at Holy Innocents' in Atlanta as the Lady Eagles seek revenge for their three-set loss to the Saints of Savannah in the title match last season.
Getting back to the championship game has been firmly in Coosa's players' minds this season. Coach Nic Hann said the fact that they are facing St. Vincent's again only adds to their determination.
"I think it helps motivation," Hann said. "This whole season the girls were really playing with a chip on their shoulder. Of course, we wanted to get to the state finals again, but it helps to get to go against St. Vincent's."
Coosa (48-7) led in the early going of each set of the title match last year before the Saints were able to propel themselves to a win off of unforced errors by the Lady Eagles. This year's Coosa team includes five players who saw meaningful time in the contest, and Hann said the mood at practice has been very different from a year ago.
"Last year there were a lot of nerves and anxiousness," Hann said. "This year the girls seem much more businesslike and a lot calmer. If we just keep the mindset we've had since the playoffs started I think we'll put ourselves in a good situation to pull out what we hope to accomplish."
One of those who faced St. Vincent's last year is Coosa senior captain Taylor Roberts. The 6-foot-1 standout leads the team in kills (550), aces (137), and blocks (171), and has become a dominant force at the net. Sophomore Kasey Thacker is next with 321 kills and 68 blocks. She also has 109 aces for third on the team. Fellow sophomore Brinley Smith is second in aces with 116 and has an astounding 1,046 assists this season. Junior Deb Barker, who leads the team with 503 digs, is second in assists with 41.
"They feed off of each other's energy and of course Taylor's leadership," Hann said. "When they see her relaxed and in her cut-up, playful kind of mood, they will be relaxed."
St. Vincent's (24-14) had to get through another Area 3-AA squad to get back to the championship match. The Saints swept Chattooga in the semifinals Wednesday, 25-15, 25-22, 25-14.
"They have a few starters back from last year, but I've seen a lot of names that are new this season," Hann said. "They have an outside hitter that is only a sophomore but has put up pretty good numbers."
IF YOU GO
What: Class AA volleyball state championship
Where: Holy Innocents' Episcopal School, 805 Mt. Vernon Highway NW, Atlanta