VOLLEYBALL: Coosa earns two key victories as region tournament approaches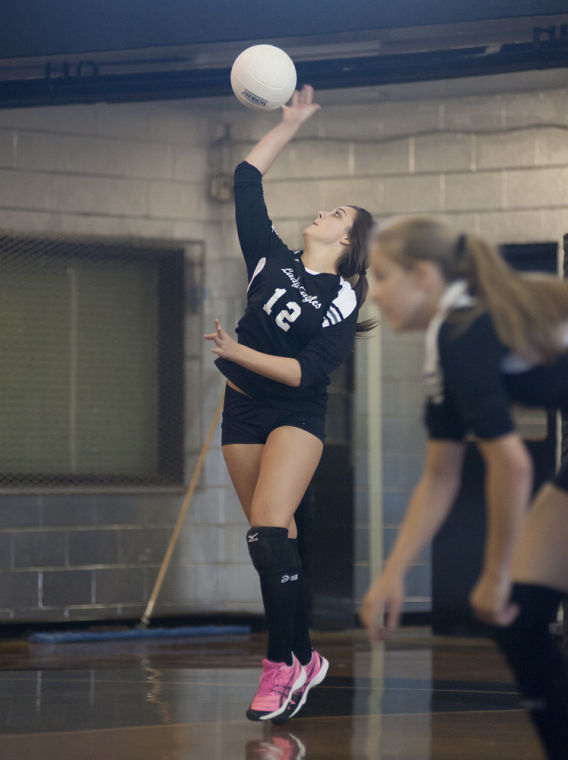 An emotional team and crowd had plenty to cheer about Thursday night at Coosa as the young Lady Eagles squad recorded two big volleyball wins.
The Eagles topped Chattooga 25-18, 25-18 in the opening match before winning a nail biter against Pepperell 25-22, 17-25, 25-21.
"This was huge for us. At the start of the season we really struggled in region play, and these two (wins) go a long way going into the region tournament in a couple of weeks," Coach Nic Hann said.
After splitting the first two games, Pepperell and Coosa went back and forth throughout the third and decisive game.
Pepperell's Erin Weilder recorded a huge block cutting Coosa's lead to 22-21 late in the third game and seeming to shift momentum back to the Dragons.
Coosa's Mary Ellen Masters would have none of it.
Masters went to the net looking for a crucial kill only to be blocked by Pepperell's Madison Weilder on the next point.
Undeterred, the Eagles kept the ball alive and Masters went up for another kill. Madison Weilder was lurking at the net again so Masters tapped the ball over the defender for a crucial point.
The point gave Coosa a 23-21 lead. Masters then rocketed back-to-back serves the Dragons couldn't handle, giving the Eagles the win.
"They played their tails off in that game," Hann said. "They've been working extremely hard, and it showed tonight in that game (against Pepperell). We kept our composure and fought back out of holes."
After winning the first game 25-22, Coosa found the going a bit rough in the second game against the Dragons. With the scored tied at 17, Pepperell took control behind two big kills from Madison Weilder and finished out the game with consecutive aces from Erin Weilder.
"They fought really hard tonight and both teams were emotionally invested in the game," Pepperell coach Kevin Geier said. "I thought against Coosa, the level of play on both teams was really good."
In their first match, the Eagles managed to surge at the right time. Trailing Chattooga 16-13 in the first game, the Eagles' offense came to life rolling off a 12-2 run to finish the game.
Along the way, Masters had several key kills, Perry Shumate recorded a key kill and two aces and Tori Milam finished the game with three-straight aces.
In the second game, the Indians led 17-14 only to see Coosa again take off, this time on a 9-2 run to win the game and the match.
Shumate and Masters again had some key kills and once again Milam finished the game with two aces.
"We were really pumped for this game," Hann said. "The girls just found a way to get it together going back and forth. It's like they just flipped a switch and took off."
The Indians seemed a bit down after losing to Coosa and dropped their first game against Pepperell, 25-17.
After that, Chattooga coach Mark Pickle made sure his charges knew the situation.
"I told them we're in the drivers' seat as far as region standings. Give Coosa credit. They improved, and they're more ahtletic than we are," Pickle said. "When we came out flat against Pepperell, I told the girls if we don't win this game, you can kiss a first round region tournament home game goodbye."
Whatever he said, it worked. The Indians came out on fire in the second game, jumping out to a 16-1 lead before coasting to a 25-10 win.
Sara Birge helped lead the charge for the Indians, serving up nine-straight points to start the game. Every time the Dragons' threatened, Chattooga's Tiffany McGraw was there to throw down a kill or record an ace as well.
In the third and final game, Pepperell continued to hang close to the Indians. After the Dragons cut the Indians lead to 16-12, Birge responded with three aces and McGraw added a key block as well en-route to the 25-15 win.
McGraw finished the game with eight kills, three aces and two blocks while Birge compiled four kills and seven aces.
For Pepperell, Erin Weilder tallied seven kills and an ace and Madison Weilder recorded five kills and two aces.
"We responded against Pepperell, but we're really going to have to step it up if we expect to do well in the region tournament," Pickle said.
Chattooga now has a 7-3 region record. Coosa is 14-18 overall and 5-5 in the region, while Pepperell is 6-22.
On the night, Shumate led Coosa with 18 kills, eight blocks, three digs and four aces. Masters pitched in 13 kills, two blocks, one dig and four aces while Destiny Woods recorded 26 assists.
The Eagles play again Monday at Alexander.