VOLLEYBALL: Calhoun's season comes to an end at the hands of Jefferson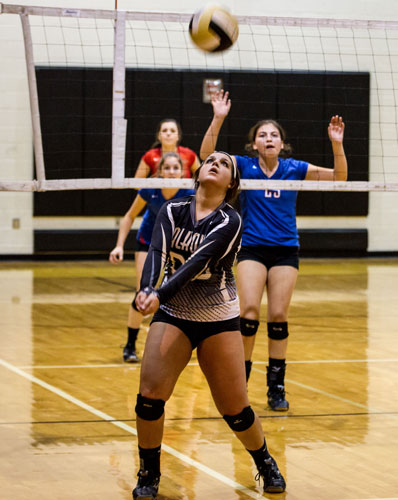 The team that the Lady Jackets knocked out in the first round of the state tournament last season for their first-ever playoff win came to town this year and turned the tables.
Jefferson visited Calhoun on Tuesday in the second round of the Class AA State Tournament and dealt the Lady Jackets a season-ending three-set loss, 25-8, 25-17, 25-22.
"Jefferson is a good team," said Calhoun coach Randy Rice. "We had a few flaws in the match, and once you get this far in state, your flaws are going to show. Jefferson took advantage of our mistakes tonight."
Kailyn Svihra had a solid night for the Lady Jackets (27-17-1) in the loss with four kills, three aces and two digs. Timia Wade added six aces, and Bailey Edwards had two aces and a dig.
Rice said even with the disappointment of the loss, he is pleased with what his team accomplished this season.
"We got everything we had in the tank from this team," said Rice. "We expect to win the region every year because that's what we do at Calhoun. We would've liked to go further than we did last year. That's our goal every year to go one step further than the previous season, but we just came up a little short tonight."
Tuesday's loss was the final match for four Calhoun seniors — Edwards, Amber Parker, Olivia Wilkey and Sam Stewart. Rice said those four players would leave a big void, but he believes his program is only going to get better in the future.
"We've got a good base," said Rice. "We've built it right with a good middle school program, and our JV played lights out for a good portion of this season. When we had some varsity girls hurt, some JV players came up and got some good experience.
"Volleyball is starting to get a little more attention here around campus. We've got a lot of girls interested in it, and that's a good sign we're going in the right direction."
For more photos from Tuesday's match, see Saturday's Calhoun Times.