VOLLEYBALL: Calhoun comes back to take area title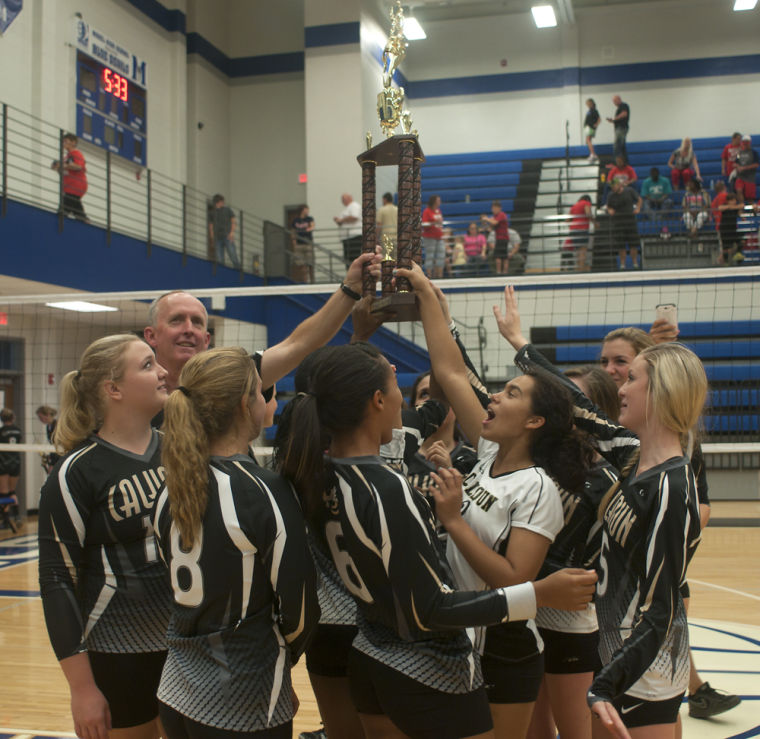 After dropping their first match to Chattooga earlier in the day, Calhoun rallied back through the loser's bracket to get another shot at the Indians and made it count, winning in five sets 25-19, 18-25, 25-19, 21-25, 15-8 to claim the Area 5-AA title and a home match next week in the opening round of the state volleyball playoffs.
Lady Jackets coach Randy Rice said it wasn't just back-and-forth matches against the Lady Indians his team had to overcome this year to win.
"We were back and forth. My hat and my heart goes out to Chattooga, because I've been in that situation before myself. We battle back and forth all the time, simply because there isn't a whole lot of difference between our two squads," he said. "This is the third or fourth time we've played this year, and it's been like this every time. It was a tough match for someone to have to lose."
Chattooga coach Mark Pickle said it was disappointing for his girls to find themselves as runners-up after beating Calhoun earlier in the day, but that they won't have long to think about the loss.
A whole new season begins Wednesday, and the Lady Indians still get to host a first round playoff match.
"They (Calhoun) had to come from further behind than we did," Pickle said. "They could move to the balls better than we did, they moved faster, and that was the difference between us today."
The Indians claimed the regular season area crown and the No. 1 seed in the area tournament, while Calhoun entered as the No. 2 seed.
When the two squads first met earlier in the day, the Jackets jumped on top to win the first 25-19. The Indians rallied though, winning the next two sets 25-19 and 25-24 to advance to the finals.
Model, already playing the loser's bracket, topped Armuchee and then Coosa, each in three sets, setting up a match against Calhoun for the right to play for the area title.
The Blue Devils fought hard, but the Jackets handed them a 25-12, 25-18 loss.
Lady Blue Devils coach Kendall Roberts said she was glad her girls would still be alive come Wednesday.
"Coming in today, I told them: 'You have to take one goal at a time,'" she said. "We just took it step by step. It went from beating Armuchee and guaranteeing themselves a spot, and then our next goal was to beat Coosa. Then our next goal was to get to host a state tournament berth, but we fell short of that."
Model finished in third place, meaning the Blue Devils will be on the road Wednesday in the first round of the state playoffs.
Coosa secured fourth place Saturday after a win over Pepperell in two 25-22 sets in the first round, but fell to Model in the second round. The Lady Eagles were able to win the first set 25-21, but the Lady Blue Devils came back with 25-23, 25-22 sets to advance.
First round playoff matches are set to be played Wednesday or Thursday. Calhoun will play host to Area 4-AA No. 4 seed Temple, while Chattooga will play host to Area 4-AA No. 3 seed Lamar County. Model will hit the road to play Area 4-AA No. 2 seed Lovett, the defending Class AA champions. Coosa will travel to play Area 4-AA No. 1 seed Westminster, the Class AA runner-up from 2012.
Last year, Calhoun was the only area team to advance to the second round of the playoffs, but lost to Lovett in three sets in the second round.