TENNIS: Road to state finals begins today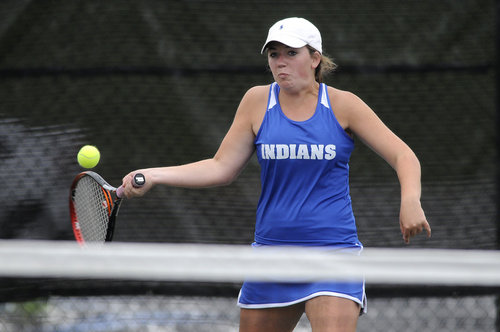 The finals of the GHSA State Tennis Tournament are nearly three weeks away, but the tough road there begins today.
Several Floyd County and Greater Rome tennis squads get their first taste of state playoff action today. Armuchee's boys and girls, Pepperell's girls and boys, Darlington's girls, and Coosa's boys will soon begin what they hope will be a run to the state finals.
The Armuchee boys and girls, who have both produced highly-successful seasons, will host Lovett today at 2 p.m. at the Rome-Floyd Tennis Center.
The Lady Indians stormed through their 7-AA regular-season slate, including beating Calhoun, 4-1, late in the season.
Last week, the Indians and Lady Indians both advanced to the finals of the 7-AA tournament, where they were downed by Calhoun, giving them the No. 2 seeds in the region.
"The boys and the girls are excited," said Armuchee head coach Tammy Norred. "They've played Lovett several times over the past few years, so they know it's going to be tough tomorrow.
"We had a good region tournament," added Norred. "I was proud of the boys and girls, and I hope that momentum will carry over to the state playoffs."
While Armuchee will host the first round, the Pepperell boys and girls teams will be on the road.
The No. 3 seed Dragons will face Wesleyan on Tuesday, and the No. 4 seed Lady Dragons will meet Westminster today.
"We feel very fortunate to be in the playoffs," said Pepperell head coach Tim Gillespie. "That was the goal at the beginning of the season."
The Lady Dragons' appearance in state is their 14th straight time in the postseason.
Gillespie has coached girls at Pepperell for the past 21 seasons.
Gillespie said they'll be facing some stiff competition in the first round.
"That's a tough region those guys play in," he said. "That region is loaded with private schools, and they play in the Atlanta area a lot. Those teams regularly make Final Four appearances, and they are very high-quality programs."
"We know we have our work cut out for us, but we believe in ourselves, and we'll give it our best effort."
No. 4 seed Coosa will travel to Westminster on Tuesday.
The Darlington girls are the only team in the county that doesn't know who they will play next. They're the No. 2 team from 4-A. The final region tournament matches are scheduled to be completed today, so head coach Gregg Marshall will know his opponent either tonight or Tuesday.
Either way, the Lady Tigers will host. Marshall said he hopes they will be able to play Thursday.
"We're incredibly thrilled to be in this position at such a high seed," said Marshall.
In other boys' first-round matchups, Rockmart will host Southeast Bulloch in Class AAA action and Sonoraville will travel to Morgan County. In Class AA play, Calhoun will host GAC.
In girls' Class AAA play, Rockmart will travel to Savannah Arts, Adairsville will travel to North Oconee, and Sonoraville will host Franklin County.
In Class AA, Calhoun will host GAC.