SOFTBALL: Longtime Calhoun softball coach Smith inducted into Georgia Dugout Club Hall of Fame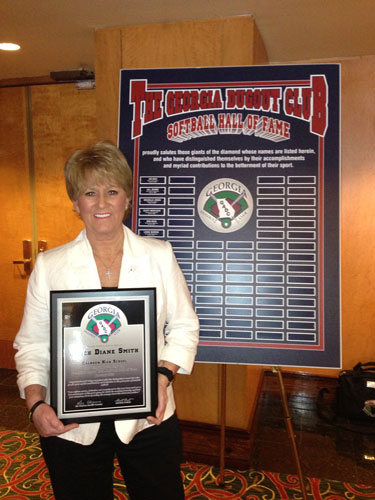 Calhoun High softball coach Diane Smith has been coaching for almost 30 years, and she's still going strong.
Smith was inducted into the Georgia Dugout Club Hall of Fame during a ceremony at the Crowne Plaza in Atlanta.
"It's definitely a tribute and an honor for me," said Smith. "I've been very fortunate to have gotten to coach all 27 years at Calhoun. I've had a lot of outstanding players and teams, and I've had some great assistant coaches. There's no way I could've done it by myself."
This past fall Smith won her 500th career game as a coach.
As a player, Smith is in the Georgia ASA Hall of Fame as well as the Georgia USSSA Hall of Fame.
"Softball is something I love and it always has been a big part of my life and it still is," said Smith. "I'm not ready to quit yet. I love being with those kids, and I just love what I do.
"My whole career has been a dream come true."
Smith has two daughters, Jaime Ralston Garrett and Kayla Ralston, and is married to former Calhoun and Red Bud football coach Jerry Smith.