Softball: Heritage imporves to 5-1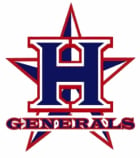 The Heritage softball team improved to 5-1 overall with Tuesday's 8-0 shutout over visiting Cass.
The win followed a 4-1 performance in the LFO Invitational over the weekend.
Lauren Lawson tossed a two-hitter for the Lady Generals, while striking out five to extend her record to 4-0.
Heritage, coached Steve Chattin, was led by Olivia Tamewitz and Ali Roberts on offense.
Tamewitz had three hits, four stolen bases, two runs scored and an RBI.
Roberts was 2-of-3, including a triple and an RBI.
Lawson, Shelby Hammontree, Kurston Henry, Delaney Daniels, Katie Pritchett and Krissi Prewitt all had one hit each.
The Generals are scheduled to play in the Allatoona Bash this weekend, where they will face teams in higher classifications.