SOFTBALL: Gordon Lee goes 6-for-6 in Chattanooga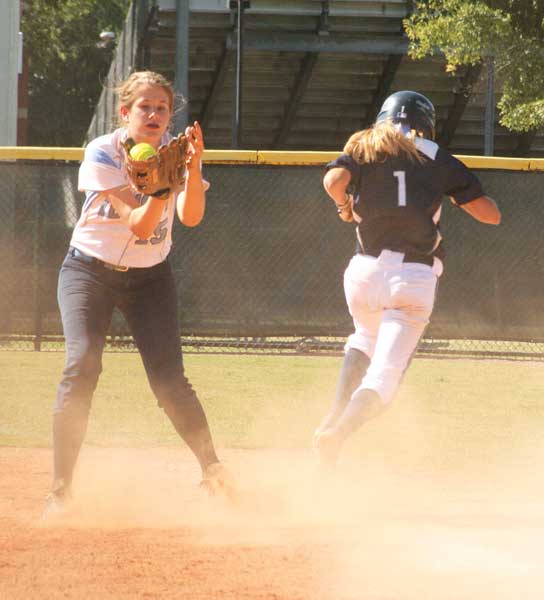 The Gordon Lee Lady Trojans began their annual push toward the post-season by going 6-0 at the SCORE International Invitational at Chattanooga's Warner Park over the weekend.
Gordon Lee 5, Woodland 2
In the tournament opener on Friday, Tiffany Holland went 3-for-3 and Jordyn Hamill collected two hits and two RBI in the victory.
Reagan Brown and Emily Armour each drove in a run as Armour pitched her team to victory. She scattered 11 hits, but gave up just two earned runs and two walks as she fanned 13 batters.
Gordon Lee 14, Chattooga 5
In Friday's nightcap, Holland was a perfect 5-for-5 at the plate in a win over the Lady Indians. Ansley Underwood was 2-for-3 with three RBIs, Courtland Middleton a triple and drove in two, while Melissa Duran and Tori McElhaney each picked up one RBI.
Megan Wolinsky threw six innings of eight-hit ball to get the win. She allowed two earned runs and three walks while striking out seven.
Gordon Lee 6, Dalton 0
Armour toed the rubber for the Lady Trojans in their first of four games on Saturday and allowed just six hits and three walks with seven strikeouts.
Courtland Middleton had a triple as one of her two hits and drove in three runs. Hamill knocked in two runs, while Holland picked up an RBI. Sara Holcomb went 1-for-2 with a double.
Gordon Lee 12, Murray County 0
Three RBIs each by McElhaney and Addi Taylor helped the Lady Trojans rout the Lady Indians. Underwood was 2-for-2 with two RBIs, Armour was 2-for-2, Holcomb drove in a solo run, and Middleton went 2-for-3 with a double and one RBI.
Wolinsky gave up just one hit and no walks in four innings of work with three strikeouts.
Gordon Lee 5, Lovett 3
Down 1-0 after one inning, the Lady Trojans rallied to get past the Lady Lions from Atlanta. Wolinsky got the win in the circle, while Armour picked up the save.
No more individual statistics were available as of press time.
Gordon Lee 7, Union Grove 0
The Lady Trojans' final tournament game was a shutout victory over the defending Class AAAAA state champions. Armour had a complete game win, but no more individual statistics were available as of press time.
Gordon Lee (17-5 overall) will jump back into region play on Thursday with a 5 p.m. game in Rome against Darlington.