SOCCER: Oakwood Christian is ready for some futbol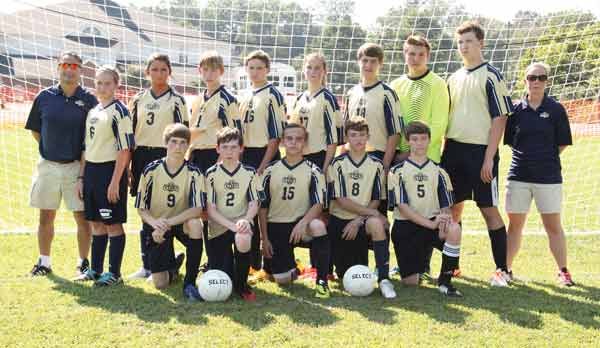 It was a hot, steamy, fall Thursday afternoon at Oakwood Christian, but even sweat couldn't dampen the spirits of those walking around the field.
The fans were beginning to file in through the gate, past the homemade signs that decorated the temporary fencing around the field. The students were already hard at work putting up streamers and more signs to decorate the set of metal bleachers designated for the student section.
Yes, the people at Oakwood were definitely ready for some football — even if some people still called it soccer.
The Eagles, decked in navy and gold, took the pitch last week to kick off their inaugural season of varsity high school soccer, adding to their growing athletic program.
After several seasons with elementary and middle school soccer programs at the school, the administration decided this was the year to take the program to the high school level.
"This is foundational for us," said Oakwood head coach Tony Vona, who is in his fourth year coaching the sport at the Chickamauga church-sponsored school. "It's quite exciting."
The Eagles will be a very youthful squad, led by just two seniors in Savannah Folks and Garrett Holder. While neither senior has very much prior soccer experience — this is the first time ever playing soccer for Folks — Vona says they have stepped up as leaders for the young club.
"They are the seniors and they are working hard," Vona said. "Savannah may have never played before, but she has stepped up as a leader because of her work ethic. She really wants to work hard and she brings a great, positive attitude. The same thing goes for Garrett. He's also working extremely hard and being a leader for us."
Folks is starting at stopper while Holder is filling an attacking midfield spot.
The other 11 members of the co-ed team are a mixture of sophomores and freshmen and a mixture of kids who played in the middle school program or have little to no previous soccer experience. However, many of the players are athletes who play other sports at the school.
Justus Ford will start in goal for the Eagles, while Trever Hobbs, John-Jacob McSpadden and Matthew McDonough will join Folks in back on defense.
The midfield will include Holder, along with Connor Smith, Annika Green, Madie Phillips and Jacob Lewis, while J.J. Lanham, Austin Greco and D.J. Terry will help provide the offense out of the forward positions.
Vona will be assisted by former LaFayette Lady Rambler, Samara Garrison. "Fundamentally, we're ok," he said. "We still have quite a bit of work that needs to be done, but they are learning to stay in formation and our fitness isn't too bad. We've made great progress in our skills just in the short time we've been practicing. As season goes on, I think we'll just continue to make improvements."
Oakwood's inaugural season will include matches against familiar opponents, such as Apostolic of Maryville (Tenn.), Apostolic of Knoxville, Rhea County Academy and Collegedale, while some newer names include Paideia and Chattanooga's Calvary Christian School. They will have a total of five home matches — including the home opener this past Thursday — with the season concluding in mid-October.
"I don't know how our competition will be and I'm not sure how we will be," Vona added. "These first couple of games will determine where we are and what areas we need to improve in. But we're thrilled and we're pumped to get the season going. It's showtime. Some of the kids even wore their jerseys to school (last Thursday). I told them to be on the field by 4 p.m. and we had some out as early as 3:15 warming up. They have worked hard and they are ready to go."