Soccer: Heritage girls improve to 16-0 with region championship, state playoffs set for today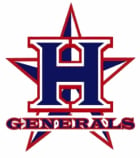 The Heritage girls soccer team remains perfect.
The Lady Generals defeated River Ridge 3-0 on Tuesday, April 23, to win the school's first-ever Region 7-AAAA championship in the sport.
The win, highlighted by two goals from Blair Harden, also extended the Navy-and-Red's record to 16-0 heading into the first-round of the GHSA state playoffs. The first playoff game is set for today (April, 30) at Heritage at 5:30 p.m. with South Atlanta. Admission is $7.
Generals head coach Stacey Dunfee said she's still taken back at what an amazing season her team has had.
"Oh my gosh," Dunfee said. "Being 16-0 for the first time ever and region champions...there's no words."
"This is a special group of girls," she added.  "We have five strong seniors and we just want to make a run for them. They've been in the state playoffs every year and been put out. This year, we want to see if we can take them a little bit further."
Dunfee said she felt River Ridge was a very competitive opponent going into the match. She said she was confident her team would come out on top.
"I felt like we were the better team coming in, but I knew anything could happen," she said. "I felt like if we played our game and stayed strong we would come out the winners. I had Olivia Tametwitz step up and shut down their best player early on. When that happened, it was on a matter of time before we were able to score a few goals."