Soccer: Heritage girls advance to round two in state playoffs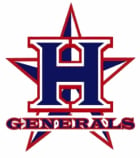 The Heritage girls soccer team remains perfect following a 10-0 victory over visiting South Atlanta on Tuesday in the first round of the GHSA state playoffs.
The Generals, led by Courtney Bell, will play on Tuesday, May 7 in the second round at Heritage.
Bell scored five goals, to beat her previous record of four in a game, bringing her season total to 37.
Bell said it was another exciting day for the Heritage program, who won its first region title the previous week.
"We're really excited about playing in the next round, beating them and improving on," she said.
Generals' head coach Stacey Dunfee said she was proud of her team for staying focused. She said next week's matchup will be much more challenging. "We went into this game like we always do," she said. "We heard they were fast, fairly athletic and physical. We knew we just needed to play our game. We worked on passing quickly and shooting."
Shelby Mullinax recorded two goals for Heritage. She said her and her teammates kept their "head in the game," and took care of business.
"We have to go into the next round strong," she said. "I think if we play our game we should come out with a victory."
Blair Harden, Paige Gordon and Kately Beekman each had one goal.